In the previous month, Samsung had showcased its sound-emitting display concept at the Society of Information Displays (SID) 2018. The concept does not feature an earpiece. Instead, the vibration and bone conduction of the display panel carries out the purpose of an earpiece. Since the device does not feature an earpiece, the upper and lower bezels can be reduced further to house a larger screen. Citing industry sources, a South Korean publication has claimed that Samsung and LG will be using this advanced screen technology on flagship smartphones releasing next year.
The exact size of the sound-emitting display that Samsung may use on its 2019 flagships is 6.2 inches. The publication claims that even LG is prepping to launch flagship phones with such a technology in the coming year. The Galaxy S9+ has a 6.2-inch display. It may so happen that Samsung may use the sound integrated 6.2-inch display in a more compact body on the upcoming Galaxy S10. The smartphone may still feature a slightly thick upper bezel as it is expected to house 3D sensing camera and iris scanner.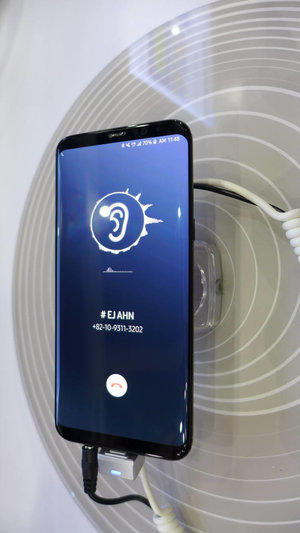 The transmission bandwidth of the sound integrated display is between a range of 100 and 800 Hz. The fine vibrations make it possible to hear the sound only when the user places his on a wide arear at the top portion of display. Vivo NEX that offers a huge screen space of 91.24 percent has all its sensors embedded under its display. The smartphone also uses a similar sound-emitting display which is dubbed as Screen SoundCasting technology by Vivo.
LG's Crystal Sound OLED TVs and LED lights are also equipped with sound-emitting screen. The South Korean company is now gearing up to make this technology available on its flagship phones. A recent report had revealed that the LG G8 arriving next year may feature a 4K LCD display, but there is no confirmation whether sound sensors will be placed under its screen.
Read More: Huawei vs Samsung Patent Lawsuit Shows The Growing Power of Chinese Courts
Do you think that Samsung should introduce the sound embedded display feature of the Galaxy S10? Share us your views by posting your comments below.