Previous reports have revealed that the Samsung's first Android Go phone has a model number of SM-J260. A recent report had revealed that Samsung is testing its first Android GO smartphone in multiple countries in Europe, Asia and Latin America. Rumor have it that it could be a J2 series phone that hit the market with Galaxy J2 Core moniker. Today, a leaked specs sheet of the Samsung J260F has appeared online.
The below image shows that the Samsung J260F features a 5-inch Super AMOLED display. The Exynos 7570 chipset that features a quad-core processor that has a clocking speed of 1.4 GHz is present under the hood of the SM-J260F. The SoC is coupled with 1 GB of RAM. The device includes an internal storage of 16 GB.
The front-facing camera of the alleged Galaxy J2 Core is of 5-megapixel. It may arrive with a rear snapper of 13-megapixel. A 2,600mAh battery is present under the hood of the device.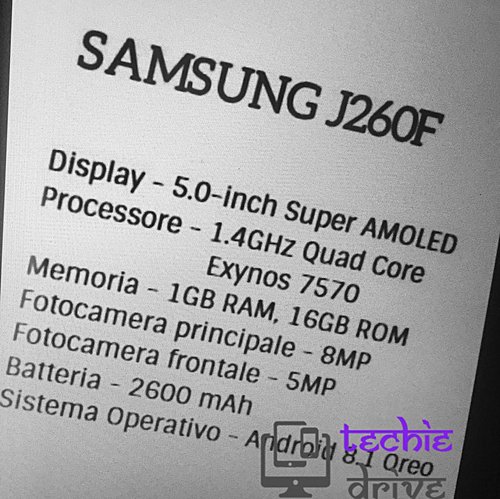 The last time Samsung had launched a smartphone without its own UI was in 2014 when it had released the Galaxy S4 Google Play Edition. The SM-J260 will be running on stock version of Android 8.1 Oreo. Since it is pegged to debut as an Android GO phone, it is likely to run on Go edition of Oreo.
Read More: Samsung's Dual-Screen Bezel-less Phone Patent Could Be The Future of "The Galaxy"
Recent information has revealed that its SM-260F model number could be made available in regions like the U.K, Germany, France, Poland, Kazakhstan, Uzbekistan and Caucasus countries. The SM-J260M model number could be heading to Latin America nations such as Argentina, Bolivia, Chile, Colombia, Panada, Paraguay, Panada and Trinidad and Tobago. The SM-260G is expected to arrive in nations such as Bangladesh, Cambodia, India, Malaysia, Nepal, Singapore, Sri Lanka, Thailand and Vietnam.
At present there is no information available on the launch date for the alleged Galaxy J2 Core. Also, the pricing of the smartphone is under the wraps.
(via)