Huawei's new trademark confirms Mate 20 as the company's upcoming flagship
Huawei recently launched its P20 series smartphones, changing the naming pattern to the increments of tens instead of ones. Now, the company seems to have adopted the similar naming pattern for its Mate series flagship smartphones as well.
The China-based company has filed a trademark application for numerous names, including the Mate 20, which confirms that the upcoming Mate series flagship will be called the Mate 20 and not Mate 11, which will be the successor of the Mate 10 series launched last year.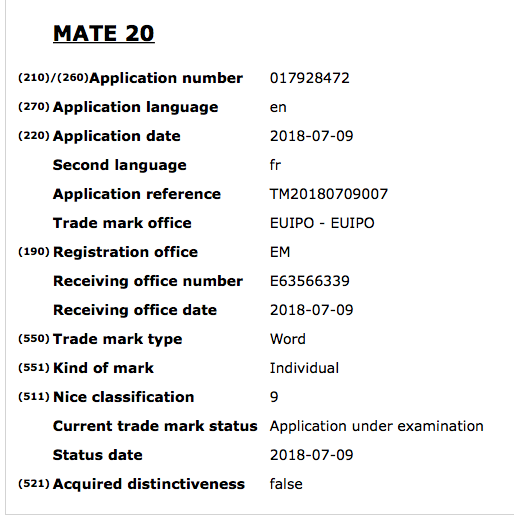 Along with filing the trademark for Mate 20, the company has also trademarked Mate 30, Mate 40, etc. which goes all the up to Mate 90. This also hints at the company's long-term plans for the Huawei Mate series smartphones.
Earlier, Huawei had filed applications for the names of Huawei P30 and P40, confirming that the company has already planned for the next two generation of its P-series flagship smartphones. However, the latest applications are in contrast, suggesting that the company has plans of Mate-series devices until 2025, which we are speculating based on the company's current launch timeline.
Currently, Huawei is expected to launch the Mate 20 series smartphones in October or November this year and it is reported that the series will consist of three smartphones, just like the Mate 10-series. Other than that, very little is known about this upcoming smartphones.
However, some reports have indicated that the larger Mate 20 Pro could come with a big 6.9-inch display and is also expected to come with the triple-camera module on the back side, similar to the P20 Pro. For the regular Mate 20, Huawei is expected to stick with the dual-camera setup and a 6.1-inch display panel.
Read More: Huawei Nova 3 specs leak in the wild: Flagship grade Kirin 970 inside!
We expect the smartphones to be powered by the company's own Kirin 980 processor along with either 6GB RAM or 8GB RAM. It is said that the devices will have Qualcomm's under-display fingerprint scanner. We are expecting to get more details of the Mate 20 series as the phone's launch nears.
(Source)