Top 12 Best Battery Flagships in terms of durability in the first half of 2018
The first half the year is done and dusted and it has been a very interesting one in the smartphone industry. The industry has witnessed a high outpour of flagship models most of which are from Chinese Original Equipment Manufacturers (OEMs). Apart from their premium builds and powerful specs lineup, one feature that doesn't usually get overlooked is battery capacity. A technological lab known as Whylab owned by Zealer has conducted a test among the known twelve flagship models to determine their battery durability.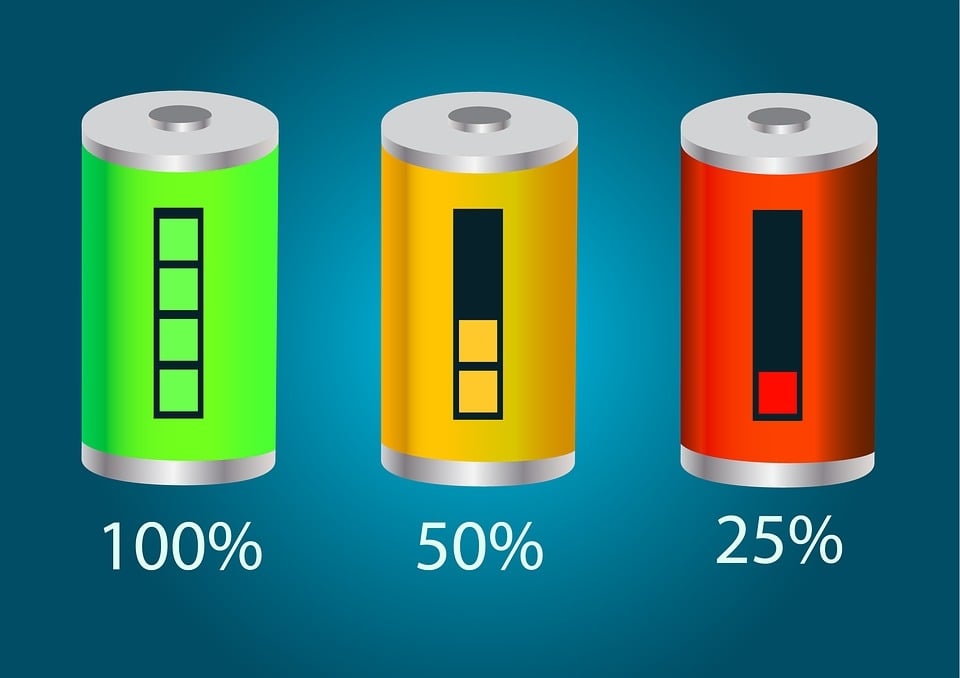 In a terrain dominated by Snapdragon 845-powered flagship model, Huawei's P20 Pro flagship once again proves itself to be the best flagship model around. Recall that DXOMark's reviews still rank the P20 Pro as having the best camera among its peers. The P20 Pro is powered by an Hisilicon Kirin 970 AI chipset. Other phones tested include the Huawei P20 which ranks second, Vivo Nex, Smartisan R1, Black Shark Gaming phone, OPPO Find X, OnePlus 6, Xiaomi Mi 8, Samsung Galaxy S9+, Galaxy S9, Mi Mix 2s and HTC U12+, in the order below.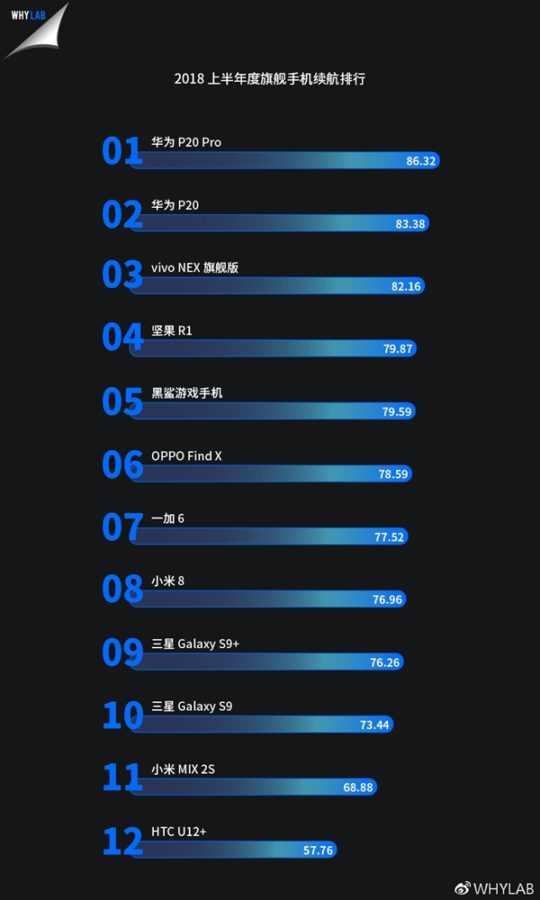 The tests were carried out in three different aspects. The first one is a test of the time each model takes to charge from 0% to 100%. The P20 Pro emerges as the fastest followed as listed below. The device was charged to the brim in just 75 minutes.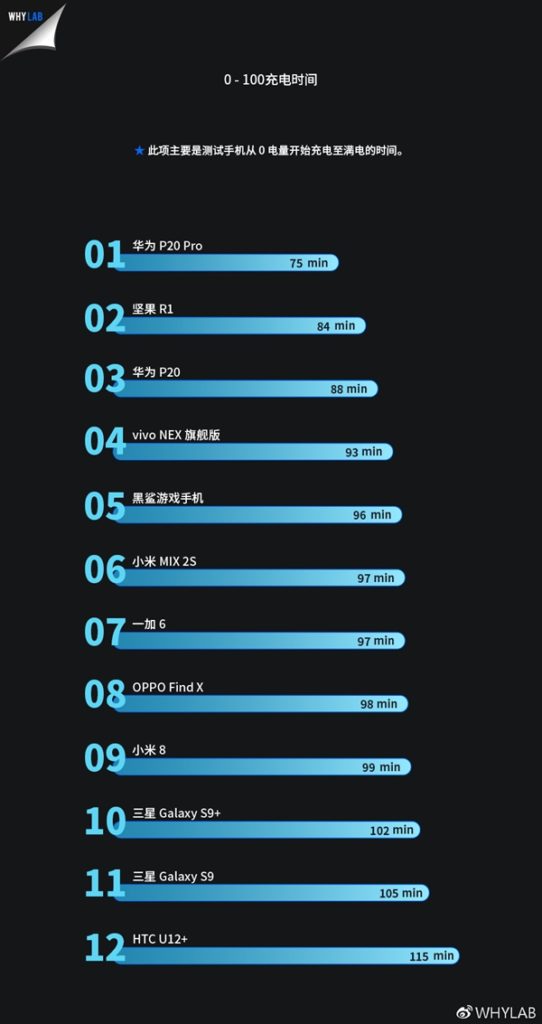 Another test conducted include subjecting the phone to 5 hours of persistent use in a way that simulates daily use such as, running Weibo, WeChat, streaming online video, local video, reading e-book, playing games, shooting photos, web browsing, making calls, and playing music. In the end, the P20 Pro still had the highest battery percentage (57%) left. The others are just a hair's breadth behind the Huawei flagship.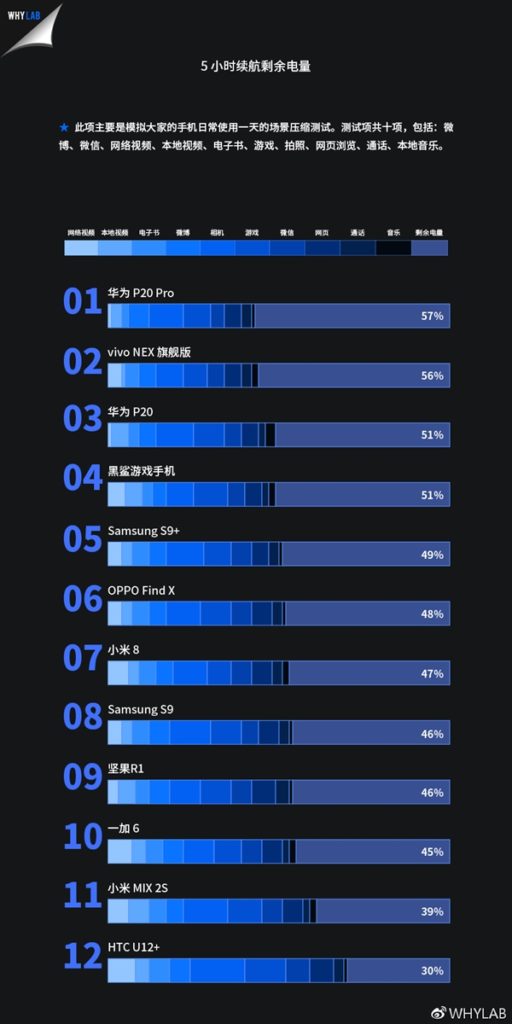 Finally, all the models were left on standby mode for 8 hours. At the end of the period, only the P20 Pro and P20 still had 100% of battery power left in their arsenal. Other phones have had their battery percentages reduced slightly (find the list below). Interestingly, the Mi Mix 2s was the most hit, with the lowest percentage (88%) after the 8 hours.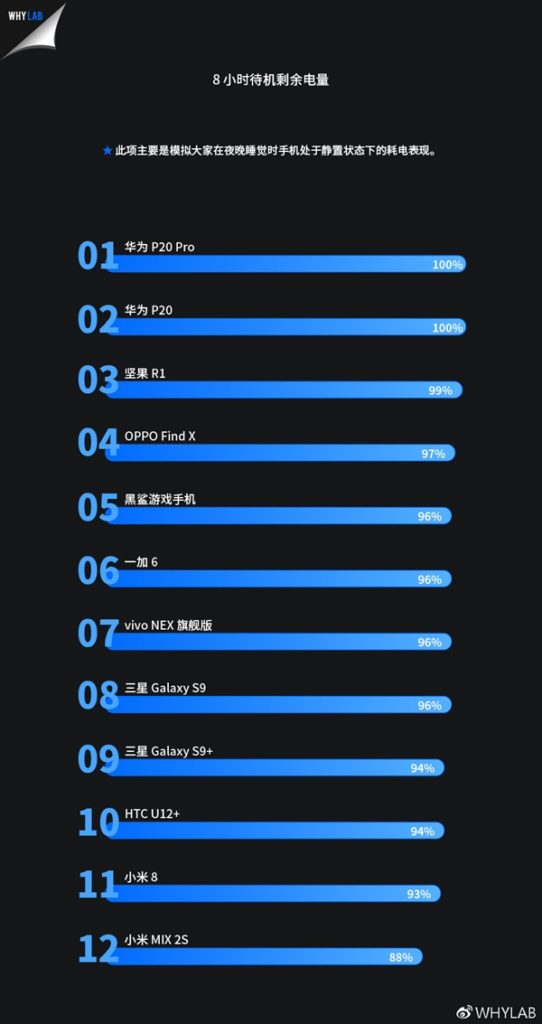 Related: Huawei Nova 3 camera samples: Powerful Quad camera setup with AI to the rescue
In all, the battery capabilities of all twelve flagship models are anything but disappointing. They truly deserve to be called flagship models as they deliver not only in design but also in their configuration, including battery power.
(source)