New OPPO phones labelled as PBCM00 and PBCT00 have surfaced on the website of TENAA, the regulatory body of China. The TENAA listings of these devices have revealed that they share the same identical design and they are also packed with same-sized display and battery. This indicates that these could be the two variants of an upcoming OPPO phone. It is speculated that the newly spotted PBCM00 / PBCT00 may belong to the rumored R17 series.
The mysterious OPPO PBCM00 / PBCT00 smartphone measures 156.7 x 74 x 7.9mm and it features a 6.3-inch display. The handset is backed by a 3,415mAh battery.
It is difficult to deduce whether the frontside of the phone features a notch or not. The rear image of the smartphone reveals that it is fitted with a horizontally arranged dual camera setup. There is no fingerprint scanner on the backside of the phone. The color gradient rear of the phone suggests that it could be a high-end smartphone.
A recent report had revealed that OPPO has started teasing the R17 smartphone in China. This suggests that the Chinese manufacturer may launch R17 and R17 Pro as successor editions of the OPPO R15 and R15 Pro (aka Dream Mirror Edition smartphone that was unveiled earlier this year. The dimensions of the PBCM00 / PBCT00 is very similar to R15 Pro that measures 156.5 x 75.2 x 8mm. The R15 Pro is packed with a 6.28-inch AMOLED display and 3,430mAh battery. Hence, it seems that PBCM00 / PBCT00 OPPO phone could be the upcoming R17 series.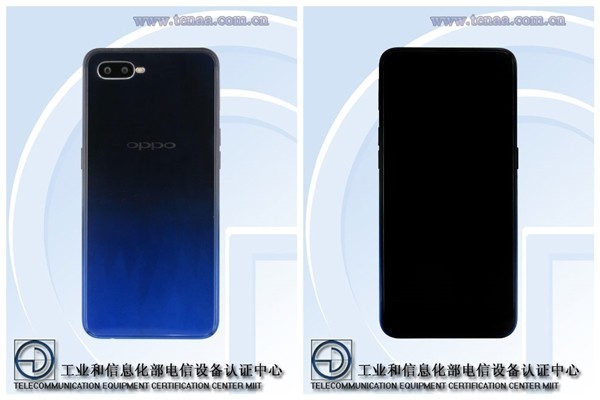 The TENAA listings of the PBCM00 and PBCT00 are expected to get updated with full specs in the next few days. Hence, OPPO fans will have to wait for few more days to know the exact identity of these phones.
Read More: Oppo Find X breaks in bend test
As of this writing, there is no information available on the launch date of the R17 smartphone. Since the Chinese manufacturer has started teasing the R17 phone in the home country, there is a possibility that it may go official in August or September. In related news, the company is also working on Oppo F9 and F9 Pro smartphones. However, the rumor mill is yet to reveal details on their specifications.