In September, Apple will unveil its new line-up of iPhones which will consist of three models. Meanwhile, the known market research firm TrendForce has published a new report in which reveals some of the main specs of the upcoming handsets as well as their possible prices. According to the market analysts, the most affordable version will be equipped with an LCD display having a size of 6.1 inches (6.06 to be accurate). This variant will be the only one in the trio to boast 3 GB of RAM, while it will have 64 GB or 256 GB of internal storage depending on the configuration that you will choose to buy.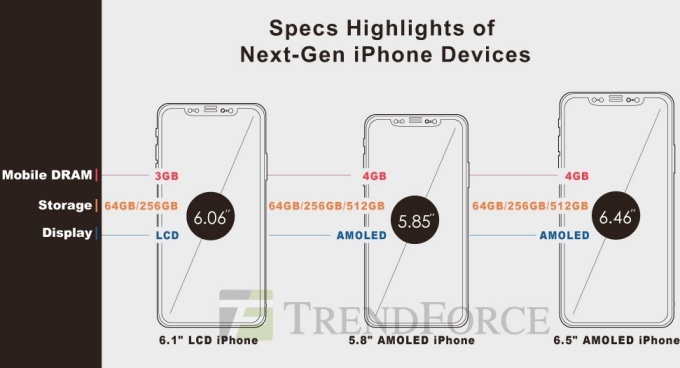 According to TrendForce, the starting price of the low-end 2018 iPhone will range from $699 to $749 for the configuration with 64 GB of internal storage. Despite its low price, it will be available with a dual SIM slot and support for Face ID. Besides this version, there will be a mid-range variant with powerful specs but with a smaller display. The screen will have a size of 5.8 inches and it will be an AMOLED panel. It will retain the Face ID technology, while the quantity of RAM will be 4 GB.
RELATED: Huawei surpasses Apple to get the second spot in global smartphone market share
The storage sizes will be 64 GB, 256 GB, and 512 GB, however the price has not been confirmed by TrendForce. The market research firm thinks that it will start from either $899 or $949. The 5.8-inch model is expected to be dubbed as the iPhone XS Plus. At last, there will also be the biggest and most expensive variant with a 6.5-inch AMOLED display. In this variant, there will be 4 GB of RAM and 64, 256 or 512 GB of internal storage, as well as 3D facial recognition. Its starting price should be $999. All of these devices will sport a notch like their predecessor in order to minimize the bezels.
(via)