Lenovo Slider Phone teased officially by company's VP Chang Cheng
Each time Lenovo's VP Chang Cheng pop into the news, what comes to mind is his penchant for overhyping the company's phones. We can't forget in a hurry how we expected a Lamborghini looking flagship in the Lenovo Z5 but ended up getting a different thing. The Z5 wasn't in anyway a disappointment for a mid-ranger and that was what pacified fans. Mr Cheng is in the news again, this time around he has teased what looks like a Lenovo concept phone with a slider design similar to that we just saw on the Honor Magic 2.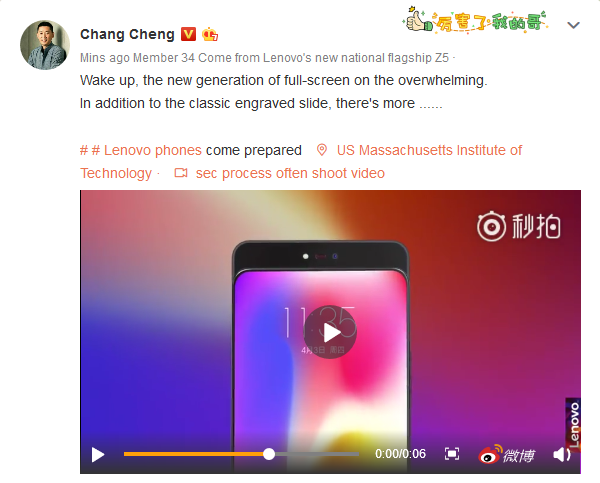 Now, this isn't the first time the CEO is releasing teasers based on what is trending. Recall that when Smartisan released the Nut R1 with a 1TB storage version, Cheng disclosed that the Lenovo Z5 will come with a 4TB storage version or so we thought. That turned out to be a 4TB Particle Cloud Storage. We even did a compilation of Mr Cheng's Z5 lies which you can read here.
Notwithstanding the Z5 PR blunder, Lenovo still remains an innovative company and this design may indeed become a reality on the company's next flagship. The design looks attractive as the removal of the front camera and earpiece leaves the front completely bezel-less. The prospect of a notch-less, bezel-less display sounds interesting but don't expect the bezels to be as thin as seen in the video. The video also suggests the Lenovo model will come with an on-screen fingerprint sensor. We can't say when this one will be launched but we expect to get more details in the coming days. There you have it, OPPO Find X seems to be winning the NEX by Vivo as more OEMs seem to be going for the Find X-styled slider design. Anyway, Meizu's CEO thinks neither the notch design nor the slider design is the future of smartphone designs. We have a feeling he may right. This design isn't looking like one that will be around for long.
(source)