Razer Phone 2 key specs spotted via GeekBench listing
Razer launched its powerful gaming smartphone in November last year and since then there have been a could of new smartphones developed specifically for gaming. Xiaomi Black Magic, ASUS ROG, Nubia Red Magic are some of the models specifically crafted for gaming which have been launched since then. While the trend isn't catching on as we had expected, Razer is already working on the Razer 2 and that was officially confirmed recently.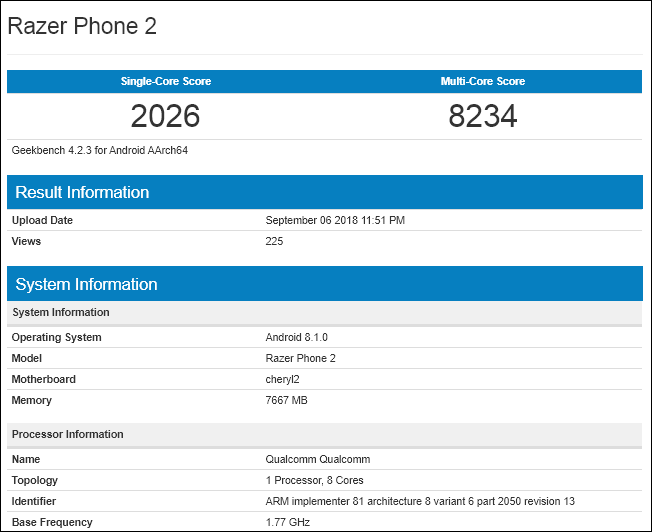 The Razer Phone 2 has now been benchmarked on GeekBench giving us our first look at some of the specs of the model. Geekbench isn't always very generous when it comes to specs details but it reveals some. The Razer phone 2 comes with 8GB of RAM and is powered by an octa-core Qualcomm processor which is likely the Snapdragon 845 chipset. This is a slight upgrade over the Razer Phone which features an 8GB RAM and a Snapdragon 835 CPU. The device runs Android 8.1 Oreo OS. Other details like the battery capacity and display are still unknown but we expect a bigger battery than the 4000mAh battery on the Razer Phone.
Read More: Video: Razer Phone Teardown Reveals Massive Heat Pipe, Easy-To-Fix Internals
We expect more details of the Razer 2 to surface as the days go by
(source)