Motorola Moto G6 Plus vs Vivo V11 Pro vs Xiaomi Poco F1: Specs Comparison
by Michele Ingelido ago0
If you need a new smartphone but you do not have a high budget, you can not have everything flagships offer. You have to make a choice basing on the features you need the most. That is why you will find a lot of different phones in the same price range focused on different aspect of their specs sheet. Motorola Moto G6 Plus, Vivo V11 Pro and Xiaomi Pocophone F1 recently hitten the Indian market and they are all in the €300 price range; however, they are very different devices. In this comparison, we hope to let you understand which one fits your needs.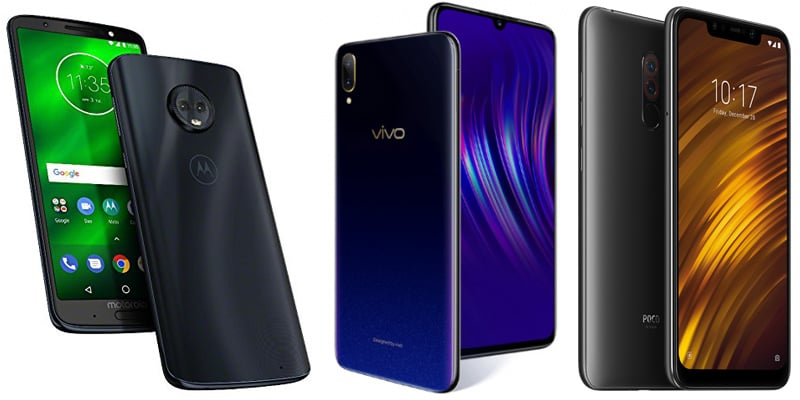 Motorola Moto G6 Plus vs Vivo V11 Pro vs Xiaomi Pocophone F1
Motorola Moto G6 Plus
Vivo V11 Pro
Xiaomi Pocophone F1
DIMENSIONS AND WEIGHT
160 x 75.5 x 8 mm
157.9 x 75 x 7.9 mm, 156 grams
 155.5 x 75.3 x 8.8 mm, 180 grams
DISPLAY
5.9 inches, 1080 x 2160p (Full HD+), 409 ppi, IPS LCD
6.41 inches, 1080 x 2340p (Full HD+), 402 ppi, 19.5:9 ratio, Super AMOLED
 6.18 inches, 1080 x 2246 pixels, 403 ppi, 18.7:9 ratio, IPS LCD
PROCESSOR
Qualcomm Snapdragon 630, octa-core 2.2 GHz
Qualcomm Snapdragon 660, octa-core 2.2 GHz
Qualcomm Snapdragon 845, octa-core 2.8 GHz
MEMORY
4 GB RAM, 64 GB – 6 GB RAM, 128 GB, micro SD slot
6 GB RAM, 64 GB – 6 GB RAM, 128 GB – micro SD slot
 6 GB RAM, 64 GB – 6 GB RAM, 128 GB – 8 GB RAM, 256 GB – micro SD slot
SOFTWARE
Android 8.0 Oreo
Android 8.1 Oreo, Funtouch OS 4.5
 Android 8.1 Oreo, MIUI 9.6
CONNECTIVITY
Wi-Fi 802.11 a/b/g/n/ac, Bluetooth 5.0, GPS
Wi-Fi 802.11 a/b/g/n/ac, Bluetooth 5.0, GPS
 Wi-Fi 802.11 a/b/g/n/ac, Bluetooth 5.0, GPS
CAMERA
Dual 12 + 5 MP f/1.7
8 MP f/2.2 front camera
Dual 12 + 5 MP f/1.8
25 MP f/2.0 front camera
Dual 12 + 5 MP f/1.9
20 MP f/2.0 front camera
BATTERY
3200 mAh
Fast Charging 15W
3400 mAh
Fast Charging 18W
 4000 mAh, Fast Charging 9V / 2A (Quick Charge 4.0)
ADDITIONAL FEATURES
Dual SIM slot, splash resistant
Dual SIM slot, in-display fingerprint reader
 Dual SIM slot, infrared face unlock
Design
If aesthetics are your main concern, then you definitely should not go for the Xiaomi Pocophone F1 as it offers a cheap polycarbonate design. Vivo V11 Pro is definitely the most beautiful handset with its very high screen-to-body ratio and a glass back cover available in gradient colors. It even offers an in-display fingerprint reader and a waterdrop notch. Moto G6 Plus is less beautiful in my opinion, but it is splash resistant and it has a very solid build quality.
Display
All of these devices come with a very wide display and a Full HD+ resolution, but the one offering a more pleasing viewing quality is the Vivo V11 Pro thanks to its Super AMOLED technology. It has vivid colors and very deep blacks, and even though it has a notch, it is a minimal one, so it is not invasive. At the second place, there is Moto G6 Plus with its 18:9 display, while I did not like Poco F1's display so much.
Hardware & Software
Hardware is the strongest point of the Xiaomi Pocophone F1, which is the most affordable smartphone to feature a Snapdragon 845 processor. And it is also the only smartphone in its price range to deliver flagship-level performance. It comes with up to 8 GB of RAM, up to 256 GB of internal storage, and it is perfect for gaming and the most demanding activities. Xiaomi Pocophone F1 also has an optimized version of MIUI for gamers and advanced users with smooth performance.
Camera
The camera department is a close battle between Motorola Moto G6 Plus and Vivo V11 Pro as the Xiaomi Poco F1 does not offer impressive camera performance. We choose Moto G6 Plus due to its great shots in low-light conditions and a very strong autofocus, but on the other hand, Vivo V11 Pro is a better camera phone for selfies thanks to its 25 MP snapper.
Battery
Xiaomi Pocophone F1 is equipped with a 4000 mAh battery and it is a battery life champion. The battery is an important component when it comes to gaming and advanced uses, that is why this phone can guarantee one day of battery life even with a stressed use. The other two handsets have an average battery life.
Price
Motorola Moto G6 Plus hitten India two days ago (6 GB RAM version) with a price tag of about $310 which roughly translates into €267. Vivo V11 Pro costs approximately $361 that is about €281, while you can grab a unit of Xiaomi Pocophone F1 for $289. The most complete phone is definitely Vivo V11 Pro and it wins the comparison, but if you want the max performance get a Poco F1.
Motorola Moto G6 Plus vs Vivo V11 Pro vs Xiaomi Pocophone F1: PROs and CONS
Motorola Moto G6 Plus
PROs
Splashproof
6 GB RAM
Nice camera department
Good price
CONS
Vivo V11 Pro
PROs
Good hardware
Outstanding design
Nice cameras
micro SD dedicated slot
In-display fingerprint reader
CONS
Xiaomi Pocophone F1
PROs
Best hardware
Infrared face recognition
Very affordable price
Big battery
CONS