Lenovo Flexible phone with bendable screen officially teased in a video
As at the time Xiaomi released the Mi Mix in 2016 with full-screen design, the industry awash with several leaked pictures of phones with flexible displays that would be a panacea to cracked screens. The success of the full-screen design and its subsequent adoption by phone makers ensure bendable screen phones were never heard off again. That doesn't mean the technology isn't being utilised. Most phone makers use flexible OLED screens for their flagship models including the latest iPhone XS and XS Max but you won't know since there is a solid glass screen above the display. Lenovo has now teased a flexible screen phone which also has a flexible fuselage and can bend up to 90 degrees.
The phone was teased in a short video shared on Lenovo Mobile Weibo account but it has been uploaded on YouTube. The video shows what should be a prototype being handled with some demonstration of how far the device can bend. As for the design, it utilises a rather slim frame with a tall build giving it an aspect ratio that should be in the region of 19:3. We can't say if the display is LCD or OLED but it may likely be one of the flexible OLED panels that are in use. LG, Samsung and several companies in the Taiwanese supply chain and even China manufacture such flexible OLED panels.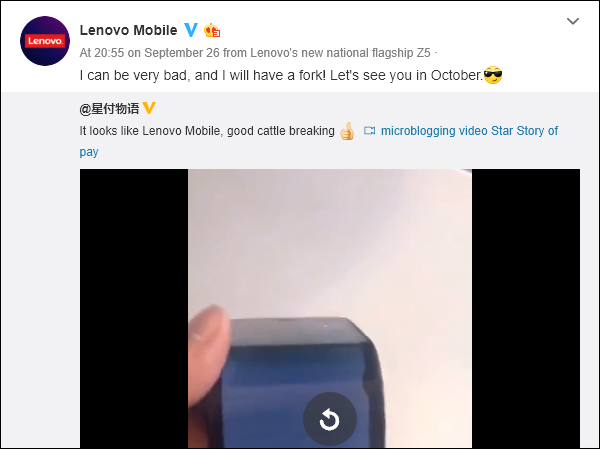 Related: Lenovo Z5 Pro slider design revealed in a leaked video
The Weibo post also suggests the model will be released this October but no specific date was mentioned. Until something tangible comes up, we could treat this as yet another gimmick by Lenovo. Not too long ago, the company shared the renders of a slider phone with a high screen ratio which is also expected to be released soon. Both phones, if they actually come out, they could be game changers for the company. But then, we won't get our hopes too high, not forgetting so soon the hype Lenovo built around the Z5 which was released a few months back. The Chinese company could throw us a surprise for real this time around anyway.
(source)