The Lenovo S5 was announced back in March. The phone got a lot of flak as it came with less-powerful specs compared to the Redmi Note 5 it was touted to take on. Six months later, it appears we will be getting a Lenovo S5 Pro.
If you are familiar with Weibo, you should know the social media site usually reveals the name of the phone used to make a post. We discovered that the phone used by Lenovo's VP, Chang Cheng, to post the teaser for the phone with four rear cameras launching next month is the Lenovo S5 Pro.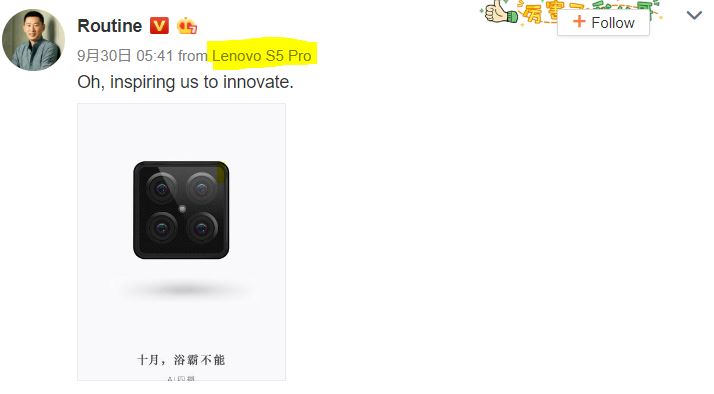 This is the only proof of the Lenovo S5 Pro's existence at the moment and we totally have no idea of what it looks like or what its specs are.
The Lenovo S5 has a 5.7-inch FHD+ display, a Snapdragon 625 processor, up to 4GB of RAM and 64GB of storage. It also has dual 13MP rear cameras, a 16MP front-facing camera, and packs a 3,000mAh battery. We expect the S5 Pro to have a more powerful processor, a bigger battery, and maybe better cameras but not necessarily a bigger display.
READ MORE: Lenovo Flexible phone with bendable screen officially teased in a video
With respect to the S5 Pro's processor, we do not think Lenovo will go with the Snapdragon 636 or higher since the Lenovo Z5 already has a Snapdragon 636 chipset. We are guessing it will come with MediaTek's Helio P60 chipset which is a significant upgrade when compared to the Snapdragon 625 and closer to the Snapdragon 636 in performance.
(Source)