Huawei P20 Pro vs Oppo R17 Pro vs LG V40 ThinQ: triple camera phones comparison
by Michele Ingelido ago0
After Huawei and LG launched the trend of dual camera phones, almost every smartphone manufacturer started inserting a dual camera module on its device, and now most of the Android phones have a dual camera on their rear side. Earlier this year, Huawei P20 Pro was launched as the world's first smartphone with a rear triple camera, and now various smartphones manufacturers started following the bandwagon again. Oppo R17 Pro and LG V40 ThinQ were the first handsets to debut with a triple camera setup after P20 Pro. Both are high-end devices and that is why they are perfect candidates for a comparison.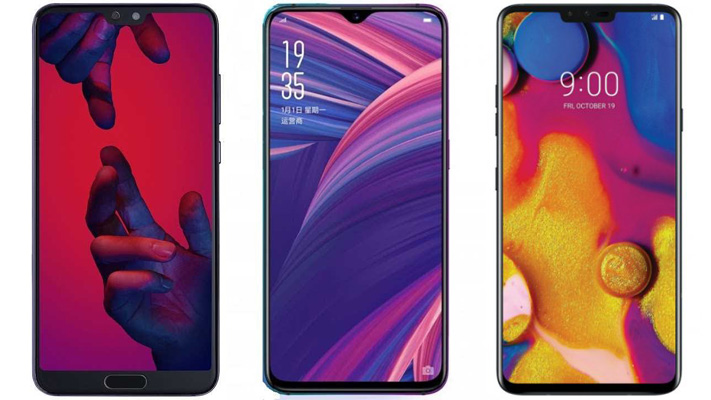 Huawei P20 Pro vs Oppo R17 Pro vs LG V40 ThinQ
Huawei P20 Pro
Oppo R17 Pro
LG V40 ThinQ
DIMENSIONS AND WEIGHT
155 x 73.9 x 7.8 mm, 180 grams
157.6 x 74.6 x 7.9 mm, 183 grams
 158.8 x 75.7 x 7.6 mm, 169 grams
DISPLAY
6.1 inches, 1080 x 2240p (Full HD+), 408 ppi, AMOLED
6.4 inches, 1080 x 2340p (Full HD+), 402 ppi, 19.5:9 ratio, AMOLED
 6.4 inches, 1440 x 3120 pixels, 537 ppi, 19.5:9 ratio, P-OLED
PROCESSOR
Huawei HiSilicon Kirin 970, octa-core 2.4 GHz
Qualcomm Snapdragon 710, octa-core 2.2 GHz
Qualcomm Snapdragon 845, octa-core 2.8 GHz
MEMORY
 6 GB RAM, 128 GB – 8 GB RAM, 256 GB
8 GB RAM, 128 GB, micro SD slot
 6 GB RAM, 64 GB – micro SD slot
SOFTWARE
Android 8.1 Oreo, EMUI
Android 8.1 Oreo, Color OS
 Android 8.1 Oreo, LG UX
CONNECTIVITY
Wi-Fi 802.11 a/b/g/n/ac, Bluetooth 4.2, GPS
Wi-Fi 802.11 a/b/g/n/ac, Bluetooth 5.0, GPS
 Wi-Fi 802.11 a/b/g/n/ac, Bluetooth 5.0, GPS
CAMERA
Triple 40 + 20 + 8 MP, f/1.8, f/1.6 and f/2.4
24 MP f/2.0 front camera
TRiple 12 + 20 MP + TOF 3D camera f/1.5-f/2.4 and f/2.6
25 MP f/2.0 front camera
Triple 12 + 12 + 16 MP f/1.5, f/2.4 and f/1.9
Dual 8 + 5 MP f/1.9 and f/2.2 front camera
BATTERY
4000 mAh, Fast charging with 4.5V / 5A
3700 mAh, Fast Charging with Super VOOC Flash Charge
 3300 mAh, Fast Charging with Quick Charge 3.0
ADDITIONAL FEATURES
Dual SIM slot, IP67 certification
Hybrid Dual SIM slot
 Dual SIM slot, IP68 certification, military certification
Design
Despite it is the most affordable handset of the trio, Oppo R17 Pro is the most beautiful handset when it comes to aesthetics. It boasts a glass back available in gradient colors which is very clean thanks to the fact that fingerprint reader is embedded in the display. Further, it has the highest screen-to-body ratio thanks to its narrow bezels and its waterdrop notch. It is also the first phone to feature a Gorilla Glass 6 front panel. But even though it has the most resistant display, LG V40 ThinQ is the one with the best build quality as it features military certification and it is fully waterproof.
Display
LG V40 ThinQ has an amazing display, definitely better than Oppo R17 and Huawei P20 Pro, even though they are equipped with an AMOLED panel just like the V40. It is a wide screen with a high Quad HD+ resolution and it is also HDR10-compliant, with the Dolby Vision technology. You can hardly expect more from a smartphone's display.
Specs & Software
Besides being the phone with the best display, LG V40 ThinQ also has the best hardware components. It is equipped with the best Qualcomm's SoC: Snapdragon 845 running at a max frequency of 2.8 GHz. And the most recent LG devices even come with a well-optimized and customized UI which makes it very fast. The second place goes to Huawei P20 Pro with its flagship-level Kirin 970, while Oppo R17 Pro has an upper-midrange Snapdragon 710 SoC but note that it is also available at a lower price.
Camera
The camera is the key specification of these handsets. Huawei P20 Pro's triple camera is the one that deserves the first place not only in this comparison but in the whole smartphones market. And it is mostly to its primary 40 MP sensor. It is composed of this main sensor, a monochromatic 20 MP sensor to capture a huge quantity of light even in dark environments, and an 8 MP telephoto lens with 3x optical zoom. All the lens are optically-stabilized. The second place goes to LG V40 ThinQ which boasts a standard 12 MP sensor, a secondary telephoto lens with 2x optical zoom and a third 16 MP wide-angle lens (it has a front dual camera, too). At last, there is Oppo R17 Pro with a main 12 MP sensor with a variable aperture, a secondary 20 MP sensor and a TOF 3D camera for depth detection.
Battery
Huawei P20 Pro has the biggest battery with a capacity of 4000 mAh. Oppo R17 Pro has 300 mAh less, but Oppo optimizes its batteries very well and it can achieve similar results to Huawei even with smaller batteries. LG V40 ThinQ loses the battle with a too small unit (3300 mAh).
Price
You can currently grab a unit of Huawei P20 Pro for less than €650/$720, LG V40 ThinQ is going to hit the shelves for about €800/$900 and Oppo R17 Pro will soon be available for about $625/€539. Huawei P20 Pro is the winner of comparison for its features and value for money.
Huawei P20 Pro vs Oppo R17 Pro vs LG V40 ThinQ: PROs and CONS
Huawei P20 Pro
PROs
Better cameras
Bigger battery
Stereo speakers
Water resistant
CONS
Oppo R17 Pro
PROs
Outstanding design
More affordable
Great selfie camera
Gorilla Glass 6
CONS
LG V40 ThinQ
PROs
Great hardware
Better build quality
Amazing display
Awesome audio
CONS