AnTuTu global smartphone user preferences for Q3 2018; Full-screen, Octa-core,6GB RAM phones dominate
Apart from the top 10 best performing smartphone models for September, benchmark outfit AnTuTu also released a series of charts showing the distribution of Android phone users based on key features such as screen resolution, screen size, chipset, RAM, storage and Android version.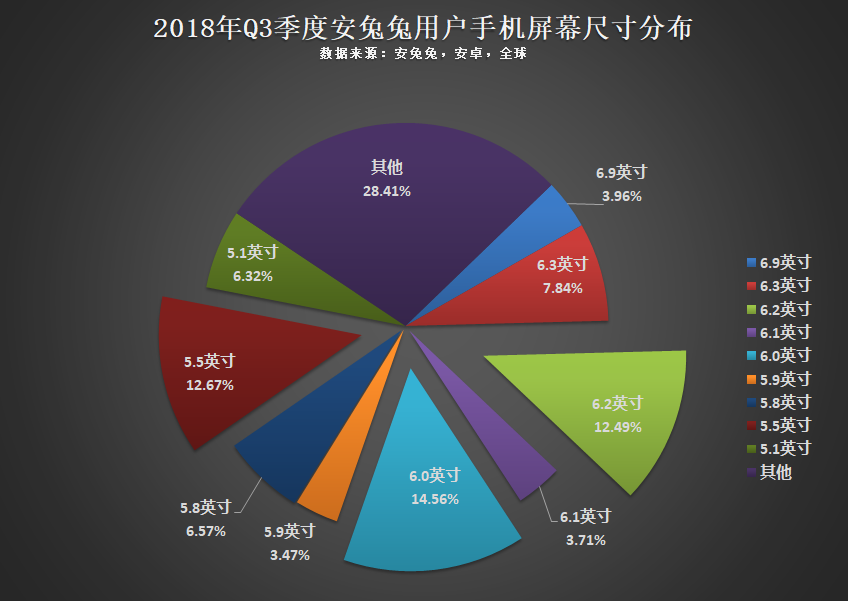 Screen Size
The advent of full-screen phones with thin bezels have led to the prominence of phones with bigger screen sizes. Big screen phones have even become more comfortable to use as a result of the aspect ratios in use today. This has made it possible to operate phones with 6 inches screen or more with one hand.
The screen size distribution for the third quarter of the year saw phones with  6 inches screen or more dominating. 6-inch display accounted for 14.56% of the market, 6.2 inches accounted for 12.49%, 6.1 inches accounted for 3.71%, 6.3 inches accounted for 7.84%, and even 6.9 inches has a share of 3.96%.  At the same time, phones with 5.5-inch and 5.8-inch screen sizes are still waxing strong even though the spread is not as it was in the past. 5.5-inch phones have a 12.67% share and 5.8-inch phone usage stood at 6.57% in the third quarter. In addition, the popular 5.1-inch screen size only has 6.32% usage spread.
There is no doubt that the shift to large screen size phones is a good development for the mobile phone industry. The larger body space has opened up the prospect of having a bigger battery, better heat dissipation, and overall, a better user experience for consumers. There are still phones with small displays of 4-inch and lower but that size on a smartphone may soon cease to exist.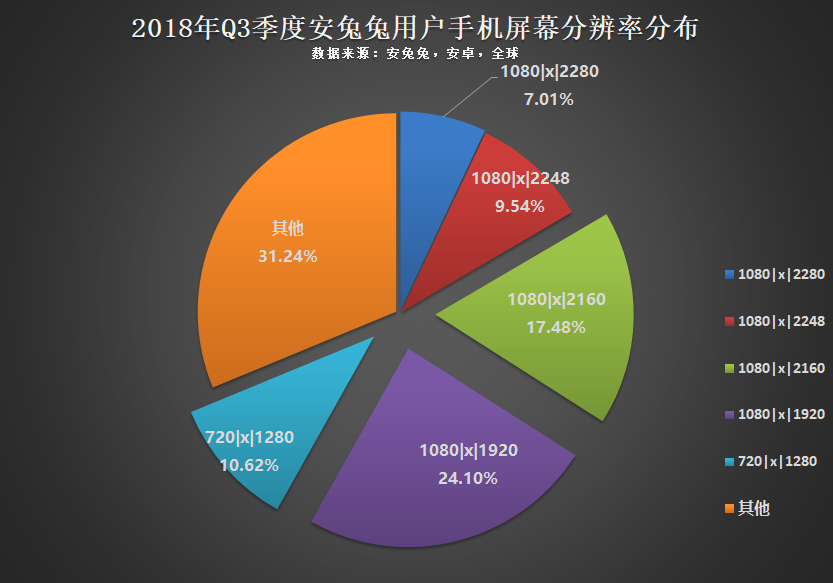 Screen Resolution
This quarter, 1920 × 1080 resolution still occupies the largest single share, but the proportion has been in a downturn in recent months. There is no doubt that phones with 16:9 aspect ratio will continue to reduce as fullscreen design continues to rise. At present, in the full-screen phone aspect, the three resolutions of 2160×1080, 2248×1080 and 2280×1080 account for the highest proportion, which are 17.48%, 9.54% and 7.01% respectively. In addition, these three resolutions are all notch design models which shows how much this trend is catching on. The resolution of the water drop screen which has just begun to enjoy wide usage is yet to enter the list.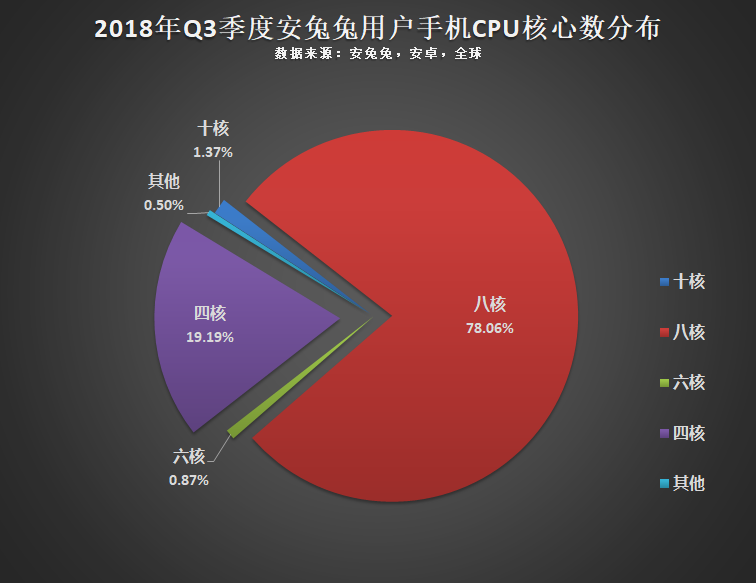 Chipset
Octa-core chipset may soon become the most dominant in the industry. The proportion of phones running Octa-core chipsets in the industry continues to increase and is now approaching 80%. MediaTek's deca-core chips really didn't receive the expected attention. Also, hex-core and quad-core processors usage continues to dwindle. So, the proportion of Octa-core chipset usage is likely to exceed 90%. Its usage in the high-end and low-end mobile phone is still popular and as at the third quarter, the usage stood at 73.8%. Quad core chipsets are still in use in the low-end category but some of these products will rarely be subjected to AnTuTu test. The usage is put at 21.9%.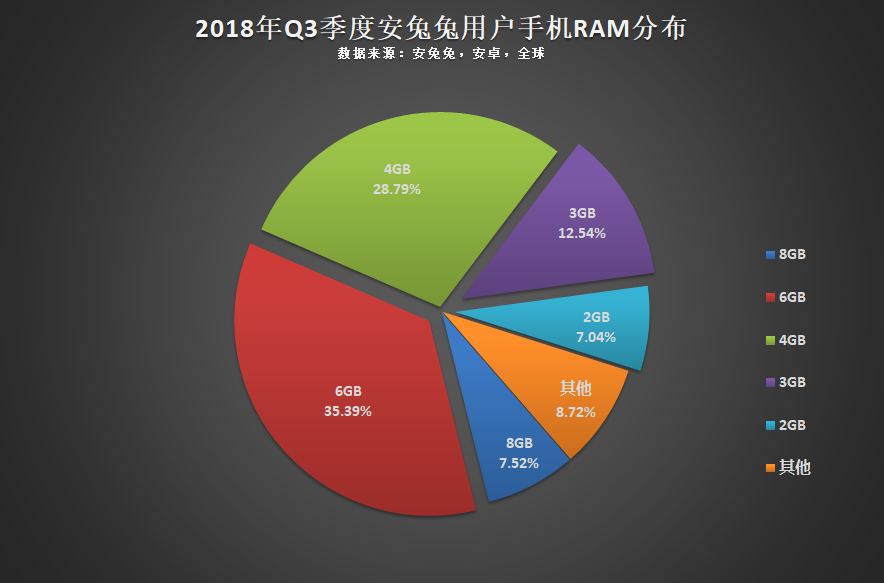 RAM
A large proportion of Android phone users have phones with 6GB of RAM and that represents a 35.39% share. On the other hand, 4GB RAM phones continue to go strong with a 28.79% market share. 8GB RAM phone usage accounts for 7.52% of the share. As for 2GB RAM and 3GB RAM phones, they have a cumulative share of 20%.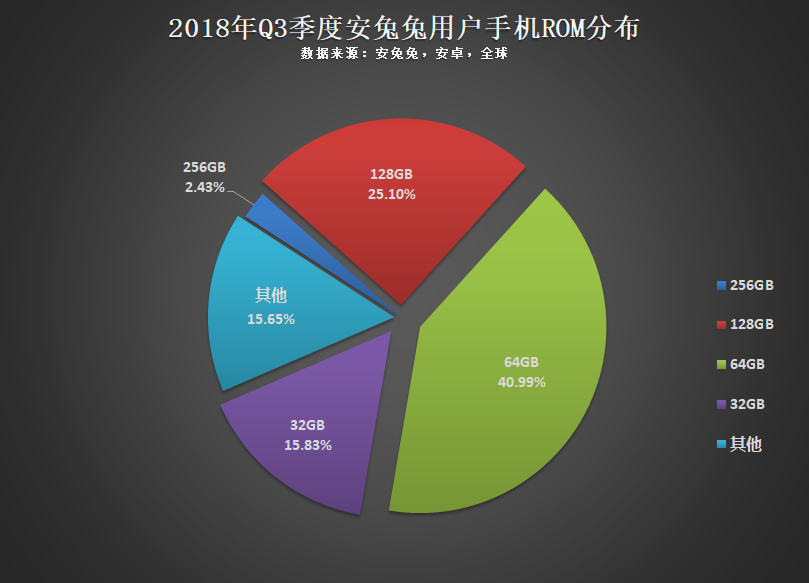 ROM
Just as 6GB of RAM occupies the largest share in RAM size, the standard for most of the flagships around is 6GB+64GB storage. In the mid-range segment, 4GB+64GB storage is basically the standard for the current mid-range mobile phone. Specifically, 64GB storage models account for 40.99% of the distribution, followed by 128GB, which accounted for 25.1%, while 32GB users accounted for 15.83%.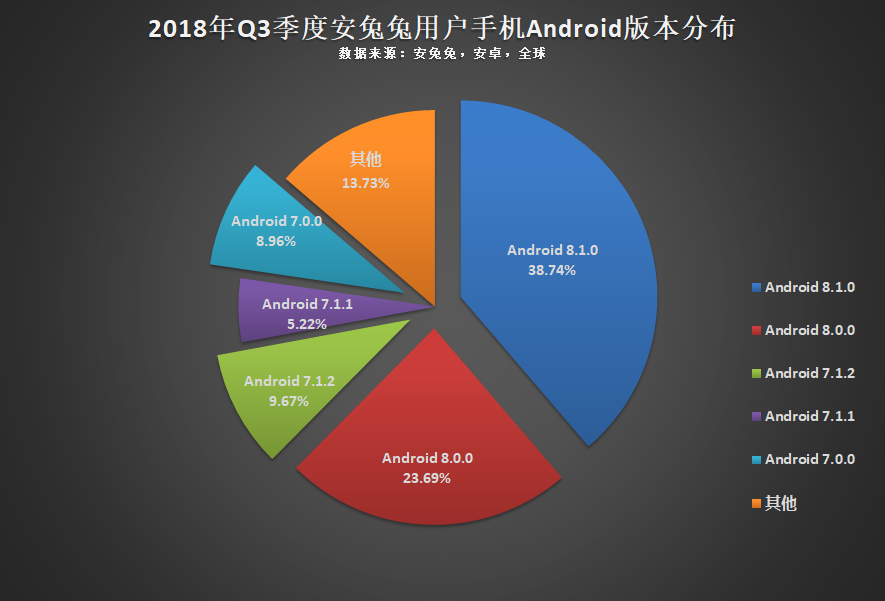 Android Version
The distribution of phones running through AnTuTu benchmark having Android 6.0 Marshmallow and lower accounts for only 13.73%. This figure also includes phones with Android Pie. At the moment, Android 8.1 Oreo is the most widespread Android operating system version in use with a 38.74% market share. Android 8.0 version accounts for a 23.89% spread. Android 7.0 Nougat versions (Android 7.0, 7.1 .1 and 7.1.2) also have a considerable user base but that is declining rapidly. The market spread among AnTuTu users is cumulatively at about 23%.
So, from the various pie charts, full-screen phones with octa-core CPU, 6GB RAM and 64GB memory are the most popular among users.