The Leband Electric Standing desk is here to get you on your feet
by Habeeb Onawole ago0
Ever heard the saying "Sitting is the new smoking"? It is fine if you haven't. Research has shown that sitting for too long is detrimental to health. There are a bunch of health problems related to sitting for too long such as cardiovascular diseases, increased risk of diabetes and weight gain.  If you work behind a desk, you'll most likely be sitting for at least 6 hours a day and are at risk of the above-mentioned health issues.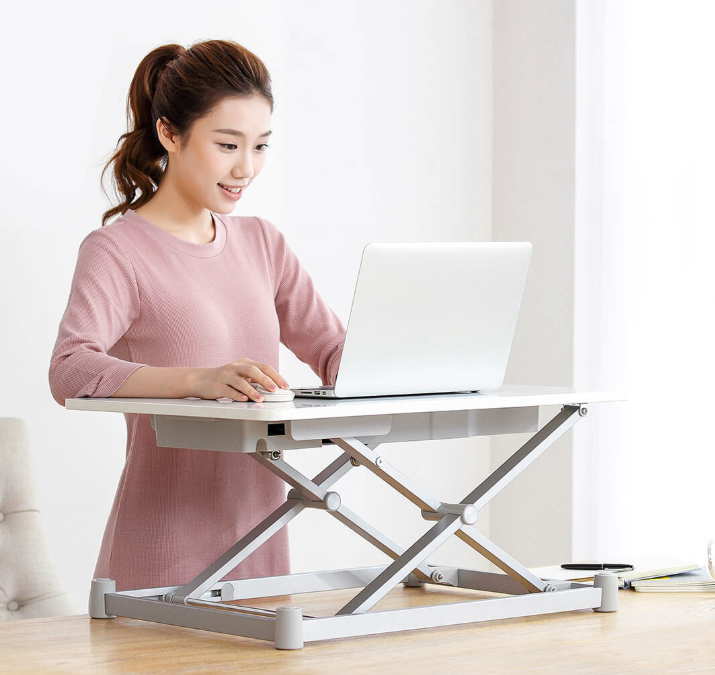 To stay healthy, it is recommended to take breaks, exercise, and work standing up. Unless your desk is pretty high, you know the last one is pretty difficult. That's where a standing desk comes in. One of the latest crowdfunding products on the Mijia platform is the Leband Electric Standing Desk and it is here to get you healthy and on your feet.
For those who don't know how a standing desk works, it practically sits on your already existing desk. Its adjustable height means you can raise it to your desired level while standing so you can keep working. In the case of the Leband Electric Standing Desk, you don't need to worry yourself about finding the right height.
The Leband Electric Standing Desk is also a smart desk. Using the Mijia app or its own app, all you need to do is enter your sex, your height and that of your main desk, and the app will automatically calculate the height the standing desk should be and raise it to that level. Neat, right? That's not all. You also don't have to this all the time as it stores it into memory for when next you want to use it.
The standing desk supports a maximum load of 15kg, so it should be able to bear the weight of your laptop, keyboard, and monitor. The standing desk has a maximum height of 40cm and is 7.2cm high when it is at its lowest, so it shouldn't be uncomfortable to work with when you decide to sit. There is a button on top for raising the height and another button right underneath for reducing the height.
READ MORE: Xiaomi MIJIA Walkie Talkie 1S launched with more features but same 249 yuan ($36) price tag
It weighs 9kg and measures 70 x 48cm. It has a power rating of 42W and a rated voltage of 12V.
The Leband Electric Standing Desk is priced at ¥899 (~$129) and is already available for purchase on the Youpin store.