Quick Charge is Qualcomm's fast charging technology. The QC 4+ technology is available on mobile platforms like Snapdragon 660, Snapdragon 670, Snapdragon 710 and Snapdragon 845. Fresh information that has surfaced from the recently held Qualcomm's 4G/5G Summit in Hong Kong has revealed that the company is now working on Quick Charge 5.0 that will offer 32W fast charging.
The latest version of Quick Charge carries support for 18W rapid charging. Competitor technologies such as Huawei's SuperCharge offers up to 40W fast charging, OPPO's Super VOOC charging supports up to 50W fast charging and mCharge technology from Meizu offers up to 55W rapid charging. According to Qualcomm, its next-generation fast charging technology will be equipped with triple camera system that will allow it to support up to 32W rapid charging and 15W wireless charging. This technology could be called Quick Charge 5.0.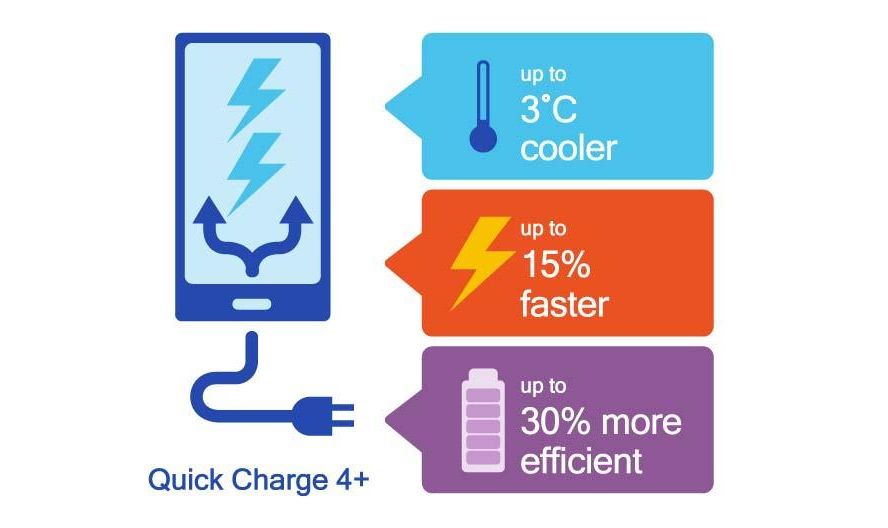 The existing Quick Chare 4+ technology offers Engine Fast Charging system that divides the power line in to two parts instead of one. This allows the phone to prevent overheating while carrying out fast charging.  Also, QC 4+ tech charging keeps the device 3-degree Celsius cooler while charging. It is up to 15 percent faster and 30 percent more efficient than its predecessor. The triple charge system will similarly allow the phone to support 32W rapid charging without getting hot. It is expected to arrive with more advanced features than QC 4+.
It is speculated that the Quick Charge 5.0 will arrive with Snapdragon 855 (or Snapdragon 8150) that may get official by the end of this year. The exact specifications of the chipset are not available. It will be a 7nm SoC that will arrive to rival with other 7nm SoCs like Apple A12 and Kirin 980.