Except for Samsung, most of the smartphone manufacturers have launched notched display smartphones. It seemed that the company stay away from launching such phones. However, through the Samsung Developer Conference (SDC) 2018 event that was used to showcase the Infinity Flex Display for its first foldable phone, the company also confirmed that it will be launch phones with U-shaped and V-shaped notches. Moreover, the company also revealed a new display that features a camera hole in the display.
The Infinity-U and Infinity-V notch designs look similar to the phones with waterdrop notch display manufactured by OPPO, Vivo, Huawei and Honor. The only differentiating factor between the Infinity-U and Infinity-V is the shape of the notch. The Infinity-U has a U-type notch whereas the Infinity-V has a V-type notch. Apart from the differences in the notch shape, both displays may appear identical.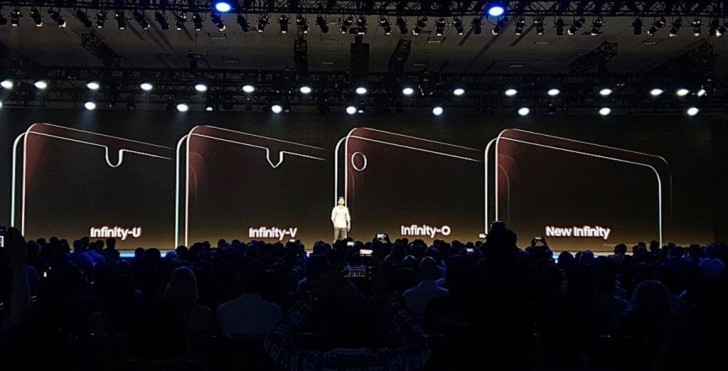 The Infinity-O display does not feature a notch, but it comes with a hole at the top-left corner of the display. It will be housing the selfie camera. Since the O-shaped cutout is positioned weirdly, people may have second thoughts before buying phones with such a design. The upcoming Galaxy S10 is expected to arrive with an in-display camera hole design. However, rumors surrounding it had claimed that the hole would be placed at the center position at the topside of the screen.
The other display design that was showcased at the SDC 2018 was dubbed as "New Infinity." It could be similar to the Infinity Display design found on the recent Samsung phones, but may offer a taller aspect ratio.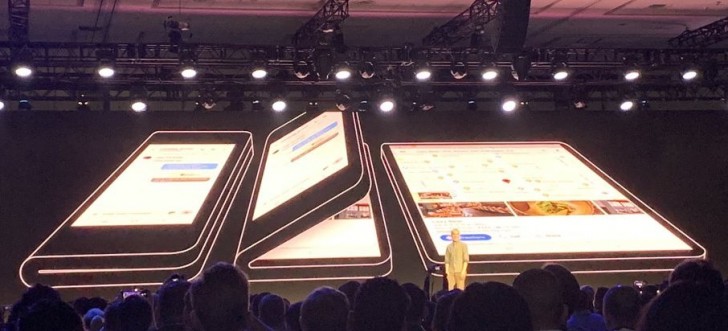 Lastly, the Infinity Flex Display is reserved for Samsung's first foldable phone that is most likely to go official in the coming year. It can fold vertically and when opened, it can allow users to use the device as a 7.3-inch tablet.
What's your opinion on the new display designs that the company will use on its future phones? Share us your thoughts by posting your comments below.
(via)