Meizu announces battery replacement plan for its phones
by Habeeb Onawole ago0
Meizu has announced a battery replacement plan for its phones. The plan which costs ¥88 (~$13) will allow you to get your phone's battery replaced with an original lithium-ion one.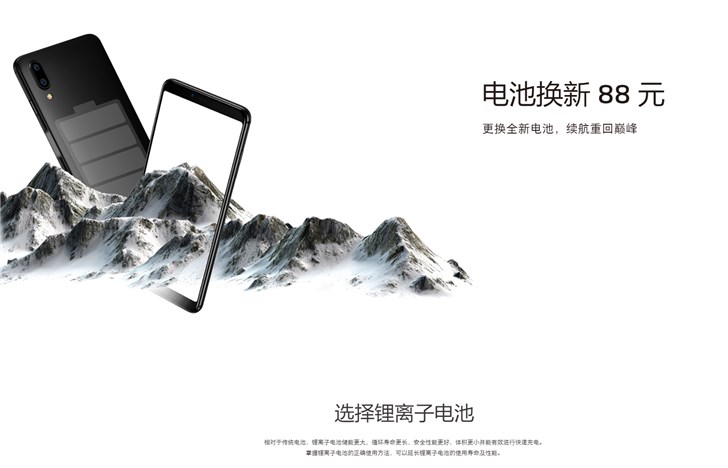 Depending on the option you choose or available, you can take your phone to an authorized service repair center where the battery will be replaced or even have Meizu send someone to your home to replace it for you.
Meizu says the battery replacement plan is eligible for those who already have an existing protection plan, those whose warranty has expired, or those who just want their battery replaced even without having a warranty or protection plan in the first place.
Meizu has released a list of the devices that are eligible for the battery replacement plan. There are a lot but it doesn't include all its products.
Meizu 6T
Meizu E3
Meizu M6s
Meizu M6
Meizu M6 Note
Meizu Pro7 Plus
Meizu Pro7 (Standard and High Edition)
Meizu A5
Meizu E2
Meizu M5s
Meizu MX6
Meizu Pro 6 Plus
Meizu Charm Blue  X
Meizu M5
Meizu U10
Meizu U20
Meizu M3 Max
Meizu M3s
Meizu Note
Meizu M2 Note
Meizu M1 Metal
Meizu MX4 Pro
Meizu MX5
READ MORE: Meizu explains why it won't release a 5G phone alongside other big names next year
Meizu said the reason for creating the battery plan is because of those who are frequent users of FlymeOS' multiple performance modes. From Meizu's explanation, this drains the battery quickly and requires owners to have to recharge their battery multiple times, hence a rapid depletion of the battery's charge cycles.
Even if you don't fall into the above category, the fact that there is a battery replacement plan means you can hold on to your phone for longer before getting a new one.
(Via)