Unihertz Atom is definitely one of the most innovative phones released in 2018 from an underground smartphone manufacturer. We took inspiration from one of the most famous Clint Eastwood's movies by calling it "million dollar rugged phone" because, thanks to its unique features, the Shanghai-based company managed to collect more than $1 million in crowdfunding on the Kickstarter campaign well before its official launch. Unihertz Atom is the world's smallest 4G rugged phone and this is our review with its pros and cons.
Design and build quality
Just like every rugged phone out there, Unihertz Atom does not do well in the looks department but its size and its build quality would surprise everyone. It measures only 97 x 45 x 18 mm, it weighs just 108 grams (but it will feel a bit heavy compared to its size) and, as said above, it is the smallest 4G rugged phone ever launched. This is a very important feature as people who look for a rugged phone to bring in the toughest environments usually desire a small-sized and not bulky handset.
It fits in every pocket and you can easily use it with just one hand thanks to its dimensions. Besides being incredibly small, this phone is very solid and resistant, and not only because of its very small size. It has a very sturdy build with a solid and rubberized black body and red highlights here and there. It is also IP68 certified, so you can forget worrying about dust and water. Further, it is protected against shock, vibrations and extreme temperatures. On the front side, it features a front camera, a notification LED and two capacitive keys to go back and access the multitasking menu, as well as a third one which doubles as a fingerprint reader.
The fingerprint reader does take a few seconds to react, but we found it to be accurate. On the right side, there is the power key, a push-to-talk button which opens the preinstalled app Zello, and a USB-C port which supports the OTG technology to connect external peripherals. The left side houses volume keys and a dual SIM tray (both the slots support nano-SIM cards and are 4G-enabled). The 3.5 mm audio jack (yay) is placed on the upper part of the phone, while the mono speaker is placed on the back (boo).
Display
As Unihertz Atom is the smallest rugged phone, it also has the smallest display. It has a diagonal of 2.45 inches, a resolution of 240 x 432 pixels and it is protected by Gorilla Glass (there is also a free screen protector in the box in case you do not trust Corning's protection). The display is definitely the only real weak point of this device.
The detail is not so high, even though it is not so noticeable given the size, and viewing angles are not very wide. On the other hand, its brightness is satisfying. If you have big fingers or a poor eyesight you will find it difficult to use, but if you do not have these problems, thanks to the good brightness and a great touchscreen, you should not have issues (except for the QWERTY keyboard, you will have to get used to it or just set the old school 3×4 keyboard in the settings).
Hardware & performance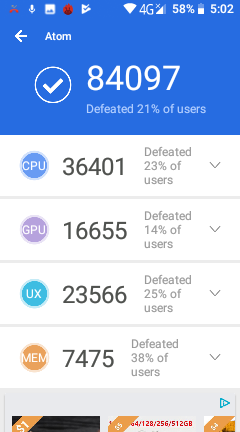 Under the hood, the Unihertz Atom has a midrange hardware side which is all but disappointing. It provides really nice performance in every scenario and given that with that display size you will surely not push multitasking to the extreme, the overall performance is smooth. It is equipped with an octa-core MediaTek Helio P20 which does its job greatly, 4 GB of RAM and 64 GB of internal storage not expandable. In our tests, it ran Asphalt 9 with a good and stable frame rate too!
Software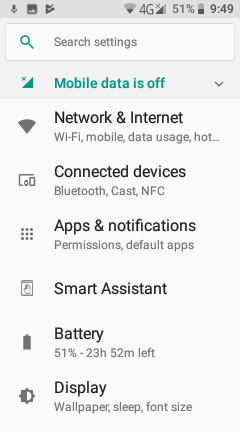 On the software side, Unihertz Atom has a stock version of Android 8.1 Oreo with no customizations, Google services included, and just a few preinstalled apps which could be useful in extreme environments in which rugged phones are usually popular. The system is smooth and apps open fastly. Right after turning it on, we got a notification with a software update containing fixes and improvements.

Camera
If there is ample lighting, the Unihertz Atom is able to click well-detailed outdoor photos which can surprise you for both detail and color reproduction (colors are just slightly washed out under direct sunlight, but HDR can adjust things). But forget shooting good photos in low-light conditions. It has a more than sufficient rear camera with a 16 MP resolution, but nothing very special. But it is enough for a small rugged phone sold at a reasonable price. The front camera is an average 8 MP sensor.
Battery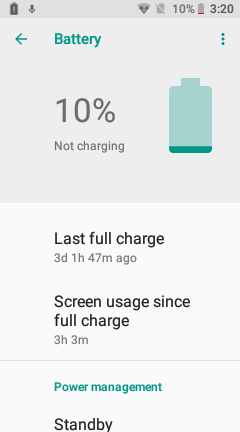 Despite its small 2000 mAh unit, we expected a bit more from the battery because of a small display with a below-average resolution which we expected to have a low energy consumption. But it's not exactly the case here. Rugged phones are expected to have large batteries, but this ones an exception. Because of its size and hence the limited battery capacity on board, you cannot achieve a lot more than 4h of screen time under normal and constant use.
Price
Unihertz Atom is currently up for pre-orders on the official store which can be accessed at Unihertz.com. You can currently grab a unit for just $249.99 ($10 of discount for a limited time) which is definitely a great price for a unique device like this. The Unihertz Atom will start shipping in December. Overall, this device turns out to be a nice deal.
At an affordable price, you can grab a unit of a very sturdy and versatile device with very satisfying performance, water-resistance, a decent camera, and even NFC support. The small display and battery are the only compromises which should worry you if you do not like a device with a poor viewing experience going out of charge under 1.5 days.
PROs and CONS
PROs
Very small dimensions
Outstanding build quality
Waterproof
Affordable price
NFC
Good performance
CONS
Not so amazing battery life
Below-average display