Xiaomi TV sales are twice as much as the second best brand in the recent 11/11 promo
by Simran Singh ago0
Xiaomi's $575 million worth of sales at this year's double 11 Singles' Day is also constituted majorly by Xiaomi TV sales. In a new report from the AVI Cloud, an online data monitoring company, it was found that Xiaomi TV sales were twice as much as the second best brand in the recent 11.11 sale event. It has witnessed huge TV sales and has constituted 28.9% overall TV sales and stood first in the distribution list. While, Skyworth stood at 13.8% followed by Hisense at 11.1%, TCL at 6.3% and many other major TV manufacturers in the remaining list.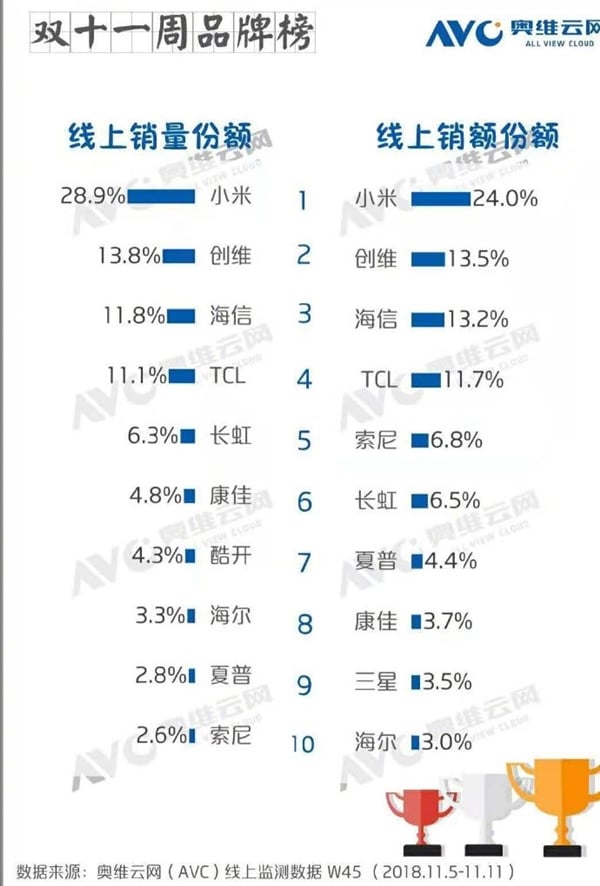 In the data above, we can see the difference in sales between the Xiaomi and Skyworth which remained at the 1st and 2nd position in the distribution chart. As the sales have risen, it has led to a considerable increase in the earnings also. Xiaomi has grabbed 24% of the total sale amount share in TV sales at double 11 events. Similarly,  Skyworth held the 2nd position with 13.5% percent chunk while Sony's high-cost TVs has led them to earn 16.8% of total sales.
Even companies like Changhong has earned a good amount of sales worth 6.5%. While Hisense stood at 13.2%, TCL shelled 11.7% and brands like Haier and Sharp constituted ~6% of sale amount share.
From the numbers, it is clear that Xiaomi is a big winner here and has grabbed most of the sales in double 11 sale event. Even Xiaomi TV department official said that "Every one of the three TVs sold in the double 11 sales is a Xiaomi TV."
Overall in comparison, the first four places remain unchanged while Xiaomi witnessed a little decline. Despite being on the bottom in the total number of sales, Sony managed to hit the 5th spot in the best brands table in terms of sales amount due to their high-cost TVs.
Well, it seems Xiaomi has got a lot of profit this time from the 11.11 sales. Xiaomi has gained sales worth $575 million in just 24 hours on the sale day.
(Via)