The Mi 8 SE is one of the numerous Mi 8 phones released by Xiaomi this year. It is an upper mid-range phone with a Snapdragon 710 processor and a notched display.
When it launched, it ran MIUI 9.5 based on Android 8.1 Oreo out of the box and even after receiving the MIUI 10 update, its Android version didn't change. Xiaomi is still gradually rolling out Android Pie to its phones and the Mi 8 SE is scheduled to get a beta version this quarter.
However, Android 9.0 Pie may not be the last major OS update for the phone as a version of the Mi 8 SE running Android Q has been seen on Geekbench.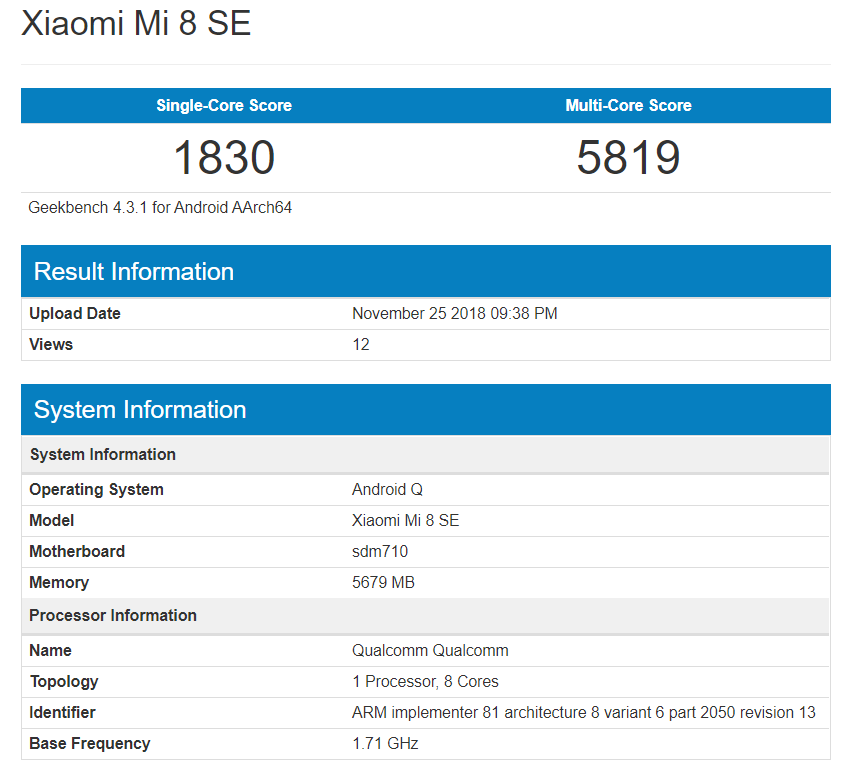 This is definitely a very early test device as Android Q will not get a beta version until Q2 next year after it must have been unveiled at Google I/O 2019. Nevertheless, it is pretty exciting to know that the Mi 8 SE is in line to get the next version of Android.
One of the confirmed features we know Android Q will bring is an upgraded split-screen multitasking feature where both apps running in split-screen are active instead of one being inactive.
READ MORE: FCC images show Xiaomi's Mi True Wireless Earphones is a rip-off of the AirPods
The Mi 8 SE is the third phone seen in less than a week on Geekbench running Android Q. A few days ago, a version of the Pixel 3 XL running Android Q was also spotted on the benchmark site. The next day, the first generation Pixel was also seen running Android Q.