OnePlus 6T closed beta program begins, apply now to get into testing
by Simran Singh ago0
OnePlus is quite quick in providing the latest updates to their smartphones. They have already launched the OnePlus 6T with Android 9.0 Pie onboard. Now for further development, they are again starting a closed beta program for the OnePlus 6T. From their passionate online fan following, OnePlus is hiring "elite crew" of beta testers for OnePlus 6T. As of now, the Chinese smartphone company will have 100 candidates on board.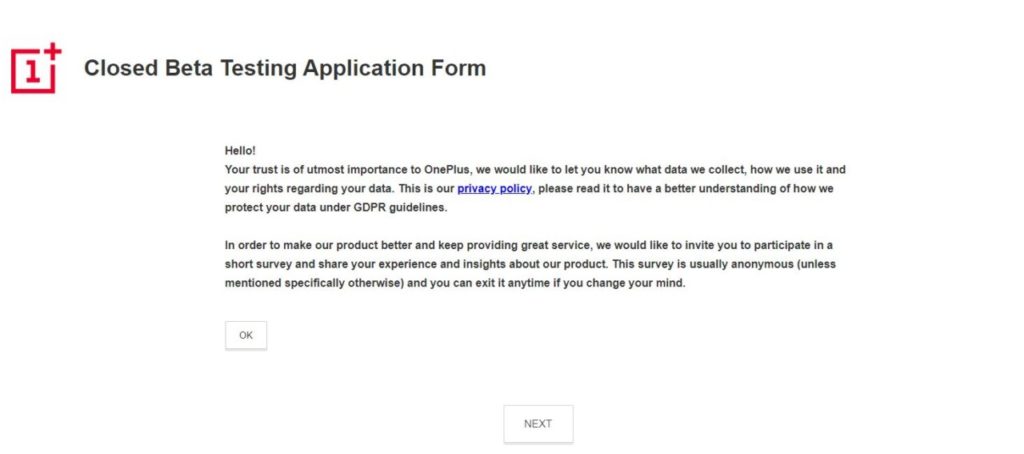 There are a few conditions that you need to follow before joining the community. You must have OnePlus 6T, you should be active on the OnePlus online community and last, but not least is the constant communication and feedback on the latest development. OnePlus describes it to  "constantly communicate and provide feedback to the OnePlus team on Slack."
The new group of 100 beta testers will be in direct contact with the development crews over at the OnePlus. It is the greatest perk for the beta testers as unlike some bot or autoresponder, now users will be in the direct contact to teh OnePlus staff. It will help OnePlus to get raw information in a much refined and detailed manner.
Despite being volunteering to the testing, don't expect much as your services won't be published anywhere, and even you can't claim anything. OnePlus is doing closed beta registrations by having a Non-disclosure agreement.
Along with these, you should be a technical person and should have experience in flashing ROMs. Sometimes, OnePlus might rollout update which needs fresh installs, so you should be ready to flash new builds. The last thing is to keep in mind that you don't have any mechanism to complain, as the builds will be unstable and you will be dealing with lots of bugs.
Also, use your OnePlus 6T as your secondary phone rather than primary, if you're testing the new beta builds. Now, if you have convinced yourself, then hit the source link below to sign up for the OnePlus 6T beta registration.
Additionally, OnePlus 6T is powered by Qualcomm 845 chipset with wither 6 or 8GB RAM> It is coupled with 128GB and 256 GB of internal storage. It is powered by dewdrop 6.41-inch display having an on-screen fingerprint sensor. It comes with dual camera shooter on the backside while a single camera sits on the front for selfies.
(Source)