Meizu just unveiled a brand new entry-level smartphone in India. Its name is Meizu C9 and for the first week, you can get it for just $50. It belongs to the lowest price range, so it is a perfect rival of the other cheapest devices out there. Here, we compared it with two devices we believe to be the best low-end handsets currently available: Nokia 3.1 and Xiaomi Redmi 6A, in order to see if it is worth getting a unit of the C9 or not.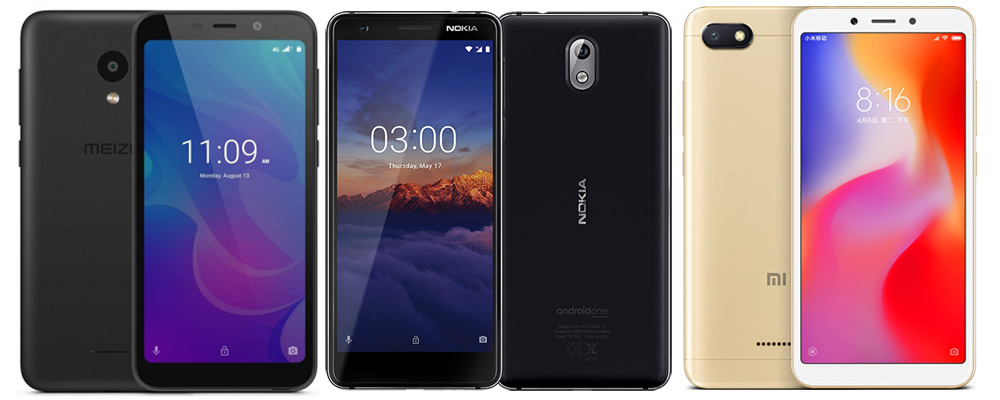 Meizu C9 vs Nokia 3.1 vs Xiaomi Redmi 6A
Meizu C9
Nokia 3.1
Xiaomi Redmi 6A
DIMENSIONS AND WEIGHT
146.2 x 71.2 x 9.7 mm, 150 grams
146.3 x 68.7 x 8.7 mm, 138 grams
 147.5 x 71.5 x 8.3 mm, 145 grams
DISPLAY
5.45 inches, 720 x 1440p (HD+), 295 ppi, 18:9 ratio, IGZO IPS LCD
5.2 inches, 720 x 1440p (HD+), 310 ppi, 18:9 ratio, IPS LCD
 5.45 inches, 720 x 1440 pixels, 295 ppi, 18:9 ratio, IPS LCD
PROCESSOR
Unisoc SC9832E, quad-core 1.3 GHz
 MediaTek MT6750, octa-core 1.5 GHz
MediaTek Helio A22, quad-core 2 GHz
MEMORY
2 GB RAM, 16 GB –  micro SD slot
2 GB RAM, 16 GB – 3 GB RAM, 32 GB –  micro SD slot
 2 GB RAM, 16 GB – 3 GB RAM, 32 GB, micro SD dedicated slot
SOFTWARE
Android 8.0 Oreo, Flyme OS
Android 8.0 Oreo, Android One
 Android 8.1 Oreo, MIUI
CONNECTIVITY
Wi-Fi 802.11 b/g/n, Bluetooth 4.1, GPS
Wi-Fi 802.11 a/b/g/n, Bluetooth 4.2, GPS
 Wi-Fi 802.11 b/g/n, Bluetooth 4.2, GPS
CAMERA
13 MP f/2.2
8 MP f/2.2 front camera
13 MP f/2.0
8 MP f/2.0 front camera
13 MP f/2.2
5 MP f/2.2 front camera
BATTERY
3000 mAh
2900 mAh
 3000 mAh
ADDITIONAL FEATURES
Hybrid Dual SIM slot
Hybrid Dual SIM slot
 Dual SIM slot
Design
Meizu C9 has the cleanest and most interesting design, with narrower bezels around the display, but Nokia 3.1 is the most compact phone. All of these handsets are made of polycarbonate and do not feature a premium design, so you should make a choice based on your tastes. Xiaomi Redmi 6A is similar to full metal unibody phones and some may like it, but it is just plastic. On the other hand, it has the thinnest body with just 8.3 mm.
Display
Thanks to the IGZO technology, Meizu C9 can provide a better display quality which results in a high brightness, a fast response and less energy consumption. Nokia 3.1 has a smaller display which makes the phone more compact and easy to use with just one hand, and it is also the only one to feature the Gorilla Glass protection by Corning making it more resistant. Xiaomi Redmi 6A's display has really nothing special, it is just a sufficient IPS entry-level panel.
Specs & Software
When it comes to hardware, the champion is definitely Xiaomi Redmi 6A because it is equipped with a more powerful SoC. We are talking about the Helio A22 by MediaTek running at a max frequency of 2 GHz and realized with a 12 nm production process. Further, Xiaomi Redmi 6A has a dedicated micro SD slot. Nokia 3.1 comes with a sufficient MediaTek SoC, while Meizu C9 has the new Unisoc SC9832E which does not seem so convincing with its 1.3 GHz. Note that while Xiaomi Redmi 6A and Meizu C9 have custom user interfaces (MIUI and Flyme OS), Nokia 3.1 comes with the stock Android One updated in a faster and more constant way directly by Google.
Camera
The most impressive camera department is the one on board of the Nokia 3.1. It features a rear 13 MP sensor with a f/2.0 and an 8 MP front camera with exactly the same aperture as well as the HDR technology. It is able to shoot better photos and selfies, but it still remains an entry-level camera phone. At the second place, we put Meizu C9 because of its pretty nice front camera for a device sold at just €60. The worst one seems to be the Xiaomi Redmi 6A because of its average selfie camera.
Battery
All of these devices provide more or less the same battery capacity and they can reach one day with a moderate use thanks to their well-optimized energy consumptions. We still did not test the Meizu C9, but the results obtained by Nokia 3.1 convinced us slightly less because it does not last very long in some scenarios. Usually, Xiaomi optimizes its phones better in terms of consumption, but we still have to see how Meizu C9 performs.
Price
After the first week, Meizu C9 will cost about €90, while Nokia 3.1 are available at prices of €90 and €150. The phone with the best value for money is currently the Xiaomi Redmi 6A, I would pick it for its good performance, its micro SD dedicated slot, and its long-lasting battery. But if you want a stock and bloatware-free operating system which gets faster updates, Nokia 3.1 is better. Even if it does not have the best hardware, the stock Android experience on a small and entry-level might make the difference for some users.
Meizu C9 vs Nokia 3.1 vs Xiaomi Redmi 6A: PROs and CONS
Meizu C9
PROs
Better display
Very affordable price
Good battery
Nice design
CONS
Nokia 3.1
PROs
Compact design
Android One
Better connectivity
Better camera
CONS
Xiaomi Redmi 6A
PROs
Affordable
Micro SD dedicated slot
More supported software
Great performance
CONS
Potentially worse cameras