Motorola Motokey EX117, handsphone with triple SIM card slot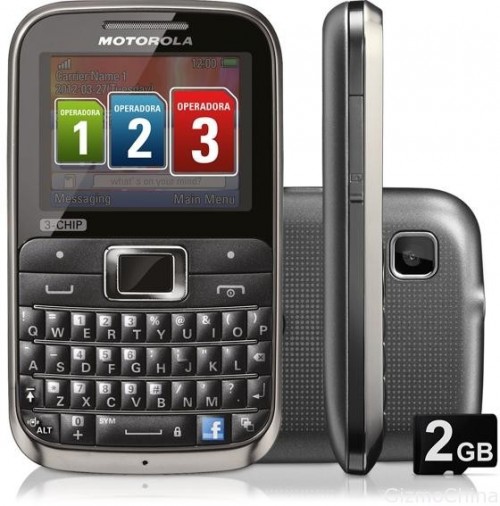 If you're tired carrying two mobile phones or more at the same times, it's time to one phone which has tw simcard slot inside, thanks to dual-sim card technology but now there is Motorola Motokey EX117, that phones has tri sim card slots inside.

Mobile phones with dual-sim cards is very popular in Asia, mostly in China. And now some people argue to using more and more mobile phone and carying lot's of phone in his/her pocket, so Motorola Motokey EX117 maybe is your solutions.
Motorola Motoley EX117 has same design with Nokia E71 or E72 since those phone using full-QWERTY keyboard. With triple SIM card slots it's means Motorola Motokey EX117 will brings three SIM cards inside, Unfortunately, this phone is available in Brazil and Canadian markets for now, but I'm sure will be available for global market and mostly Asian market.
Beside has full QWERTY keyboard, this phone has a special Facebook button for those social networking junkies, the screen is 2 inches with 220×176 pixels, FM radio, Bluetooth connectivity, 3.5mm headset jack, 2-megapixel camera, and microSD memory card slot for expansion. It seems this phone has no 3G radio, so the likelihood is non-Android handsets and will occupy a range of entry level.