Unboxing: Ainol Novo Hero II, Quad-core CPU + quad-core 3D GPU Android tablet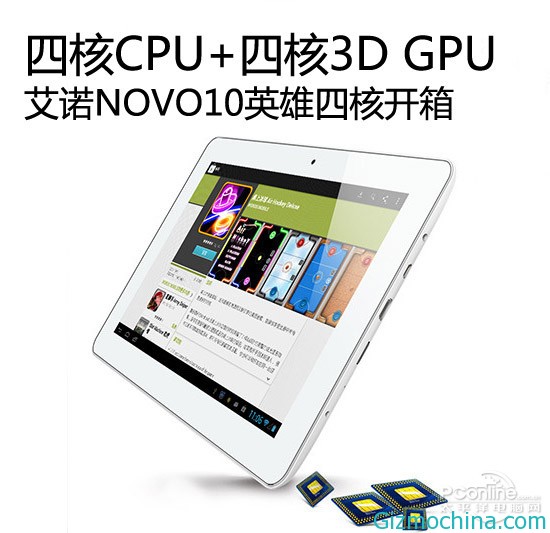 With the come of the new year Ainol is making a big surprise through their products, Ainol is the one of domestic tablet manufacturer which always offers the nice products.

And now they already has the new Ainol Novo 10 Hero II, this tablet is powered by Quad-core procesoor and quad-core GPU, this tablet brings the quad-core tablet experience for the user.
And now we have the couple picture of unboxing experience of Ainol NOVO 10 hero II Quad-core Android tablet:
First of all, we can see quad-core packaging NOVO 10 Hero II are related to past products but have a little significant change, very different color or packaging materials, and printing design. Black packaging, seems to be better able to give people a sense of mystery.
If the The previous Ainol packaging products is minimalist, and now we said quad-core NOVO 10 Hero II packaging is the simple end. From the two sides of the left and right of the box covered with Ainol excessive printing.
From the back, it seems that we can not find that obese cute little glutinous  image, even on behalf of the icon. Although not too much modification, but the minimalist style of packaging also allows Ainol on layer grade.
Ainol NOVO10 Hero II equipped with 10.1-inch HD IPS screen, as well as upgrade the high-performance ARM ATM7029 quad-core processor. The tablet thickness is only 8.9mm, the weight is only 603 grams; the iPad generation thickness of 9.4mm, with 653 grams, the volume is very competitive!
Ainol NOVO 10 Hero II quad-core version also installed a layer of acrylic panels, the easily dip fingerprints, either visual or tactile feel or very textured. 3 megapixel rear-facing camera and 2 megapixel of frontfacing camera, capable of taking pictures, videos, and video chat, there is no flash. According to official reports, This quad-core NOVO 10 Hero II will have the appearance of Bright's gives you more options and more style.
This tablet is still used ALPS Alps buttons, not only feel comfortable, bring more convenient operation. NOVO Hero II quad-core support for DC power and USB charging, HDMI HD output, TF card slot are also readily available.
This tablet  is still used Alps buttons, not only feel comfortable, bring more convenient operation. The Ainol NOVO 10 Hero II quad-core has using IPS capacitive screen resolution of 1280 x 800, size 12.69 x 20.32cm, with 32-bit color depth. Its refresh rate is about 63Hz almost same with notebook.
This phone is running with Android 4.1.1 Jelly Bean operating system, adding a lot of new features. Especially the multi-core processor performance will show stronger; special effects animation frame rate to improve to 60fps, touch delay reduction, smoother user actions.
In Android 4.1.1 desktop plug-in can automatically adjust the size, layout according to the orientation and position of the user drags the more humane side. Widget, original look disorganized arrangement, now a lot of neat.
Ainol NOVO 10 Hero II is also capable for playing newer game and has popular 3D game.