The specs of Meizu MX3 smartphone exposure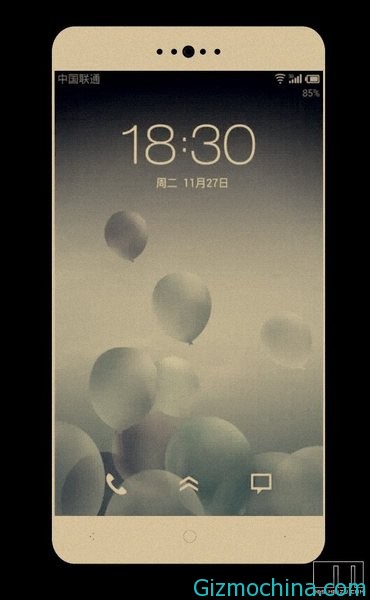 Meizu is preapring the new handset, the device is called as Meizu MX3 Android smartphone, those phone is expopsure with detail specs and leaked pictrure.

A few days ago, someone on Facebook has been expose the new Meizu MX3 smartphone, this phone has ultra narrow border design and packs with 5.1 inch screen size, according to the information, the phone will be powered by Samsung Exynos 5410 processor.
There is also a smartbar that will be better with a third party application and compatible with others Android apps, and will has online music services and other functions.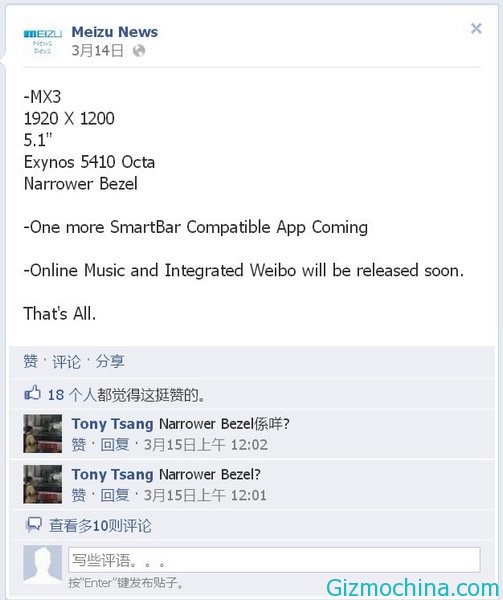 The Meizu MX3 specs exposure
As we mention in the begining of this article, the Meizu MX3 has a veru narrow frame design, and the screen size is 5.1 inch with 1920 x 1200 pixel resolution, while the processor as same as Samsung Galaxy Note 4, it's Exynos 5410 eight-core processor.
In addition, there is an upgrage and improve than MX2, such as Smartbar that will be compatible with other third-party applications, Meizu will also embed an online music service and integrated with micro-blogging services.
While for now, there is no official information from meizu according the appearance of this Meizu MX3 smartphone, but Meizu Chief Product design director Zhao Yingxiu has been revealed in a media interview next generation Meizu phone will still ultra-narrow border design; Secondly, Meizu have been using a Samsung processor Meizu MX3 using Samsung eight-core processor a great possibility.
And we got the new information that this Meizu MX3 will be packed with 5.1 inch touch screen size, due for a rumor recently says that the MX3 will be packed with 4,7 inch is wrong.
Powered by 3000 mAh battery
According to a person who familiar with the Meizu saying, that Meizu MX3 also will has 8mm body thickness and sports with dual speakers will be distributed in the body from top to bottom, the MX3 will has a 1.9 megapixel front-facing camera and 13 megapixels rear camera and get better in order to let the phone endurance performance, also equipped with a 3000 mAh battery capacity.
But we trying to keep our eyes to track the new detail  information of Meizu MX3, so stay tune on this site and ready to order the Meizu phone at Android-sale.com