Two Pantech phones hit Taiwanese market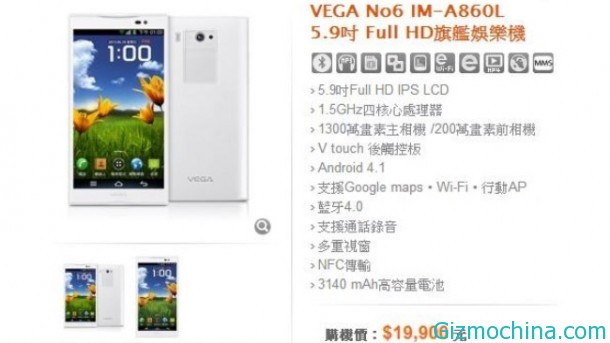 Pantech is one of Chinese handset manufacturer which built the flagship smartphone, thats the Pantech Vega Q and Pantech No.6 and now those phones is hitting the Taiwanesse market.

Pantech Vega Q is the waterproof Android smartphone thats packed with 4.3 inch 720 HD screen and 8 megapixel camera. Powered by 1.5 GHz dual-core processor and sports with 1GB of RAM and 16GB of expandable storage, this phone is offers for 11,400 TWD or equal with $380 USD price.
While we ever covered the Pantech Vega No.6, this phone is enter the phablet market since packed with larger screen size of 5.9 inch full HD screen, and packs with 13 megapixel main camera on the back and 2 megapixel front facing camera, powered by Qualcomm quad-core processor and coupled with 2GB of RAM and 32GB internal storage. that can be expandable through microSD cards. This phone is offers with 19.900 TWD or equal with $663 USD price per unit.
This is the nice move from Pantech.