Huawei Honor 3, Android smartphone with water proff capability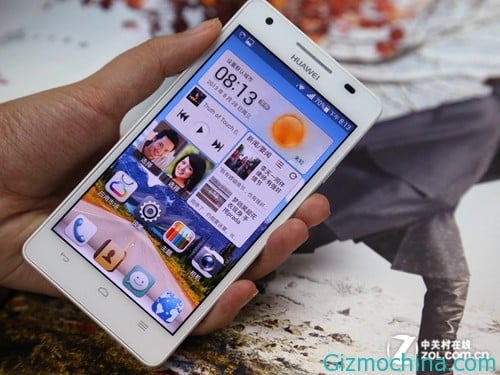 September this year, a new machine is destined to bursting period in September this short period of 30 days, there are new products, there are exhibitions, to the country from the international big-name products brand, we have seen many companies intend to launch its own flagship in the fall models of the third generation. Huawei as the reputation of the domestic manufacturers, has just released the hit "America" ​​attitude Huawei Ascend P6 , P6 is now the heat has not yet subsided, Huawei Honor 3 Outdoor (hereinafter referred to as Huawei Honor 3 ) at the end of August and the first to enter our line of sight, can be said that opened the September campaign prelude strong machine.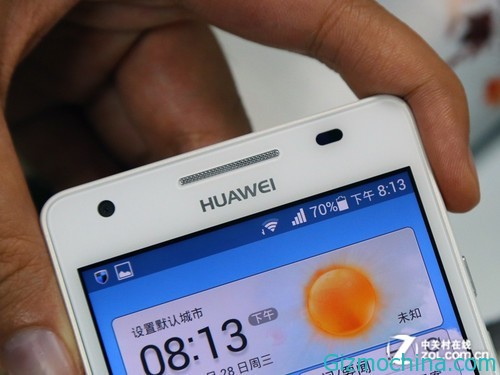 From Huawei Honor, Huawei Honor + to Huawei Honor quad-core , quad-core love to enjoy Huawei Honor version, this series of product positioning in the high-end market in the UI, functionality have made a lot of optimization. Mainstream configuration, smoother experience with the price close to the people, is our Huawei Honor series has always been looking forward to this series of models for Huawei Honor lay a solid foundation for the market. In the past, Huawei Honor family of products, we always find some unique places. Whether it is the depth of customization UI, or cloud services, user-friendly features, Huawei Honor series products have passed these details to show us the place of their glorious place. Today, Huawei Honor 3, they give us what surprises do?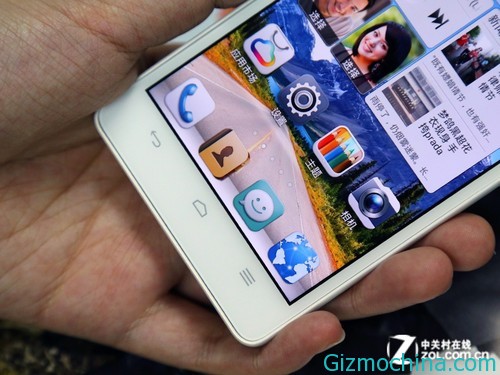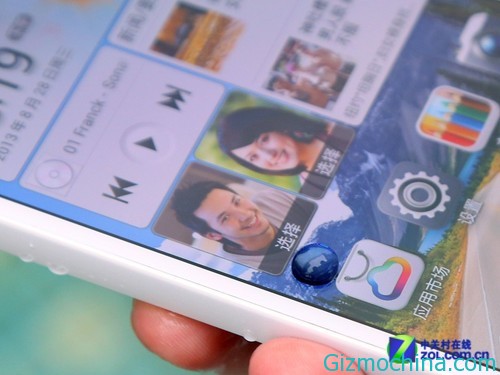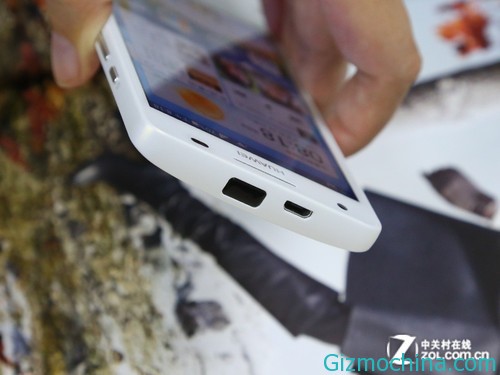 Huawei Honor 3 equipped with a 4.7 inches 720p IPS screen, viewing angle is large enough, the pixel density also reached 315ppi. Through the front panel of the Gorilla Glass 2-generation phone brings complete protection, can effectively scratch scratch, allowing users more confidence in everyday use. Processor, the Huawei Honor 3 Select the 1.5GHz frequency Hass K3V2E quad-core processor, combined with 2GB RAM and 8GB storage space body, with a 2230 mA when the power, you can ensure that users a day of normal use. In addition, Huawei Honor three levels is also a IP55/57 waterproof and dustproof phone, 1 meter depth for 30 minutes, will not affect the normal use of mobile phones.
White fuselage Huawei Honor 3 front panel also maintained consistent with the cover and the white border, through a piece of Corning Gorilla 2-generation glass to protect the cell phone screen. Huawei Honor 3 simple continuation of a consistent design style, nor blindly follow the trend of ultra-thin, feel very original, because the screen is relatively modest, the phone is also quite portable.
Founder of the screen is Huawei Honor 3 's logo and metal handset, the right is the sensor, the left is the front camera. In fact, there is a front-facing camera left breathing light, the charge or SMS, incoming call will light, usually it is the perfect hiding results. Huawei Honor three front camera with 100 million pixels, which for self-love sister who may be a little regret, because one million pixels and indeed before the timer hit "beauty" Huawei P6 is equipped with 500 megapixel front camera has a certain gap, but Huawei Honor 3 front camera, supports 10 beauty, the screen fill light, so than the average one million pixels self has an advantage.
Huawei Honor 3 buttons are located on the right side of the fuselage, the power key and the volume key up or down to set. This design is very user-friendly, although Huawei Honor 3 screen size is moderate, but compared to the top, or right buttons for easy one-handed operation several more. Then there is the Huawei Honor three rather special place, at the top we can see the data interface of a black box, here is actually Huawei Honor three infrared. That Huawei Honor 3 can be used as a remote control to remote control home appliances in our homes, which we will explain in the back. Also Huawei Honor 3 headphone jack located on the bottom, through the headphones plug to achieve waterproof and dustproof effect.
Some people wonder why the data interface is not equipped with dust plug, which is actually due to phone the body with a waterproof USB, but also at the interface also incorporates a silicone ring seal, but also through the locking screw on both sides, so no need to worry underwater data the interface will affect the use of water.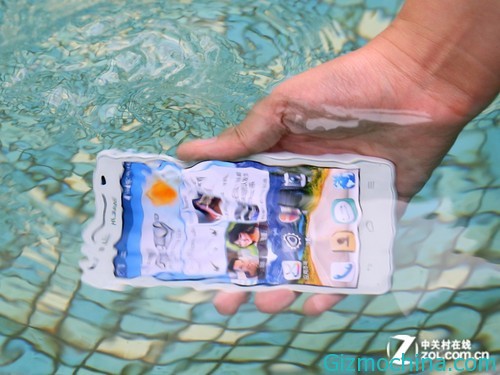 Huawei Honor 3 of the fuselage is also a simple design, logo at the bottom, camera, speakers and flash are at the top. Huawei Honor 3 on the back there is actually a certain arc, so in a single-hand grip is very fit hand, combined with a smooth cover material itself, or feel very comfortable.
Huawei Honor 3 equipped with a 13.1 million pixel camera, although the front camera of 1.0 mega pixel makes somewhat regrettable, the main camera is still very to the force. Sony's 13.1 million from the stacked pixel camera when shooting in low light can significantly enhance the amount of light, together with Huawei Honor 3 unique codec algorithm, the photographic effect under low light conditions can also be very good.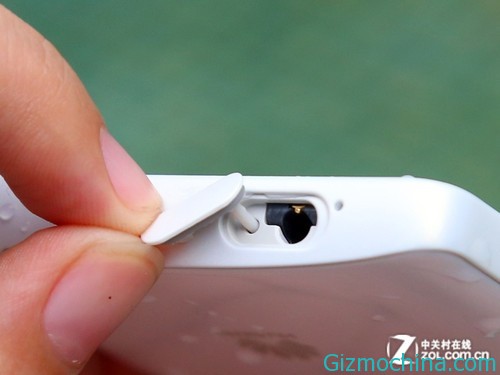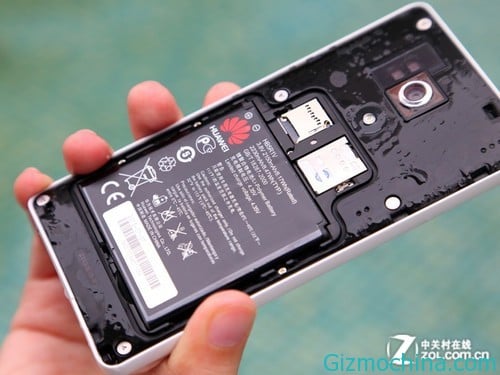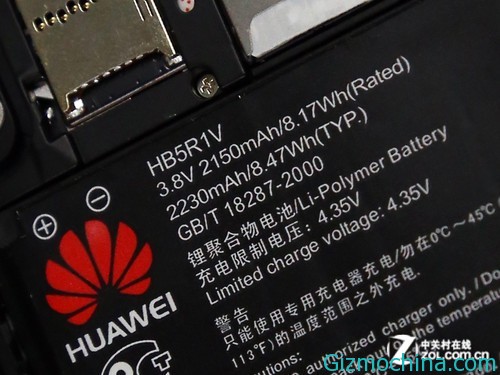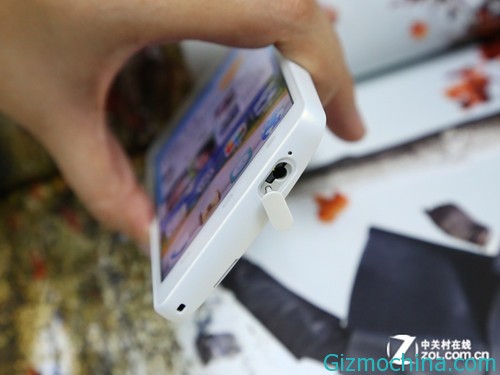 Huawei Honor 3 back cover can be opened, which is now, it has been rare. We can see the back cover waterproof circle around this cover with a liquid silicone injection molding process, the battery compartment cover is through the region and the rear cover to achieve waterproof silicone ring. Huawei Honor 3 uses a micro-SIM card, microSD memory expansion, users do not have to worry about storage space is not enough.
We mentioned the Huawei Honor 3 is a waterproof and dustproof phone , so we still carry out a simple test. Just after the company building is a fountain for Huawei Honor 3 waterproof test, this is definitely the most suitable occasion.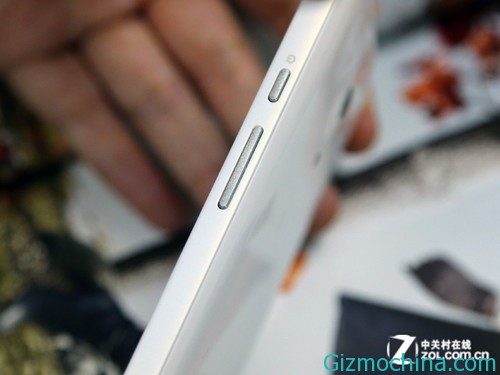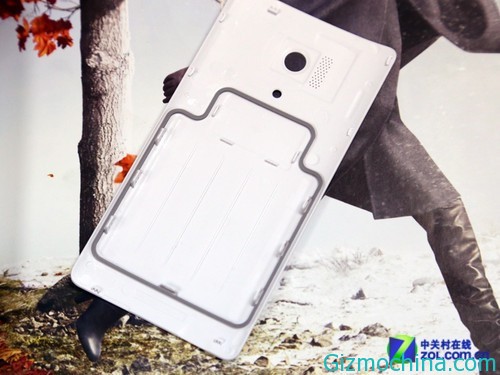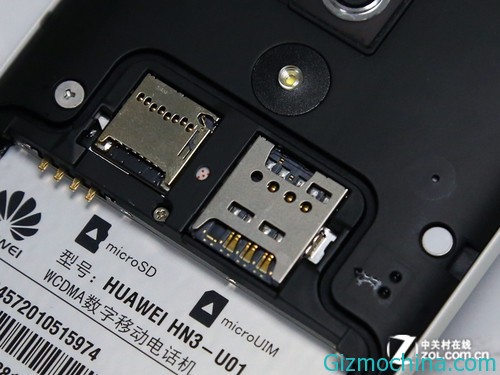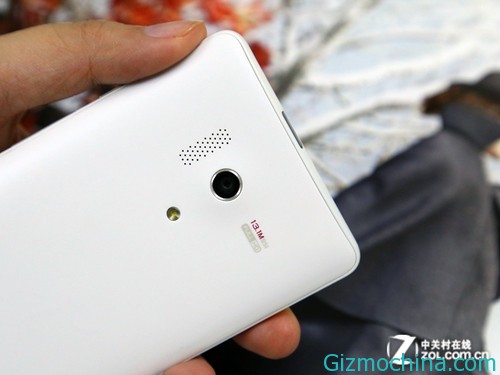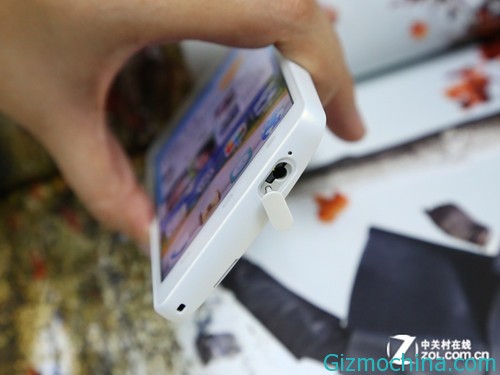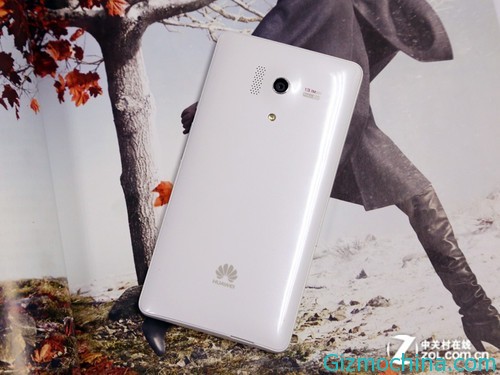 Quietly waiting for 30 minutes a bit unrealistic, but we are also quite bad heart of the phone in the pool welling up a pass. After the phone out, apparently also able to work, after all, is a level IP55/57 waterproof mobile phone thing. Next, and then open the back cover and dust plug a look, Huawei Honor 3 headphone hole is very clean, the battery compartment cover silicone circle no water in sight. Although we have seen around the battery compartment cover and cell phone from the seams into some water, but because Huawei Honor three screws with a waterproof, waterproof fuselage and a main valve ring and breathable waterproof membrane so completely protected , so do not worry about the water into the cell phone inside, clean enough.
In other words we toss the phone through the sealing effect is still so good, if you are not careful in normal use splashed water or fell into the water, nothing to worry about it.
Waterproof and dustproof with infrared Huawei Honor 3 outdoor evaluation
Automatic sliding surface of the screen or condense into water droplets, does not affect the touch-screen operation
In addition to conventional waterproof and dustproof, the Huawei Honor 3 Another point so we are very concerned about – wet hands. For example, when the sister who was washing the dishes when cooking, hands bound water, this time if a phone call, we inevitably must first dry her hands, and then answer the call. This is because we are afraid that some phones do not damage the phone waterproof, the second is due in our hands, or when there is water on the screen, the phone's capacitive screen will become inoperable.
Huawei Honor 3 through water than the interference in the screen, the touch sensor to improve the S / N ratio, so that we can wet hands touch screen, than the general waterproof mobile phone more convenient. From practice, we can also see that when we take the phone out of the water on the screen when almost no one, only a part of the polymer as a drop of water, rather than dispersed state. In fact wet hands touch screen, the hand touches the screen after water will condense into water droplets, so there is no impact on our operations.
Exclusive UI Emotion UI 1.6 Protection of privacy
After reading the phone 's appearance and waterproof performance, we look at the Huawei Honor 3 inner bar. And Huawei Ascend P6 as Huawei Honor 3 equipped based Android 4.2.2 System Emotion UI 1.6, which means that the Huawei Ascend P6 features Huawei Honor 3 are reflected. Same time as the phone is equipped with an infrared, so it can be used as a remote control, which is the largest Huawei Honor three characteristics.

Huawei Glory 3 Emotion UI 1.6 interface

Huawei Glory 3 built-in variety of topics
Huawei Ascend P6 after the previous evaluation after everyone for Huawei Emotion UI 1.6 should also be more familiar. In the main interface Me Widget is the biggest highlight of Huawei Emotion UI, the user can the player, news, clock, contacts, etc. combined into one group member fixed to the main screen, ensure pluralism of information and the use of convenience sex. Also based on different themes, unlock the interface will be different, Huawei Honor three default or hold down the unlock button to unlock the four directions dragging. In addition, Huawei Honor 3 also provides users with more themes online several topics we should be very familiar with the Huawei Ascend P6 debut with the launch of several different colors with different themes. Also Huawei Honor 3 also has a large number of online topics to choose from, styles vary, Meng Department, a small fresh can find their own type.
Huawei Honor 3 no dedicated application menu interface, application icons are spread directly on the home screen, so the icons Huawei will be the same class are classified in advance for us to create a folder. One of the "Mobile Management" folder, there are including backup, application installation, updates, and many other mobile management applications, and today we want is a detailed description of one of the "rights management."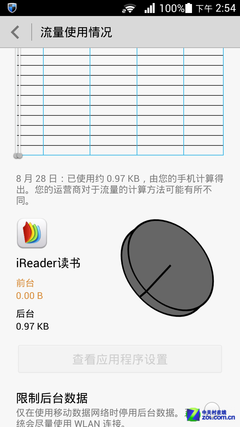 With more and more smart phones, users are most concerned about privacy than whether sniffing, a large number of applications will slow down the speed of mobile phones and so on. Huawei Honor three permissions management features can we address these concerns. The "control application networking" feature allows us to set the application whether individually or via WiFi networking to use our data flow, click the appropriate application, we can also see the application traffic usage. In the bottom of the interface, you can see "Restricting background data" option, then the application will not be checked in the background stole our traffic up.
Also in the rights management interface, we can also see which applications have read our Privacy exchange data, including messages, call log, location and so on. If there are some applications will not allow the phone in the background, let us secretly take pictures, or tapping our conversations, but also in rights management interface has been displayed. In addition to rights management, the Huawei Honor 3 also has "auto-start management" function, the phone application running in the background will slow down the speed will reduce both life, we only according to their needs, choose from Kai management interface whether a given application can be run automatically, you can easily solve this problem without root.
Finally, to mention a small feature, which is manually screen color temperature adjustment function. In the design of the menu display interface, Huawei Honor 3 added a manual color temperature adjustment function, the user can manually adjust the color temperature to obtain the most appropriate to meet the needs of different visual.
Features Found Honor 3 Remote Control Function
If the phone is regarded as the basic functions of management functions, then we have to say is the following features of the. Navigation or map we are very common, but Huawei Honor 3 of navigation features into the AR technology, which is called augmented reality. In other words this is somewhat similar to Nokia 's urban kaleidoscope, will we see the real navigation and fused together, even if it is not read maps Luchi can rely on this feature to find the road.

Remote control interface type and brand choice

Optional models can also be intelligent adapter

Has set a good remote control can be stored for later use directly
Enter the destination, open the photo navigation, we simply phone camera at the road in front of us, and then follow the screen arrow to advance on it, such a simple and intuitive way to lead the way is indeed very good. In addition, Huawei Honor 3 there are "smart reader" function, in the reading process, if we encounter the need to search for, as long as the selected directly in the application need to search within the text, you can directly share, search or translate. But still have to translate the page into web version of Google Translate, rather than directly in the current application interface translation, which we still hope that in the future by improving Huawei to bring us more surprises, so that reading can be more wisdom wisdom.
We mentioned Huawei Honor 3 supports infrared remote control can be used, and now look exactly how to use it. Huawei Honor 3 can be used for TV , DVD , set-top boxes , air conditioning , IPTV and SLR remote control use, but should be noted that, in the new remote control when the need for networking, so it is in a WiFi environment better. In television, for example, we chose first select TV brand, then determine the model. It does not matter if you can not remember the model, you can choose the lower left corner intelligent adapter. Select Intelligent Adapter, the Huawei Honor 3 remote control function will only select remote control programs, and through several key test of the program is available. If available, just click save it. After the remote control intelligent adapter interface layout although the TV remote control used in the test are not the same, but the corresponding function key is still the same, there is no obstacle to use. Of course, using a mobile phone when the remote control switch TV is not the problem.
Let's look at camera right, although Huawei Honor 3 of the 13.1 million pixel main camera with Huawei's proprietary "wisdom like" (IMAGESmart) image processing engine very worthy of our careful test it, but because when evaluating Beijing suffered a heavy rain washed Therefore weather conditions is definitely not conducive to taking pictures, so this evaluation in the photos section we tentatively as Huawei Honor three references in the rainy weather, we may find a follow-up on sunny days launched photographed special evaluation.
Huawei Honor 3 camera interface very well get started, a lot of functions, but as a result of a well integrated classification, so using it does not make people feel complicated. In the photo, the Huawei Honor 3, there is a "smart" model, which can automatically identify the scene to take pictures, such as Portrait, Indoor, Night, etc., so we will be counted as a scene mode this model.
Shooting indeed very bad weather conditions, so the overall picture of the outdoor proofs are gray. When we opened the outdoor camera HDR mode, contrast can be seen in normal mode is relatively high brightness of the sky, while the close-range vehicles as well as the details of the middle of the trees and had flatly. HDR open after the details of these parts has been enhanced, but the color of the sky and thus deepened. When shooting indoors, Huawei Honor three pairs of light cohesion in place, the phenomenon does not appear cast, color restore more real; while shooting in low light within, we can see that, although photos around because of insufficient light seems a little darker, but the noise control is in place. In macro terms, Huawei Honor 3 gives us the feeling does not lose Huawei Ascend P6 , Macro shooting distance is very close, thanks to the large aperture F/2.2, so the background blur is to force.
HD + excellent lossless audio and video playback skills
Finally look at Huawei Honor 3 entertainment performance of it, 4.7-inch screen, 1.5GHz quad-core Hass K3V2E processor , for us, such a configuration is indeed sufficient to meet the daily entertainment needs. In the video, we chose the 15 segments of different packaging formats 1080p Full HD video, How effective is it?
Huawei Honor 3 supported video formats is very comprehensive and you can see MP4 , mov, MKV, MPG, RMVB and avi formats which are available through several commonly used three local Huawei Honor that comes with video player to continue playing. Although due to rate or video encoding, compression and other reasons, of which three videos need to use third-party player software decoding to play smoothly, but that does not make us right Huawei Honor 3 video playback capabilities minus points. But Huawei Honor 3 video player is very simple indeed, in addition to sharing, we could not find the other setting options, I believe that some users still want Huawei Honor 3 to enrich the contents in this regard.
Audio playback Huawei Honor 3 is still very versatile, APE, FALC, mp3 , OGG, WAV and m4a formats can smooth playback, and Huawei Honor 3 music player comes with DTS audio can also provide treatment, in order to bring ultra-clear sound quality. In addition, Huawei Honor 3 music player also supports users to play, download music online resource for today's users, online resources in the form of this combination is certainly very welcome.
And the web, Huawei Honor 3 performance was fairly satisfactory. Our test page is relatively large amount of information, can not be called the speed of page loads quickly, but did not make people wait too long. The web video playback is very smooth, but the video playback page, occasional brush microblogging want to see the video, you can open without hesitation point of view.
Summary:
Through the above evaluation, we can say that Huawei Honor 3 is a configuration mainstream feature the color of the product . 4.7 inches screen is small but perfect for one-handed operation, but also very portable. In the characteristic function, AR navigation and infrared remote control is also a two Aspect Huawei Honor 3. Then with the waterproof and dustproof, wet hands touch, and less than two thousand dollars price close to the people, it can be said Huawei Honor 3 is a very attractive product.
Comprehensive performance testing –
AnTuTu ( Super Rabbit )
Super Rabbit System Evaluation AnTuTu Benchmark is a dedicated to the Android system phones, Tablet PC hardware to run the software points, it can run a full test a key project, through memory performance, CPU integer performance, CPU floating point performance, 2D, 3D graphics performance database I / O, SD card read and write speed and many other performance tests, and the phone's overall and individual hardware performance score. Also upload your score and see the device in the world rankings.
Basemark OS
BasemarkOS is a device for measuring the overall performance of the system-level software testing projects including system test (in accordance with standard applications, messaging services, Java, file operations, storage, database, compression and decompression, Bluetooth, dialers, etc.); Graphics test (2D imaging, graphics scaling, JPEG, PNG and GIF encoding and decoding, 3D game test); Example test (calendar, contacts, etc.).
Quadrant Advanced Edition
Developed by the Aurora Softworks Quadrant, is a veteran of the mobile device performance testing tool, it tests include 12 CPU test, a memory test, four I / O test, a 2D graphics tests, three 3D graphics test items, and finally a feedback device under test integrated results. GPU unit is not equipped with a device can not run the software. Theoretically, the higher the score, on behalf of the comprehensive performance test equipment hardware stronger.
Quadrant Advanced score 5705
Quadrant total including Standard, Advanced, Professional three versions, Advanced version in addition to providing final test results, but also provides an offline browser and advanced settings. Professional and Advanced there is no difference in functionality, but the former turn right for business users (such as agents, handset manufacturers), software prices higher only. Our test selection: Quadrant Advanced Edition.
CPU Performance Test –
AndEBench is the 2012 release of a software, which provides a way to evaluate the performance of the Android platform, to test CPU and Dalvik (Dalvik is the virtual machine in Android system is responsible for an Android device running the application software equipment, Android therefore the main part of the whole) performance, and compare the different devices in different local and Java performance. The test software can also prove a platform for multi-threaded performance, its final run sub-divided into a pre-installed application for local execution efficiency (AndEMark Native) and separately install third-party applications for the execution efficiency (AndEMark Java) two aspects.
Linpack
Linpack in the international arena has become the most popular high-performance computer systems for testing floating point performance benchmark. Through the use of high-performance computers, using Gaussian elimination method for solving one yuan N times dense linear algebraic equations test, evaluate high-performance computers floating point performance. Relative computer terms, An droid phone version of the Linpack software is relatively simplified some, the latest version contains only single-threaded and multi-threaded two tests. As the name implies, the processor 's computing power is stronger, the higher the score, dual-core and even the future of multi-core processors in a multi-threaded test section to be reflected in the test results in floating-point operations per second (Flops) is given.
Linpack floating point test (single-threaded / multi-threaded)
RAM performance testing –
Memory (Stream)
Memory (Stream) is a memory test software, through which the Copy (data replication), Scale (capacity), Add (add) and Triad (integrated) and the consolidated results of several sub-test scores can understand the level of the phone memory management performance level, the higher the score, prove that the better the performance of the device's memory management.
STREAM test results
GPU graphics tests –
3DMark
Futuremark's 3DMark originally launched a PC platform specifically measure graphics performance software, enthusiasts and establish a benchmark test image. February 2013, a new generation 3DMark addition to the traditional Windows platform, added a new Android , iOS and Windows RT version three mobile platforms to achieve a cross-platform test comparison.
3DMark test scores generally
Android and iOS version of 3DMark through IceStorm two load scenarios with IceStorm Extreme graphics processing power of the device for testing, test each scene through two animations GPU graphics processing power, while an animation to detect CPU physical rendering capabilities, GPU graphics test total score greater proportion.
Basemark X
Basemark X can mainly be used to assess the iOS, Android and Windows Phone 8 devices gaming graphics performance and support for cross-platform comparison. The benchmarking tool is unique in that it is the only real game engine built on top of Unity4 professional evaluation software that can produce high-quality performance comparison results.
Basemark X test scores
Specifically, Basemark X is based on the present and even the future of 3D games using the situation to the design load, and can be tested in a high state of equipment, Basemark X main test is the game type of content, including the particle effects, advanced lighting effects and post-processing, mainly for the hardware device can test the performance of a GPU.
Basemark ES 2.0 Taiji
Basemark ES 2.0 Taiji is a graphical test software, which uses a pre-designed screen scene girls play ball to the three-dimensional graphics performance test equipment, test equipment which can be understood in the context of the game and the graphics speed of execution more quickly.
Basemark ES 2.0 Taiji test results
GFXBench 2.7.0 (Eygpt HD On / Off Screen; T-Rex HD On / Off Screen Test total of four parts)
GFXBench 2.7.0 is a graphical test software before GLBenchmark 2.5.1 is an upgraded version, which contains more than 30 benchmark test project. Consists mainly of high-quality 3D scenes, the picture is more complicated.
GFXBench 2.7.0 Test Results
Browser Test –
Sunspider0.9.1
Sunspider0.9.1 browser testing for the project, through the device built-in browser on a variety of data, including graphics and other display speed of the browser to consider the pros and cons, including the test project is very tedious, through 3d, access , bitops, math, string, and so arrive at a project test scores, scores in milliseconds (ms) record, and ultimately lower the value, the shorter the time, the better the performance proved that browser.
Waterproof and dustproof with infrared Huawei Honor 3 outdoor evaluation
Sunspider slightly unsatisfactory results 4463.3ms
Vellamo
Vellamo by Qualcomm (Qualcomm) developed a benchmark application (like Neocore), which lets you phone browser performance and stability tests, including performance as Java script, rendering, networking and user interface. The tool also includes the results of multiple sub-items, but we just take the total score, the higher the score indicates that mobile phone browsers higher degree of optimization, web browsing experience better.
Vellamo as a mobile web Ruler tool, has now expanded to include two major modules. HTML5 module is used to assess the performance of the mobile Web browser, and Metal module for mobile processor of the CPU subsystem performance measurement. Click on the test suite that is used, convenient, sub-module management, Vellamo can scroll zoom, 3D graphics, video performance, memory read and write bandwidth, peak performance, and many other aspects of evaluation.
HTML5 test –
Fishbowl (set to 10 fish) FishIE Tank (set to 50 fish)
Through the web page which is full of fish screen to HTML5 performance test equipment, which you can set the number of fish during the test fish are kept swimming in the number of fish in different devices under the same circumstances, the swimming The faster that the stronger the HTML5, and the page will also give the corresponding fps value of the same, fps higher the better.
HTML HTML5 is the next major revision, it is still in the development stage. Its main benefit is to strengthen the performance of a Web site's performance and provide better search engine optimization, web development based on HTML5 APP has a shorter start-up time, faster networking speeds, especially for mobile users with better Image download speeds and more beautiful web animation.