Ramos launching i8, i10 and i12 tablet device with Intel processor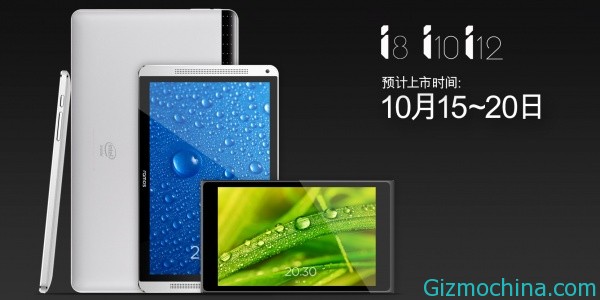 After we've got the leaked picture of Ramos K1 tablet yesterday, is now we happy to announce the informtaion that Ramos tablet is now going official, Ramos has been held the media event recently to launching this tablet to the public.
Ramos is the one of domestic tablet manufacturer that always offers a nice product, is now they join waith Intel to built the nice tablet device that has multimedia tablet device but  offers with very affordable price. Ramos has been held the big conference in Beijing recently.
Ramos has been collaboration with Intel, the conference will showcase with Clover Trail Intel chipset Series, those tablet are Ramos i8, i10 and i12 series tablet. The executive of Intel China visit the event, this is the interesting product comes from domestic manufacturer.

▼ last conference, @ Ding Shaohua came to enjoy the show once again his musical talent, sang his recent hit song "home everywhere" as well as good sound song, "I want us together."
▼ The conference ended, the media started following link, four products are actually hand diagram:
▼ four products introduced over, and then play by the model shows four plates.
▼ four products will be on September 15 i9 first listing (2GB RAM 16GB EMMC storage, price 1199 yuan), in addition to several products will be listed on October 15-20, the price will be more surprises, another i-series sure will continue to extend three month renewal, 15 months after-sale gold sales policy.
▼ Blue Devils i series has four products and the mainstream international line flat comparable hardware specifications
▼ i9, i10 and i12 three products of the fuselage on both sides of two-speaker stereo system built by the world's leading companies AAC provides speakers and acoustic sound chamber design, AAC is also a supplier of Apple and Samsung. Makes i9 with large loud speaker volume, the sound loud and full, which has stunning visual effects, from flat also has a good voice.
▼ continue to explain the product: Blue Devils in the following areas is enough to subvert the domestic flat-panel market today, such as the excellent TP touch experience / world-class workmanship / IPS Screen / long life / good software compatibility.
▼ After the initial introduction of four products mentioned tablet support in good voice link when invited Chinese player Ding Shaohua good sound on stage singing songs
▼ i12 ship in large-screen flat-panel big vision: to combine Intel Core brings powerful gaming and multimedia entertainment properties, we try FULLHD 11.6-inch ultra-high resolution display as a home entertainment center, full mirror front attention designed to allow more open vision, convenient family to share. -30 Degrees in the box closed, face between the CNC and the arc bright surface treatment, easy grip, while for the entire machine by color a lot.
▼ i10 Full Metal process design: i10 fuselage for the all-metal design, CNC process so that products reach micron level precision, so that a sense of technology to the limit. About two-channel high-fidelity speakers, the auditory and visual experience more perfect. Back arc design, more comfortable hand.
▼ Next is the Blue Devils i9: double-sided glass design, the US-based crystal plates. Before and after the use of tempered glass material with metal frame in stark contrast. Given its sparkling beauty, transmission out of crystal-like texture. Consumers can also choose aluminum backplate, aluminum oxide sandblasting drawing through various processes in the frame with seamless to meet different consumer needs!
▼ First introduced Blue Devils i8: starting point for the design of the entire i8 is suitable for single hand held, in order to achieve this goal, we first introduced in the country's 8-inch ultra-narrow Samsung IPS screen, coupled with high-precision structural parts , thereby enabling us to build into the current global i8 narrowest and most suitable for single hand held 8-inch plate, the plate width of only 124mm, 134.7mm even narrower than iPadMini of more than 10 mm.
▼ Blue Devils four new Intel core tablet official product launch!
▼ Intel's Mobile Communications Division, Mobile Wireless Sales Director, Mr. Zhao Dayong China, came to power, he was at the scene as we explain the advantages of the Z2580 chip and Intel channel resources in the layout.
▼ i series which subvert it? The first is the use of Intel chips, this product line we used intel clover trail + chip.
▼ subversion = dream + Innovation + products. People because of the great dream, a dream that we are a group of people, our core team of a basic requirement is that there must be a dream. Our dream is to make the Blue Devils domestic first-class and even the world-class brand.
▼ i subvert the world. Based on the current status of the domestic flat-panel and the Blue Devils have one pair of products are the ultimate pursuit of the team, we have high hopes for the i-series, thinking we used to create subversive subversive domestic flat. Subversive attitude from start!
▼ first to share a data, we look at the recent two years, this is our main consumer groups in our market survey data obtained, this data is our marketing staff in 10 major cities nationwide and 100 colleges and universities have obtained first-hand data.
Although this year the whole tablet market is growing rapidly, especially in the domestic flat-panel products, with fast product updates and chip upgrades, occupy a high market share, but user satisfaction has decreased year by year, this campus survey data, from the reflection the out, and now the traditional architecture of traditional homemade tablet in quality control really is not very satisfactory, consumers are most concerned about from the previous price becomes now most concerned about the quality began to mature.
▼ million total, said: "i also represents the intel inside, intel inside we believe that the future must also be user to buy flat products is an important reference, of course, i also represents the wisdom of our latest intelligence series, the Blue Devils would have been the continuation of this future product series, causing it to hit the tablet market boutique. "
▼ followed by the Blue Devils general manager Mr. Wan Qiuyang digital for everyone to do at the scene to explain the product, he said: "Thank Huang, thanks for partners and media friends, busy taking the time to participate in the Intel Core Tablet Blue Devils conference, the recent mobile digital market exceptionally busy, a lot of domestic and foreign brands, released a lot of products, but in the Tablet PC industry, and I believe that today's release is definitely let everyone such a worthwhile trip, we Council and Intel together offer our sincerity to make: Our new i-series four flat products. "
▼ Blue Devils summer total, Xiao total, what the total, million total; Intel Huang, Stephina, Enoch chao, Larry Hong total of eight people from the eight guests to piece together a complete "i", then "i" is on!
▼ Intel China Managing Director Mr. Huang Jie for the conference speech. He spoke: "Intel is committed to join China's ecosystem partners to jointly promote the development of the mobile Internet industry innovation. Blue Devils domestic personal consumption digital industry leading companies, we are very pleased to work with such as the Blue Devils excellent local businesses together to Chinese consumers with richer, more diverse electronic equipment. "
▼ BYD Co-founder, Blue Magic Digital Technology Co., Ltd. Director Xia Zuo-quan attended the conference and delivered a speech. He said: "The Blue Devils have been committed to providing consumers create the most worthy of consumer electronics products, and Intel in the chip field of technical superiority and innovation for all to see, very pleased to work with Intel to jointly launch equipped with Intel's fastest mobile chip i Series Tablet PC . "
▼ moderator scene from Beijing Traffic Radio Xiao Hang, followed by co-founder of the Blue Devils director of BYD Xia Zuo-quan speech
▼ The conference's theme is "i subvert the world", and now the Blue Devils conference officially began
▼ scene everything is ready, some guests, media and netizens have admission.
▼ Blue Devils live conference etiquette
▼ The conference also invited China good sound trainee @ Ding Shaohua to the scene being rehearsed, on the sidelines over there to see his fans cheer the scene.
▼ attendance stage, the staff is waiting for the arrival of guests, the scene for guests to prepare a rich gift, there are all kinds of meals.
▼ After entering the venue we can see that the staff is well underway for the final rehearsal.