Review of Samsung Galaxy Gear smartwatch device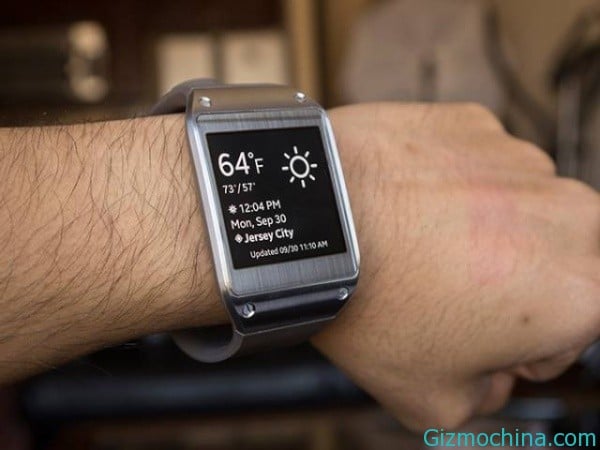 Samsung are harder than any smart phone-related products diversification. Not long ago, Samsung has just released Galaxy Gear smartwatch device, which is the company entered a new market segment.
Galaxy Gear is a very interesting product, will watch and smart phone features combined with each other. Galaxy Gear currently only used with the Galaxy Note 3 collaboration, but Samsung will release software updates in the future, so Galaxy Gear Support Galaxy S4, S3 and Note 2.
Design
Galaxy Gear smart watch package contains microUSB charging cable, charger, manual and adapters. Galaxy Gear smart watch design is very high, with the company for use on smart phones, big plastic case stands in stark contrast. Galaxy Gear appearance looks very comfortable and very high-end, although most of the shell is made of plastic used, but the front panel has a frame around the use of stainless steel materials.
At first glance, Galaxy Gear plastic strap seems quite match, but this is to be used, because the strap is the camera inside the motherboard cable. There are many color strap, the user can choose according to their preferences. Galaxy Gear large size, overall only a function key on the dial, click once to wake Galaxy Gear, click twice to activate the S Voice feature.
Strap equipped with a 1.9 million pixel auto focus camera, in addition to Galaxy Gear also has a speaker, you can alert the user to incoming calls with the hand or notify the user. In addition, Galaxy Gear is not a waterproof product, so it is best not to get wet.
Display
With Samsung's flagship smartphone display the same, Galaxy Gear also used a size of 1.64 inch 320 * 320 screen Super AMOLED inductive. Relative to the smart phone, Galaxy Gear small screens. By using AMOLED technology, Galaxy Gear black display better, the color is more full, but sunny when they see the screen.
Touch Galaxy Gear sometimes appear delayed reaction, of course, under the sliding around on the main screen and other operations is still very good. Two finger zoom and double tap the screen will sometimes fail, take several attempts. Users need not worry Galaxy Gear's screen is scratch, Galaxy Gear sapphire glass screen, very hard, and iPhone 5s Home button the same material.
Interface and functionality
Although the Galaxy Gear equipped with the Android system, but has been designed specifically for the small screen streamlined, users can easily get started, complete sliding around other operations. Click to activate any application, from the top of the screen to the bottom of the slide can close the application. In the main screen using the top-down swipe gestures can turn the camera on, and slide can be opened from the bottom up call interface.
Galaxy Gear There are many gestures that can help users to access other features, including two-finger double tap the screen you can view the battery status, Bluetooth connection status, adjust the volume and brightness settings. Two-finger long press the screen to activate the Android task switching menu. Galaxy Gear Most of the applications are like Lite Android applications, such as dialer, call log, weather, notification, and voice memos, etc., are very common, nothing surprises.
Galaxy Gear used in conjunction with Note 3 to each other, there are many interesting features, such as the user can use the Galaxy Gear lookup function positioning device near Noe 3, and vice versa. By Android system Gear Manager application, we can control what applications installed on the Galaxy Gear. Galaxy Gear has 80 models currently about applications, but the number of applications will continue to increase.
We can read messages in Galaxy Gear, but if a Gmail e-mail notification, Galaxy Gear you can not read e-mail. Then the user will need to use Note 3 to read. Galaxy Gear's S Voice feature can be used to answer the phone, write messages, check the weather and appointments, etc., but can not complete navigation, query movie times and other more advanced tasks.
Processor and memory
Galaxy Gear is equipped with single-core 800MHz processor, running memory of 512MB. The smart watch runs very smooth, but when you touch some problems. Galaxy Gear with 4GB of memory, can store enough photos and video, support for Bluetooth 4.0.
Camera
Galaxy Gear used by 1.9 million pixel camera that can take pictures and videos basically meet the demand. Many people may think that this product will be photographed weapon, but there is currently no camera sound off completely. Galaxy Gear camera's default is 1392 * 1392 pixels, an aspect ratio of 1:1. Of course, users can also choose 1280 * 960 resolution. Galaxy Gear picture quality is naturally catch smartphone. Here are some samples Galaxy Gear shooting.
Galaxy Gear support 640 * 640 or 720p video recording, but only a maximum recording time of 15 seconds.
Multimedia
Galaxy Gear has specialized media library application, the user can slide in the application view and zoom photos, select the photo or can be deleted after transfer via Bluetooth to Galaxy Note 3 smartphone. Galaxy Gear can not be used to store music files, but you can control the Galaxy Note 3 of the music playback.
Call quality
Many people are able to use the phone Galaxy Gear illusions, but frankly, Galaxy Gear call experience very disappointing. Galaxy Gear Only in a quiet place to use. Using Galaxy Gear answer the phone, Note 3 of the screen will remain lit, this may be Bug.
Battery
Galaxy Gear with a 315 mA battery, fully charged, you can use one day. This is fairly acceptable.
Summary
Galaxy Gear want to do a lot in a short time, although the concept of the product is good, but there are a lot of problems. Galaxy Gear appearance looks good, amazing, can not turn on the water and some inconvenience. Currently Galaxy Gear only supports Galaxy Note 3. However, the $ 300 price somewhat too high, anyway, maybe Galaxy Gear 2.0 version will have better performance. In addition, the news that Apple iWatch smart watch also far away from us. Which products do you look forward to? Galaxy Gear 2.0 or iWatch.