The next generation MediaTek working for ARM Cortex-A50 series

MediaTek and ARM has maintained a close working relationship between the "low-power, high-performance" philosophy coincides, in a few days ago, MediaTek joint statement with ARM, MediaTek formally working on ARM Cortex-A50 series and ARM MALI graphics processor technology licensing.

This means that, on next year you can see the MediaTek launched to support 64-bit multicore processing for mobile SOC chipset, and more MALI series graphics processor (GPU) is applied to the MTK mobile processor.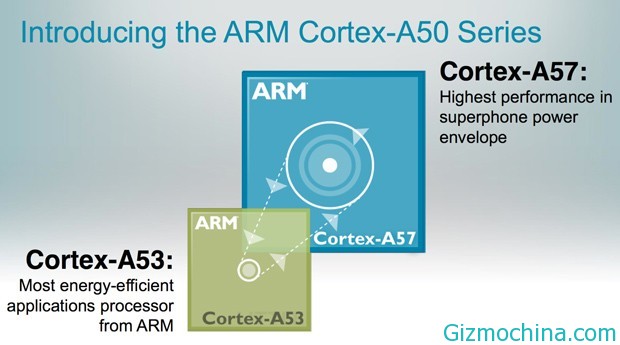 Cortex-A50 series processors is including Cortex-A53 and Cortex-A57 processor, both chipset are working based on "ARMv8" architecture, where Cortex-A57 series is the highest performing processor in the A50 lineup, while the A53 is the processor based on low power consumption for energy efficiency, a more simple sequential execution.
Both A50 series processors can support 64-bit processing, backward compatible with 32-bit instruction set, both of which can be used to achieve nuclear technology ARM big.LITTLE size 2 or 4+4+4 different combinations, but also with the A57 and A53 independently used separately, similar to the present combinations A7 + A15 processor.
MediaTek can develop a six and even eight-core mobile processor, the processor are combined from the energy eficiency and powerfull performance. While for now we have MT6575 / 6577 / 6589 processor that used PowerVR SGX5 series GPU, this year's listing of new products in the MT6572 / 6582 switch to the MALI-400 series, and the upcoming eight-core smartphone chip is MT6592 that would be using MALI quad-core GPU.
The next generation of ARM MALI GPU authorization in the future from entry-level to high-end flagship model, and now, the MALI graphics processor will appear in MediaTek's products.