Here is the new Vivo Xplay3S teaser info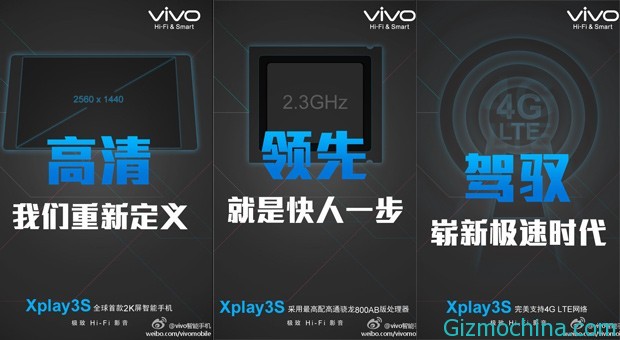 Afer we've covered the news of the upcoming ViVo Xplay3S smartphone, there is another news that show the teaser information about the detail of Vivo Xplay3S Android smartphone.
As we mentioned before, the upcoming ViVo Xplay3S will be packs with 2K resolution  of 2540 x 1440 pixels screen display, this becoming the first smartphone that brings the hight resolution display in the market today. While for most smartphone is only packs with Full HD 1920x1080p.
The upcoming Vivo Xplay3S will also sports with Snapdragon 800 processor. And the interesting is the phone will using the  MSM8974AB chipset that has more speed and has higher clocked CPU and GPU, this chipset is also boost the RAM performance than the predecessor.
The Vivo Xplay3S will has 3GB of RAM, while the camera lens has aperture f/1.8. There is also Hi-Fi audio chip, support for USB 3.0 and 4G connectivity.