Ren Zhenfei: One phone makes a 30 yuan profit, how is that high-tech?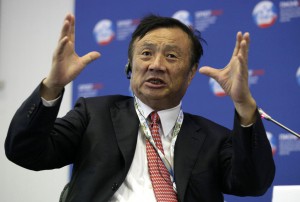 One phone makes a $30, how is that high tech, high quality? Ren Zhenfei's armour-piercing question may serve as a wake up call for the country's huge manufacturing industry.
For an Apple iPhone or iPad, China's entrepreneurs participated in a majority of the production chain, but the hard efforts of the countless workers makes them an insignificant part in the value chain, and makes it harder to shake Apple off as the technology provider and supplier to obtain a slice of the lucrative pie.
Talking from this perspective, Ren Zhenfei viewpoint – that Hermes didn't collapses, but various small manufacturers did – reflects about how becoming a manufacturing superpower is not just about being a big manufacturing country. Even though Ren Zhenfei says not to blindly follow Apple, he still realized the core essence of the company.
Ren Zhenfei (Huawei CEO)
In a time of big opportunities, we must not have opportunism; we must have strategy and perseverance.
The Consumer Business Group must stick to their strategies and uphold their values, adhere to the paths and ideas which word, and advance forward. In the past two years, the Consumer Business Group has grown from an unstable state to a viable state. Without the efforts of the tens and thousands of employees, the consumer's Consumer Business Group would not be where it is today, and this is worth celebrating.
I am talking to everyone today for the purpose of dissuading you from following the rules, setting Apple, Samsung and Xiaomi and lose our identities in the process. Of course, we have to learn from Apple, Samsung and Xiaomi with what they did right, but we must not blindly aim to be like them.
Firstly, "Who Am I?" I am me, and will adhere to my own path.
Apple's annual profits reach US$500 billion, and Samsung's annual profits are US$400 billion, if you can produce a US$300 billion profit, I will recognize you as the world's third best.
Secondly, "Where am I going?" We need to keep on moving, prioritizing profits, and have strict control over our inventory risk.
Thirdly, "We have to find out what kind of path we want to travel down."  We cannot be Apple and we cannot be Samsung, so do not follow someone just because they found success.
I am not here to criticize you and shoot you down. I just hope the Consumer Business Group can clearly find our own method of expanding.