Outweighted the hongmi Note, Hasee octa-core X50TS is now available for sale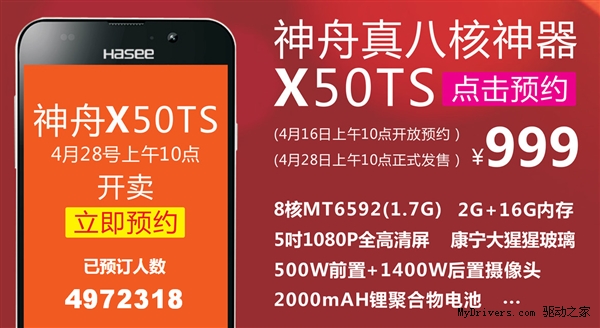 In the recent released of octa-core mobile phone, Hasee was quite a unique one. It used 1.7 GHz octa-core processor and 1080 pixels screen display instead of the 1.4 GHz octa-core processor and 720 pixels screen display package normally found in the market.  Of course, the price was also worth of its "Price Butcher" title.
This newest octa-core mobile phone from Hasee is the model X50TS. Some of the specs included 5" screen display with1080p resolution, MT6592's octa-core 1.7GHz processor, 2000mAh capacity battery and built-in 2GB RAM and 16G ROM. The phone also possessed a 5.0 MP front camera and a 14.0 MP rear camera.
Hasee X50TS was priced at 999 yuan ($160). In comparison, it is slightly stronger than the other 999 yuan ($160) octa-core mobile phones on the market. However, the 2000mAh battery is a bit too small, especially with a 1080p resolution display screen. In addition, the MT6592 processor was performaning at its ideal with the 1080p resolution; rather the processor functions better when it partnered with the 720p resolution screen.
Hasee X50TS will be available on Hasee's official website and Jingdong mall starting from today.