Coming soon: The 4G Malata S500 with 1GB+16GB memory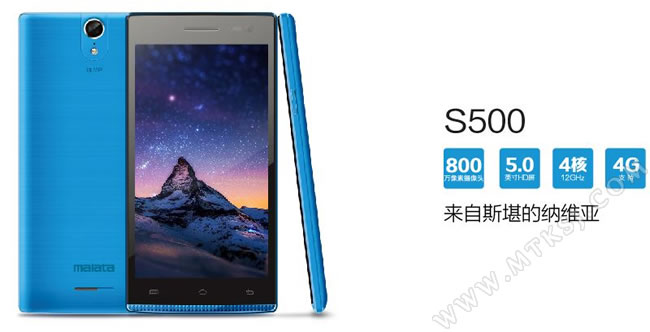 Based on the photo, the Malata S500 looks like it can give the user a nice aesthetic feeling. The front side is completely black while the back and middle frames are blue. The back cover has a grainy design. The Malata S500 also has a more slender design, measuring 143.6 x 72.2 x 8.3mm.
From the model number, we know that the S500 will not be as advanced as Malata's other new phone, the Sage S510, but its features are still pretty standard. It has a 5-inch HD screen, a 2mP/8mP camera, and 1GB + 16GB memory. It also uses a 2250mha battery and its operating system is the Android 4.2. Its features are more comprehensive. It supports OTG and sensory programs like a gyroscope.
According to official reports, the Malata S500 uses the MTK6582 quad-core chip. Surprisingly, the ad they released shows that it will support 4G internet. It will probably use the MT6582 LTE Edition.
If it's true, then the Malata S500 will join the ranks of DOOV and ALCATEL as LTE phones that will use quad-core MTK chipsets.