iNew V8 review – iNew V8(oppo N1 clone) VS Oppo N1
iNew have amazed the world with their original models of smartphones. They have received enormous positive feedback for their iNew v3 despite the smartphone having some defects especially on the battery and the charging system. In general, the v3 is lovely for its originality and versatility. It features an attractive 6.5mm slim design, air gesture, OTG, NFC technology, a powerful 6 core processor and a solid Gorilla corn 2 screen displays. This gorgeous creation by iNew has left many wondering and speculating about the next big thing they are busy building. Recently, iNew confirmed that they will launch a wonder gadget, the iNew v8 this July.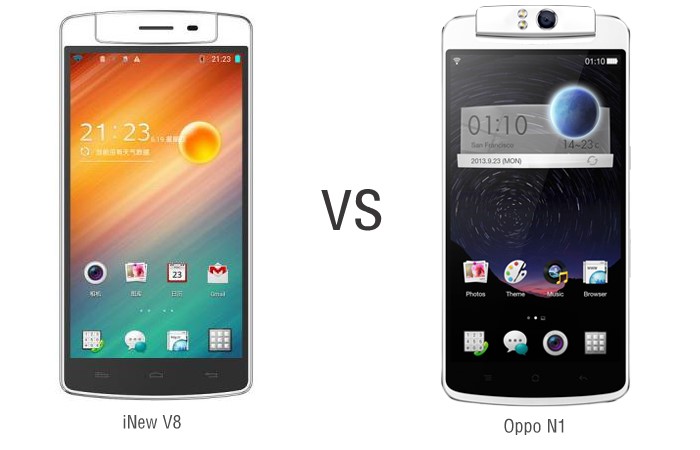 We know that iNew are capable of pulling an original device. However, their v8 has been largely criticised as a Oppo N1 clone. They appear to share close resemblance that leave many wondering what are the distinctive features between the two and which would be the best buy. Read on for some light.
There have been massive rumours that the iNew v8 will run on MTK6591 hexa core processor and that it will support 4G LTE. Nevertheless, we can boldly confirm that the Media Tek MTK6591 cannot power 4G LTE. While the N1 supports 4G LTE, the v8 doesn't. The design and rotational camera of the iNew 8 has made it to be christened clone to Oppo N1 which was the world's first smartphone to feature a rotational camera.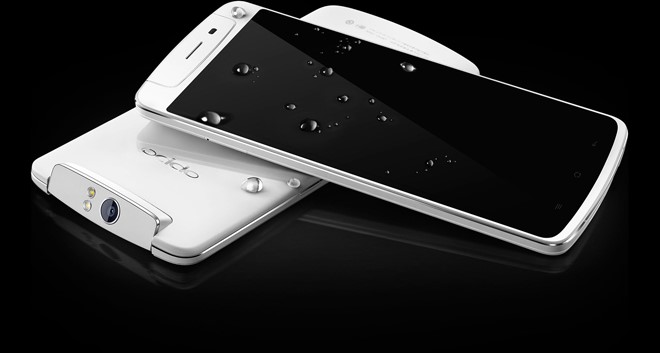 Comparison of iNew v8 and Oppo N1: Screen Display
On one hand, the Oppo N1 Mini has a 5.9 inch display of 720 pixels which you don't need to touch when using the phone because you can swipe and swoop with the excellent rear touch panel. On the other hand, the v8 features a larger 5.5 inch display of 1080  pixels.
Comparison of iNew v8 and Oppo N1:SoC and OS
The Oppo N1 is powered by Qualcomm Snapdragon 600 MSM8928 quad core processor that runs on a maximum clock speed of 1.7GHz. It comes with Android 4.2 or Android 4.3, 2GB RAM and 16 GB or 32GB ROM worth of storage. On its part, the iNew v8 is presented with Media Tek's MTK6591 hexa core processor with 1.5GHz. We always bump into smartphones powered by dual core, quad core and octa core, but a six core processor is largely unheard to support a smartphone, but iNew have been able to pull this first, they are that creative. iNew v8 runs on the Kit Kat Android 4.4.2 operating system. The v8 thus provides massive operating speed. It has been confirmed that the iNew v8 has 1GB RAM and 16GB ROM to provide more room for saving files in the internal memory. You can expand the storage with a TF card if you feel that the 16GB is not enough.
Comparison of iNew v8 and Oppo N1: Cameras
Both the iNew v8 and the Oppo N1 feature a rotational camera that can be revolved from the front to the back and record images at virtually any angle. The cameras of the two phones feature a 13 Megapixels resolution and can be used as both front and rear cameras. Front cameras are normally made to provide poorer quality images, but both the iNew v8 and Oppo N1 are made to overstep this limitation. They shoot high quality images and videos from either the front or the back. It is this similarity in cameras that make iNew v8 to be regarded Oppo N1 clone.
Comparison of iNew v8 and Oppo N1: Battery capacity
The iNew v8 smartphone is packaged with 2,400smAh capacity battery. This is smallish when compared to the power capability of the Oppo N1 that comes with a Li-Ion 3,610mAh capacity battery.
Comparison of iNew v8 and Oppo N1Pricing
The top features certainly have attracted you, and we know you are interested in knowing about the price tag it carries. The Oppo N1 16 GB variant is priced at around $506.95 and the 32 GB variant is priced at around AU $639.95. The iNew V8 carries an unbelievable price tag of $249.98.
Verdict
The Oppo N1 is definitely a high end smartphone and will largely outmuscle the iNew v8 on many specs. The iNew v8 downside is the battery capacity; we can purchase a standby battery to offset this limitation. But given the friendly price of the iNew v8, you can hardly fault its makers. They aim to deliver affordable power to their waiting consumers.
Sure, there are now many phones with satisfactory front-facing cameras, but the versatility of a swivel camera adds so much more fun to mobile photography. I honestly never thought I'd end up taking so many group selfies using the N1, but the extra clarity and remote shutter make a difference here. And of course, Oppo's build quality plus software innovation here are just as reassuring.