Xiaomi faces security concerns over its cloud messaging system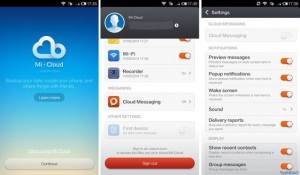 Xiaomi has taken the worldwide mobile market with a storm as they have so much to offer in a decently priced smartphone. One feature which the company was offering is now under scanner as it has been found that Xiaomi stores its user's data on it servers.
It was found that important information including IMEI number, telco name, IMSI number and sensitive information like the phone numbers in contact list as well as of those who have sent or received a message using Xiaomi cloud services are been stored on a server named api.account.xiaomi.com
Xiaomi has no doubt provided a service like the iCloud but what about this information which is being stored on their servers? This can be considered as a breach of privacy policy.
Mr. Hugo Barra, vice president of international operations explained that IMEI number, IMSI number and the phone number is required to send and receive messages through the MiCloud. He stated that phonebook contacts of a user are never stored on our servers and the encrypted messages are also not stored for a time longer than required.
Mr. Hugo further said that we will do all that is required to protect the privacy of our users. Xiaomi has now scheduled an OTA system update to implement some changes where a user will be given the cloud messaging app as an optional service. Earlier, users had to activate the cloud messaging app while activating their phone.
This shows that Xiaomi cares for its users and their privacy concerns. We can be sure that Xiaomi is here to stay as this is just the beginning.