Here's a comparison of Xiaomi Mi4 and Xiaomi Mi3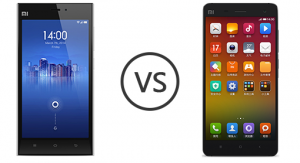 Technology today keeps on changing and updating, the Xiaomi Mi 4 is the latest mobile phone manufactured by Xiaomi. It has a smaller screen compared to other Mi phones. Now let's start categorizing and segregating things regarding with the two magnificent phones
The Xiaomi Mi 4 is a state of the art android smartphone which has an IR blaster. Xiaomi Mi 4 is the first phone to have this option. The IR blaster helps you gain the power to control your appliances. It has a good camera quality with an 8 mega pixel front camera which can be used to click great selfies. Usually front cameras of other smartphones have quite lower quality. But Xiaomi Mi4 is one of the first phone to have a 8 megapixel front camera. In comparision to  Mi4, Mi3 has a 2 megapixel front camera. Both Mi3 and Mi4 have a 13 megapixel rear camera along with a 5-inch screen display size with a resolution of 1920 x 1080p.
Another difference between Mi3 and Mi4 is that Mi3 is based on 2.3GHz Snapdragon 800 processor while Mi4 has been upgraded to 2.5GHz Snapdragon 801 processor. The RAM in Mi4 has also been upgraded from 2 GB to 3 GB. Xiaomi Mi 4 runs on 3080mah battery while Mi3 runs on a lower powered 3050mah battery.
In totality both mobile phones are created by the same company, with the same quality. Though the two differ in some aspects regarding to functions and availability still the most important aspect is quality wise. You can buy any of the two, if you prefer cheaper price for a high standard then you can go for Xiaomi Mi3 but if you dream of having the latest trend in smartphones,  then we would suggest you to put some extra money and buy the Xiaomi Mi4. You'll never regret it.