Jiayu S3 high-end edition (MT6752) to cost $162.33 in China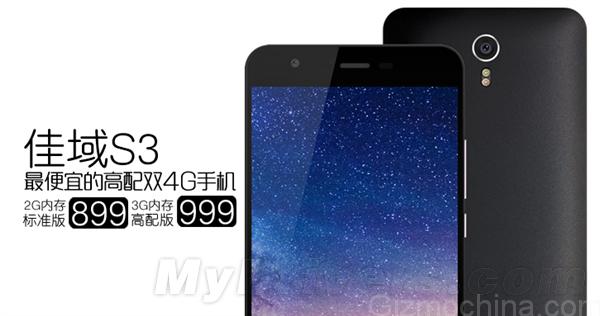 There has been a war going on in China. It is not a war that is being fought with guns or armies—-but with cell phone prices. That's right. For the last several months Chinese cell phone companies have been competing with each other by lowering the price of their phones through promos, discounts, sales, etc. They are also releasing new phones at relatively lower prices. Many are aiming to release phones at a price below 1000 RMB (162.47 USD). One example is the 999 RMB (162.33 USD) Jiayu S3 high-end edition.
The Jiayu S3 high-end edition's specifications are passable. One of its most important features is that it has 3GB RAM. Its CPU chip comes from MediaTek. Specifically, it is the octa-core MTK MT6752. This phone is dual-4G-supported. The Jiayu S3 high-end edition also sports a 5.5-inch 1080p display screen. As for its camera specs, its rear-facing camera is a 13mp camera with a Sony IMX214 sensor, while its front-facing camera is a 5mp camera. Its operating system is the Android 4.4 OS. Later, this can be upgraded to the new Android 5.0. It also has a built-in 3000mAh removable battery.
It also has many other features such as OTG, a gyroscope, etc. It comes in black and white, and its dimensions are 152 x 75.5 x 8.9mm.
Whereas the high-end edition costs 999 RMB, the more standard, low-end version costs 899 RMB (146.08 USD). The main difference in the specifications between the two is the RAM. Whereas the high-end edition has 3GB RAM, the standard edition has 2GB RAM. Both have 16GB ROM.
The Jiayu S3 standard edition is set to come out in China January next year, while no release date has been announced for the high-end edition.