Vivo X5 Max Is Finally Official , Snapdragon 615 CPU, 4.75mm thin,dual SIM 4G LTE and "Hi-Fi 2.0"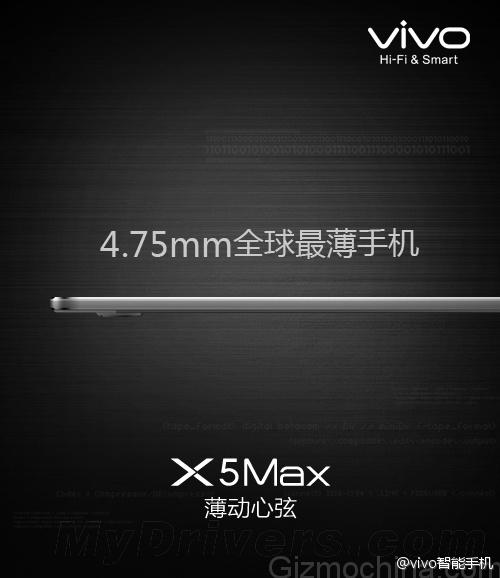 Today, Vivo introduced what is now the world's slimmest cell phone at 4.75mm—the Vivo X5 Max 4G smart phone. The company took great steps to make a phone as slim such as them. For example, they created a motherboard for the Vivo X5Max that is only 1.7mm.
In addition, it uses a 3.98mm chassis which is the thinnest in the industry right now. As for the screen, the Vivo X5 Max sports a 5.5-inch 1080p super AMOLED display screen and is also the world's thinnest screen with a thickness of only 1.36mm.
It also uses the world's thinnest speaker box (2.45mm) and has excellent sound quality. It has a dual SIM slots. One is for a Micro-SIM card while the other is for a nano-SIM card or TF card. Users can just decide for themselves which card to put in. It is also worth pointing out that this phone sports a 3.5mm earphone jack.
Next, let us move our attention to the Vivo X5 Max's core specifications. Its CPU is the 1.7GHz 64-bit Qualcomm Snapdragon 615 octa-core processor. As for memory, it has 2GB RAM and 16GB ROM which can be expanded to 128GB with an expansion card. You can also take photos using the Vivo X5 Max's dual cameras. It sports a 5mp front-facing camera and 13mp rear-facing camera which has the Sony IMX214 sensor.
Furthermore, KTV fanatics should be happy with this phone. This phone has a Karaoke function and uses the YAMAHA YSS-205X CHIP. This phone supports all kinds of Apps that can give you a great karaoke experience. It also supports Hi-Fi 2.0.
Let us not forget its operating system. The Vivo X5 Max comes pre-installed with the Android 4.4.4-based Funtouch OS 2.0. This phone goes on sale on December 22 for 2998 RMB (485.64 USD).
Here's our exclusive hands on video of the device.