Huawei Honor 6 plus Photo Leaked, Here's What It Looks Like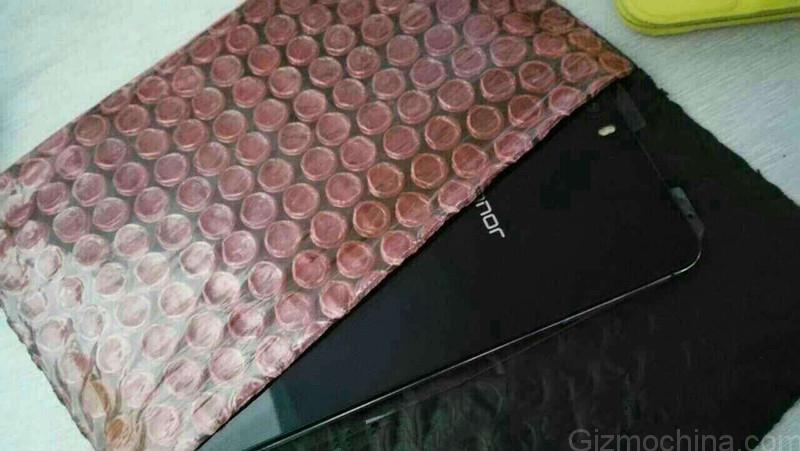 We had known Huawei is prepping a new flagship phone under the Honor sub brand with a two-camera setup – the Huawei Honor 6 Plus. The first alleged Huawei Honor 6 plus photo leaked out on today, before it's launch date tomorrow 16th December 2014. The image, which appears to show resemblance with Huawei Honor 6 plus's pictures on TENNA but we still can not see the dual camera setup from the leaked pictures, The most noticable feature on Huawei Honor 6 is it's dual rear setup will possibly allow for 3D capture and with metal frame that is made of by special alloy.Dual rear camera's have been seen on the HTC M8, and the latest Coolpad flagship.  The difference here however is the higher quality sensor used by Huawei, which is said to be 8MP instead of HTC's paltry 4MP sensor.
The 5.5in phablet (with a full HD resolution) will have a Kirin 930 processor running at 1.8GHz, backed up with a Mali T628 GPU and 3GB of RAM plus 32GB ROM. It has dual 8MP camera setup and dual SIM card slots. Huawei claimed the camera of Huawei Honor 6 plus can take better shots than iPhone6, Let's see what they can bring to us at tomorrows' launch event.
Doesn't the name Honor 6 Plus sound all too familiar? In fact, Huawei could be taking a dig at Apple's phablet, the iPhone 6 Plus. What makes this phone even more interesting is that it features the same sized display as the iPhone 6 Plus as well as the exact same resolution. A mere coincidence some would say, but we think not. So, it looks like Huawei has taken some inspiration from the Apple device for the name as we as some of the features on its next flagship. The phone is expected to come with dual camera system, much like the HTC One M8 unveiled earlier this year, which will definitely set it apart from the crowd.
Considering how much we liked the Huawei Honor 6(1999yuan), how much do you think Huawei Honor 6 plus will be priced in China?