Meizu CEO confirms a 5-inch Redmi 2 killer with better specs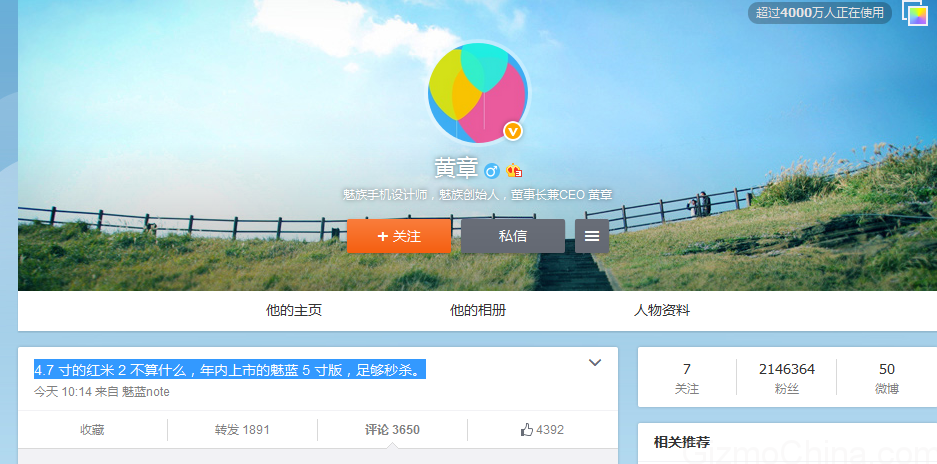 Meizu recently unveiled the Meizu Blue Charm M1 Note, the direct competitor to other 5.5-inch budget phablets available in the market such as the Redmi Note. Now, new rumors say that the company has another device under development which will directly compete with another Xiaomi smartphone — the recently announced Xiaomi Redmi 2.
The news comes from Weibo's Ubuntu team which has leaked many legitimate products and news in the past of companies like Meizu and Xiaomi. The source says that the upcoming Meizu device will be much better than Xiaomi's Redmi 2 budget smartphone. While it does not reveal any further details like specifications, it says that the device will have a 5-inch screen with better specs than the recently announced Xiaomi device. It also says that the phone will be lighter, more sturdy and even smaller than the Redmi 2. But given that the phone will feature a larger 5-inch screen as compared to 4.7-inch on the Redmi, it would be interesting to see if Meizu can actually make the device smaller.
The source also quotes a post from the Meizu founder and CEO Huang Zhang (also known as Jack Wong) which says that the specifications of Redmi 2 are nothing when compared to the upcoming 5-inch Meizu device. So, now that the CEO confirms the existence of a 5-inch Meizu phone, we are left wondering what kind of specifications it will pack.
Although we still don't know anything about its configuration, we think that it will be in line with the recently announced 5.5-inch Meizu M1 Note. The company may cut down in some areas like the the battery, display resolution and probably the onboard storage, but other than that the specs could be similar to the M1 Note.
This could also be the rumored Meizu K52 that we saw a couple of weeks back. The device was said to feature a 4.7-inch display with a 1080p resolution but the overall size of the phone looked like a 5-inch device. The K52 was reportedly spotted with an iPhone 5C like shell in 5 bright colors. So unless Meizu is planning to launch two new budget phones, it very likely that this 5-inch phone is the same as the K52. Another possibility is that the company may have totally scrapped the K52 in favor of this phone. But we think its probably the first case that is true.
Unfortunately, we are still not clear about many of the aspects of the upcoming smartphone, but in coming few weeks expect more details and leaks about this 5-inch Meizu device.
[Source:
Weibo
]