DJI gifts the new DJI Inspire One to James Cameron
DJI is without any doubt the world leader in camera drones and quadcopters. We have seen many great drones from this Chinese giant, which are much more precise and advanced than competitors.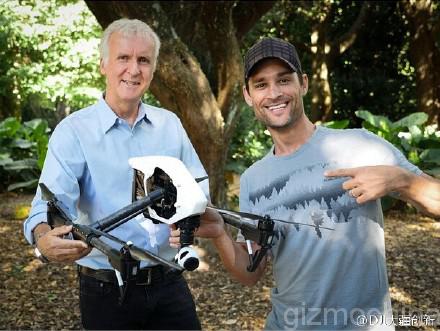 Recently, DJI decided to gift a brand new DJI Inspire One to a great director, James Cameron. He is one of the best directors in Hollywood right now, having directed popular movies such as the Terminator, the Titanic and Avatar.
DJI posted a picture on their Weibo page, which showed James Cameron with the new DJI Inspire One. The post said that the company was looking forward to the director's new work.
Camera equipped drones are increasingly becoming a part of the movie industry, as they can take aerial shots from angles that's not even possible with helicopters. Before the advent of quadcopters, the only option for shooting an aerial action shot was with the help of an helicopter, but that brought a lot of issues such as safety, angle limitations etc.
Directors are increasingly relying on drones for such shots, as it brings down the cost and makes the movie set safer. In fact, many of the aerial action shots in the movie Expendables were filmed using drones.
While we have yet to see the widespread use of drones in film making mainly due to the legal limitations, UAVs such as the DJI Inspire One clearly shows that such drones can be powerful enough for professional shoots.
But drones such as the Inspire One are costly, and their price can easily go up to $3500. In fact, on banggood, the 4K equipped DJI Inspire One is listed for a whopping $3300.