Teclast X98 Air running on Windows 10 spotted in a video
Windows 10 is going to be a revolutionary upgrade. In fact, there were so many changes in this new OS that the company decided to skip the name Win 9, to jump right to Windows 10. While we have already seen the Windows 10 Technical Preview, now the OS was running on the Teclast X98 tablet which gave us an idea of the features of the upcoming Windows version.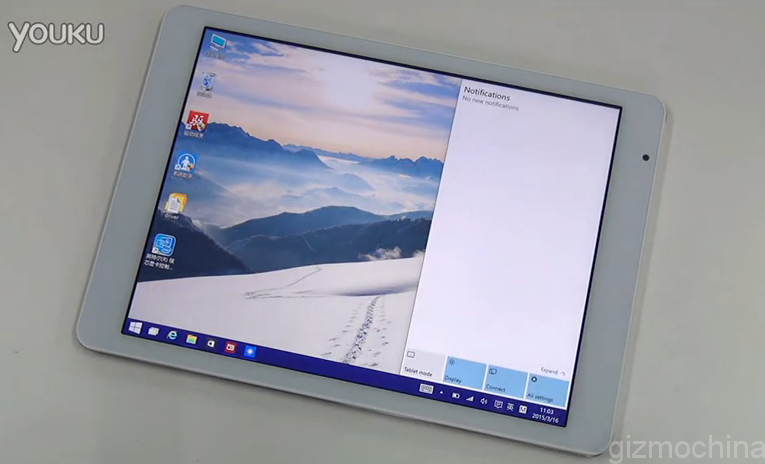 The one showed off in the video was the Teclast X98 Air and the reviewer was kind enough to demo some of the features of Windows 10 Pro Technical Preview version on this tablet.
Windows 10 comes with a whole new look. The start button encompasses the Metro UI instead of taking you to a separate screen. So, recent apps, most used apps and the metro UI all come under the start button. And if you liked the Windows 8 look, you can even full screen the start button to give you a similar feel.
Swiping from the right brings you to the notifications and quick settings panel. There were plenty of settings available like tablet mode, display, airplane mode, locations settings and all settings. Swiping from the left brought the task manager with open apps.
The overall UI looks smooth and responsive even though this was just a technical preview version. Unfortunately, the video did not demo Cortana, probably because its still not activated. However, we did see an option in the settings panel for the digital assistant.
The specs of the Teclast X98 Air is not very high end, but still it managed to run everything smoothly. The tablet comes with an Intel Atom Z3736F processor clocked at 1.33GHz with 2GB RAM and 32GB ROM. This is just standard specs, nothing out of the ordinary which hints that the Windows 10 OS for mobile devices could be pretty lightweight enabling smoother UI experience even in mid-range devices.
You can check out the video of Windows 10 Pro technical Preview running on the Teclast tablet down below.