Xiaomi has sold over 1.57 billion Yuan worth of goods till now on its festival day sale!
In case you forgot, Xiaomi's festival day is here and we expect big sales by the end of today. The sale already started at 10 am sharp in China as expected and now, we have some official sales numbers.


Xiaomi is breaking all records today. The company reports that it has sold just over 1.57 billion Yuan worth of goods till now. That's highly impressive given that the company managed to reach this figure in just 6 hours. What's more, we have nearly 6 more hours until the sale ends and by the end of the day, this figure will have probably doubled ! That's nearly 3 billion worth of goods that could be sold in a day's time.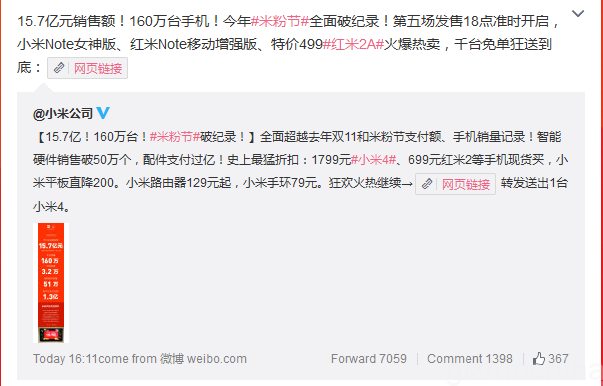 The company has also shared the individual shipments sold. 1.6 million Xiaomi smartphones were sold today, 32,000 Xiaomi tvs, and 510,000 smart home products. The total values of accessories sold exceed 130 million Yuan.
These figures are expected to increase and even nearly double by the end of the day, but lets wait for official data.
Anyways, whats do you think of the amount of sales made today? Are you impressed?