Letv Bezel Less "Super Phones" Announced!
Letv has been on the news for a while and finally, their event has started and the company is ready to announce their new devices and thus enter the hectic smartphone game. In case you are not aware of the company, it is well known in its homeland. It offers variety of services and to list one of the most recognisable is video/music streaming services, which are similar to what Youtube in the west offers (Google services are forbidden in mainland China).
It is worth mentioning that the conference is divided into several parts, so stay tuned as Gizmochina.com will keep you updated with all the relevant news from the event! Previous rumours suggested that the manufacturer may release several devices. The recent spy news suggest that there will be even three devices unleashed today.
Letv aims high and even tried to bit Apple in the pre-even marketing campaign? Can they deliver? We will soon find out!
The conference hall, where the event is being held.
And here we are… Just before the official announcement, all three Letv models have been leaked. Make sure you check out our dedicated article on leaked Letv smartphones!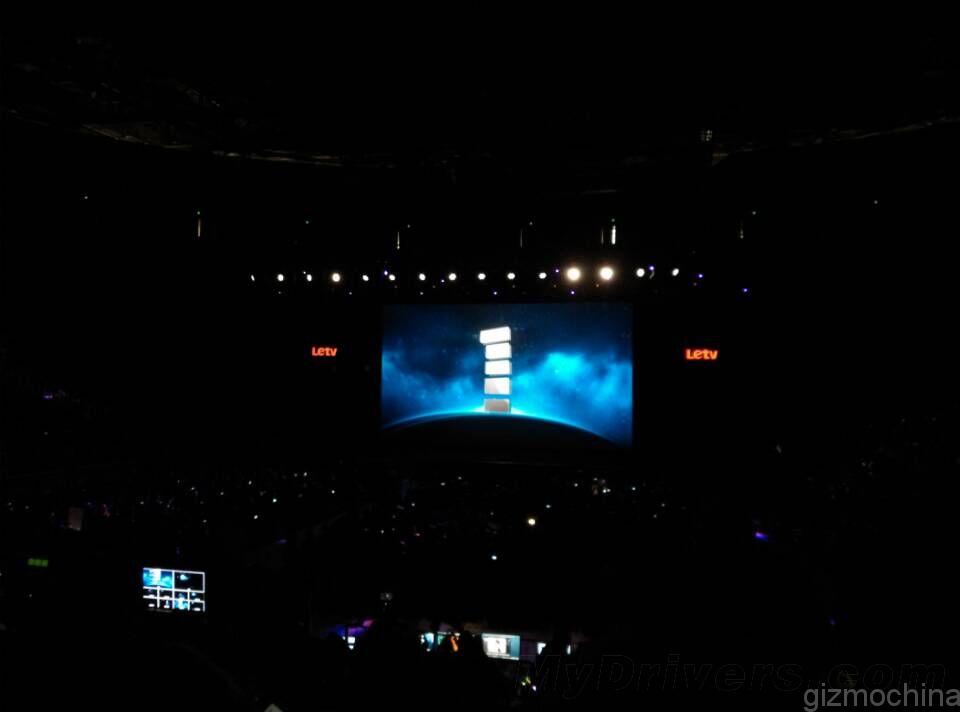 The event is set to begin now!
Jia Yueting hits the stage to start the presentation. It appears that the Letv has decided to choose all-black theme for their event. Jia Yueting confirms that today is the day, when the SUPER PHONE is going to be announced!
The Letv's eUI 5.0 has been announced
The Letv's eUI 5.0 (Eco User Interface), which is based on the Android 5.0 Lolipop, has been announced. It is said that this UI is the user's "ecological interaction" with devices and services. It covers music, TV services, smartphone and even your car (probably a smart car). The new EUI puts an emphasis on seamless connectivity on all different devices and thus enhances a seamless user experience.
The EUI is said to be China's first eco-user interactive system, which is said to improve interactions between  people and ecology (not sure yet what that means). It is said that it breaks the boundaries of applications and services. What is more, the EUI is the first full end smartphone operating system, which covers aspects like TV services, smartphone and automobiles.
The eUI 5.0 is said to have a good, but "not too fancy" design, which mainly focuses on the user experience that users can better enjoy the content they are consuming. There were 10,715 improvements to the UI, which included various updates like re-designing icons, which could be easy to identify for the end user.
The EUI is said to have great interaction between many devices that include the smartphone and desktop platforms. It is said that this proprietary UI is "the soul" of the device.
The new user interface is said to be the core of Letv's products as it creates the whole new ecosystem, which helps connect various devices. It also interpolates hardware and software to assure a seamless and great user experience.
ANNOUNCEMENT OF THE DEVICES
LETV ONE
The mid-range device will spot a new MediaTek Helio X10 chip inside. A few benchmark photos have been showed to prove that it can achieve better results that the Xiaomi Mi Note!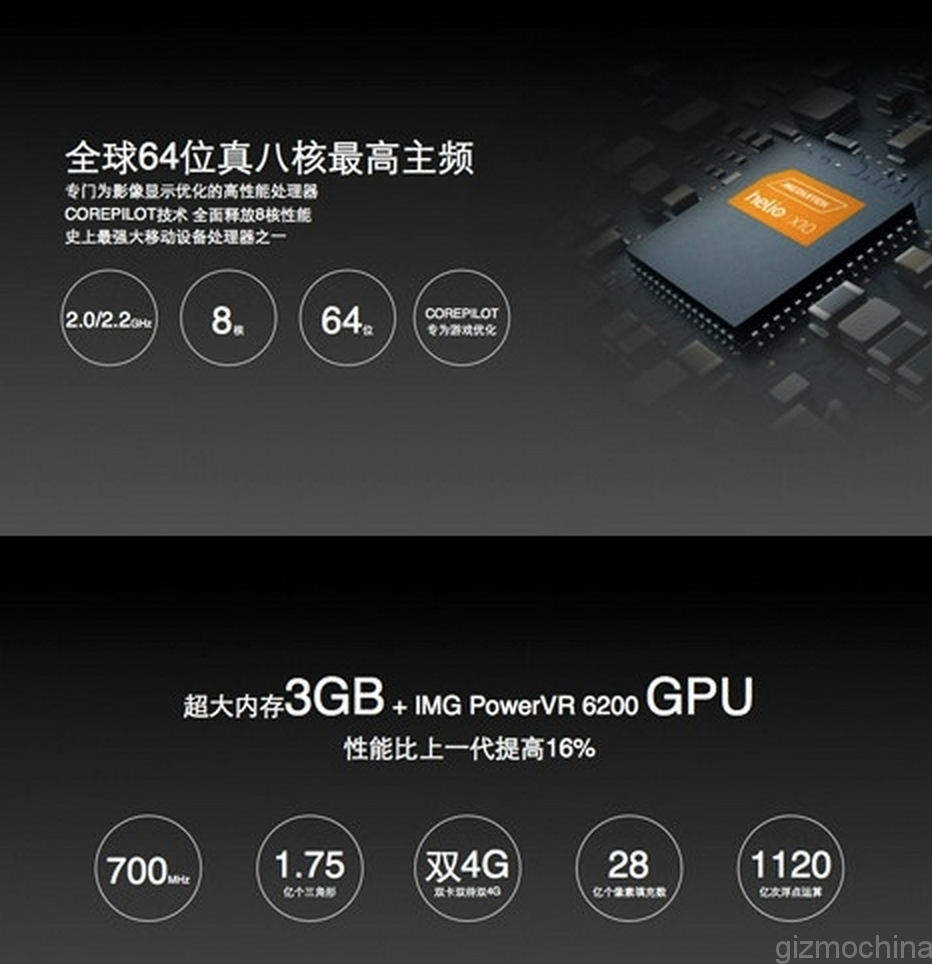 Letv's One "super phone" is the first to carry MediaTek Helio X10 chips, which is a 64-bit true eight-core processor with ultra-high frequency (2.0/2.2 GHz). Also, it has 3GB of RAM and IMG PowerVR 6200 GPU inside. What is more, it is a Unicom mobile dual sim dual standby dual 4G device.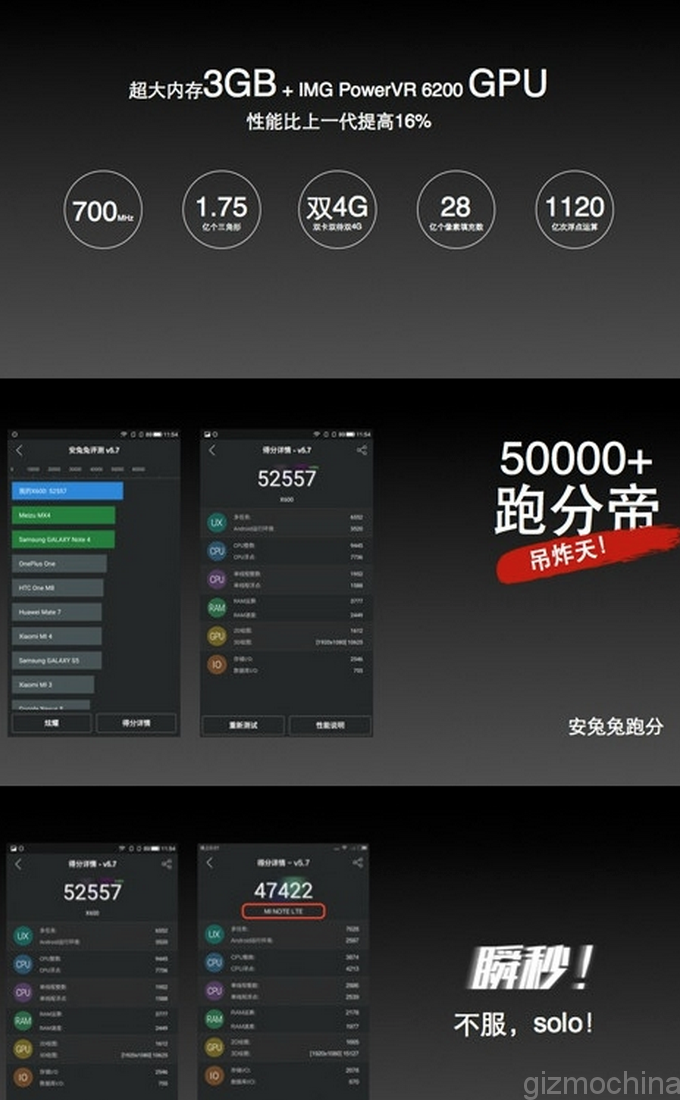 To support these great specs and the abilities of the new chip, Letv brags about the 50k+ Antutu benchmark score!
The new device will spot a Sharp 5.5 inch full-HD display. It will be covered by the third generation Corning Gorilla Glass. Also, it will have a 85% NTSC color gamut, which is said to be far beyond iPhone 6.
Letv One "super phone" is equipped with Sony IMX214 back-illuminated sensor, which has 13 mp and supports OIS (optical image stabilisation) technology. Also, there is a 5mp front facing camera made by Samsung, which is said to have beauty real-time preview mode to deliver stunning results.
The Letv One "super phone" is the world's first borderless smartphone, which spots a full suspension glass design (although the bezels are still visible). Also, it has an excellent texture and feel of the metal frame and back of the phone. Moreover, the battery has a stacked design technology and has the capacity up to 3000 mAh. In addition to this, the device has  the latest generation of SMART PA speaker system. Also, the new device is the world's first smartphone to carry Type C charging/syncing port.
Finally, here is the device!
LeTV One Pro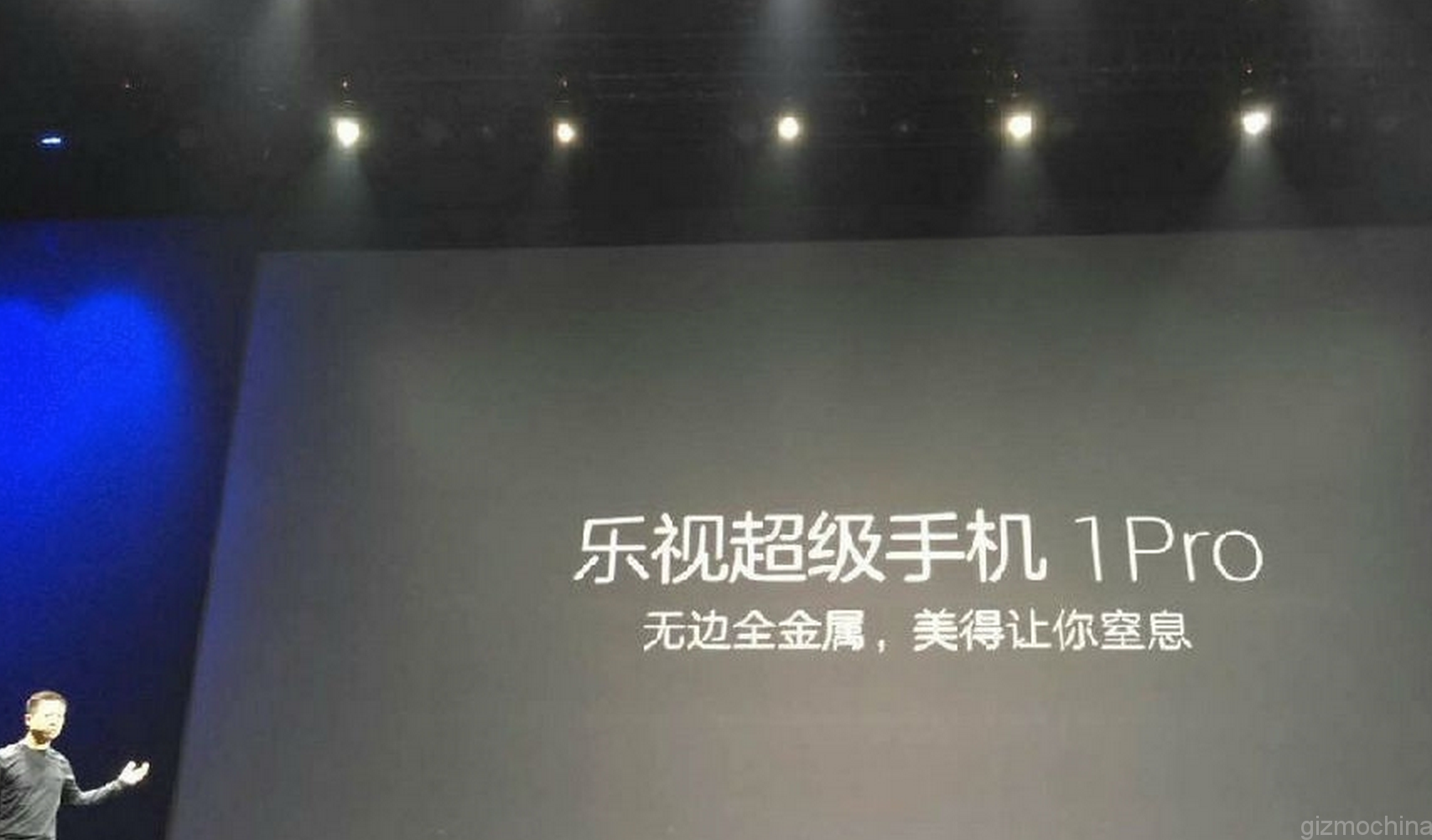 The Letv One Pro seems to be a real "super phone" as it spots some bleeding edge specs! It is equipped with the fastest chip available so far – Qualcomm Snapdragon 810, which is complemented by a powerful Adreno 430 graphics processor. What is more, the Pro model  uses the world's largest 4G RAM LPDDR4 eMMc 5.0 flash memory. Moreover,  the device supports dual SIM dual standby modes and LTE-Cat9 4G high-speed networks. Letv reminds us that this is the world's most powerful mobile phone! 
The Pro device will have a Sharp 2k 5.5 inches screen, which has a 564 PPI. What is more, it has 85% ultra-NTSC color gamut, which makes the screen reflect extra-ordinary rich colors and looks amazingly sharp. Also, the device uses a Letv's unique color management technology, which is said to provide the best viewing experience available on any mobile device.
Here it is, the world's first bezel less smartphone!  The design of it is just amazing as it is all-metal and has nearly zero borders!
It uses OV4688 4mp front camera with a large F/2.0 aperture and 2.0um pixels, 81 degrees super wide angle 5P lens. On the back there is Sony's 13MP sensor with optical image stabilisation and dual tone dual LED's.
LeTV One Max
And the third device that has been announced is the Letv One Max, which is the biggest in terms of the screen size as it spots a 6.33 inch 2k screen. It also has all metal build, but there is an additional finger print sensor on the back. The device is powered by Snapdragon 810 octa-core 64-bit, 4 GB of RAM, 64 GB of storage, 21/4 MP camera combo, 4G Cat.9 support, LeHi-Fi audio system, USB Type-C connectivity, 3400 mAh battery, WiHD connectivity and more.
PRICING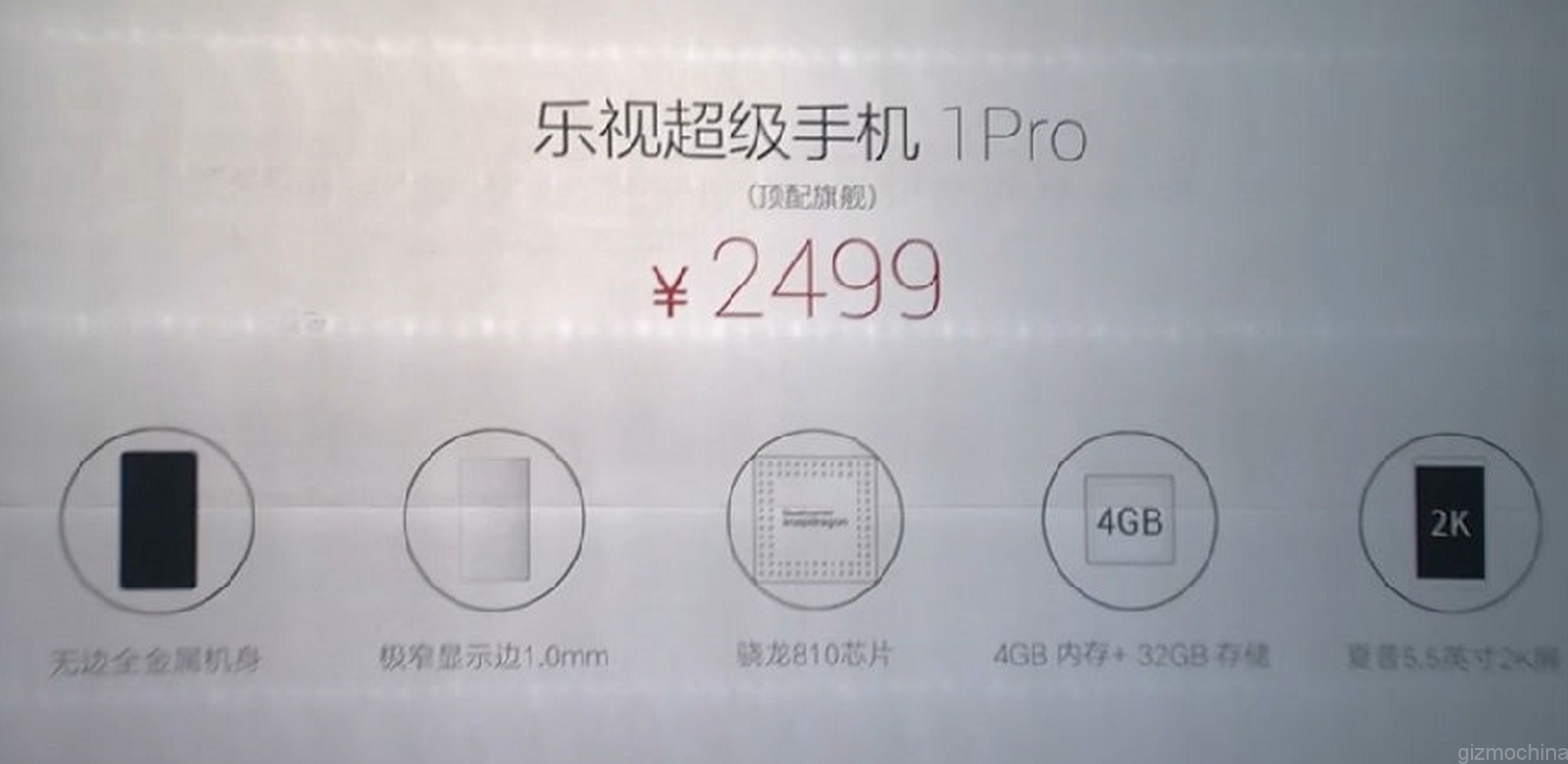 The One Pro model will cost 2499 Yuan ($400) for 32 GB model, which is pretty low for such a powerful package. The price will increase to 2699 Yuan ($435) if you want the 64GB model. The presenter said that the hardware is sold at nearly cost prices! That means that the company expect to gain profits from its services.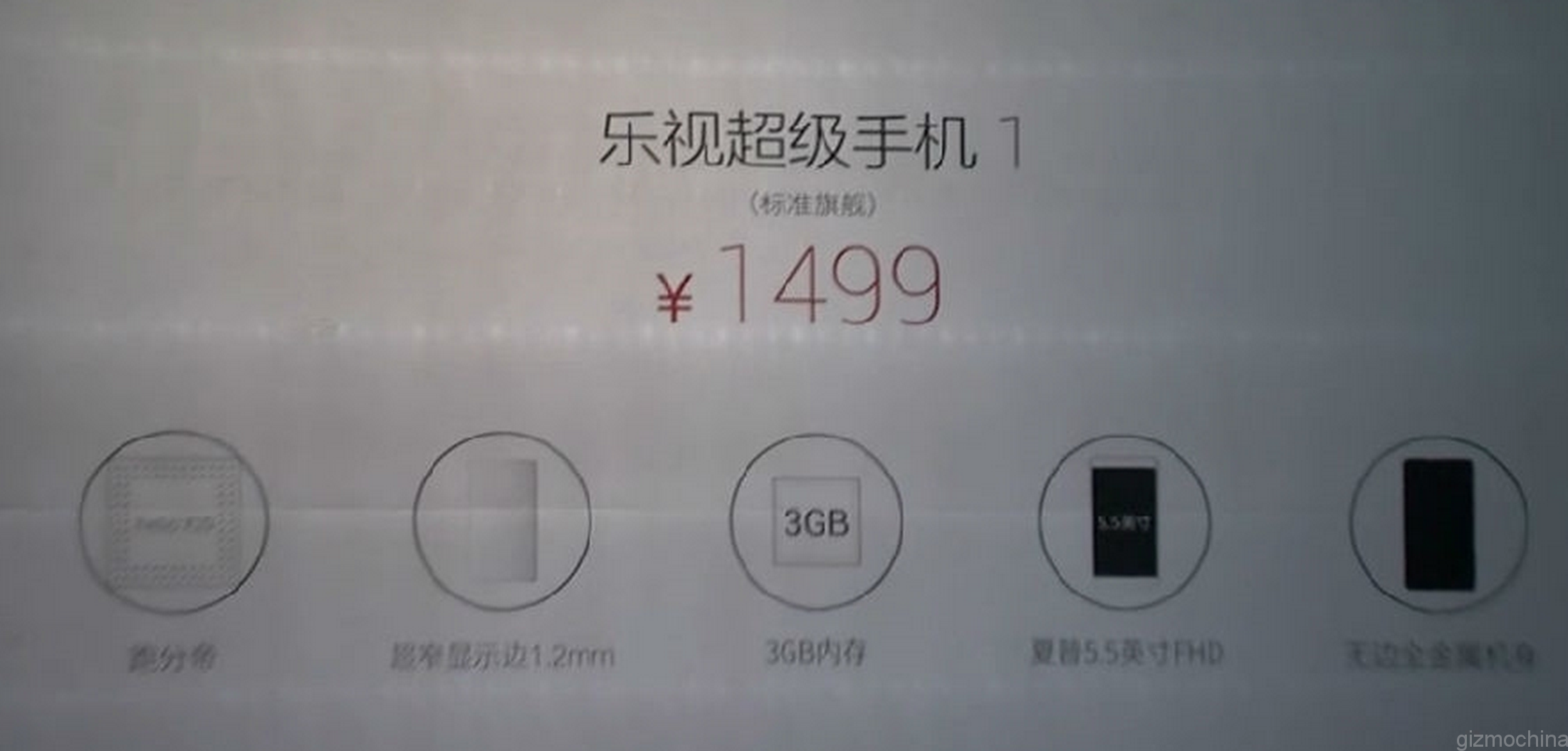 The One model will cost just 1499 Yuan ($240) (16GB), 1599 Yuan ($247) (32GB), 1799 Yuan ($270) (64GB).
In addition, you will be able to buy some additional Letv services. You can purchase a year membership of full-screen video Member Services (490 yuan) and this will give give you a 300 Yuan discount. Also, there will be available a one time purchase of 5-year Letv services, which will give you any Letv smartphone for free. Finally, there will be some more additional services you can buy, which will also give you some discounts.
The price of the Letv One Max is not yet announced.
At first, there will be a limited number of 200.000  devices to purchase. If you are interested, you may want to book it on May 5th, starting at 10am.
The international availability is not yet disclosed, but we presume that the devices will be available at least in the U.S. as the Letv did a lot of marketing directed at Apple (e.g. comparing Cupertino based company to the Nazi, which sets dictatorship prices of their devices.
What is more, the Letv will is releasing a bill of materials of each of the device to let the consumer know how much each component of the smartphone costs. This is made to show that the big players like Apple or Samsung are clearly ripping the consumers off with the overpriced end products.
All in all, the Letv "super phones" seem to be a really great offering by a newcomer to the smartphones' market.