Huawei Made Nexus To Feature Samsung's 5.7-inch 2K OLED according to Analyst
Since the start of the year, we have heard from multiple sources that Huawei is going to release a new Nexus flagship this year, alongside Google's two year old partner, LG. Now, an analysts from China has revealed some specs of the upcoming Nexus device from Huawei.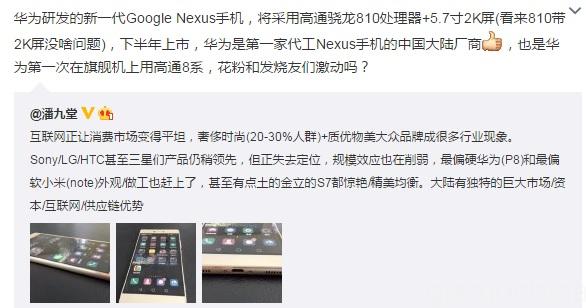 Pan Jiutang revealed earlier today that Huawei's Nexus device will feature a Samsung Made 5.7-inch OLED display with 2K screen resolution. Under the hood, the phone will sport the new Qualcomm Snapdragon 810 processor. This is a bit surprising given that we expected Huawei to incorporate its own SoC inside a new Nexus device. But given that the company's SoCs have yet to prove itself, Google probably insisted Huawei to use Qualcomm's best chipset.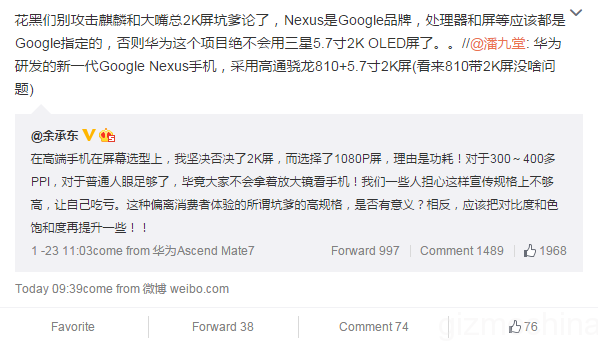 Another surprise is the presence of the 2K display, which although will be fine with a powerful chipset like Snapdragon 810, it may take a toll on the battery life. Also, Huawei's executive had earlier said that 2K displays didn't make sense on a compact phone since even 1080p is sharp enough for the naked eye. At that time, it looked like the company may not be interested in a 2K display phone, but this analyst states otherwise.
However, Pan Jiutang further added that Google must have had the say in the specs on the Huawei made Nexus device, which is why the phone will most likely feature a 2K screen.
Anyways, we haven't heard much from either Google or Huawei about a Nexus device officially, but if this is indeed true, we expect a lot more information in the coming months.