iman i5800c Rugged phone Review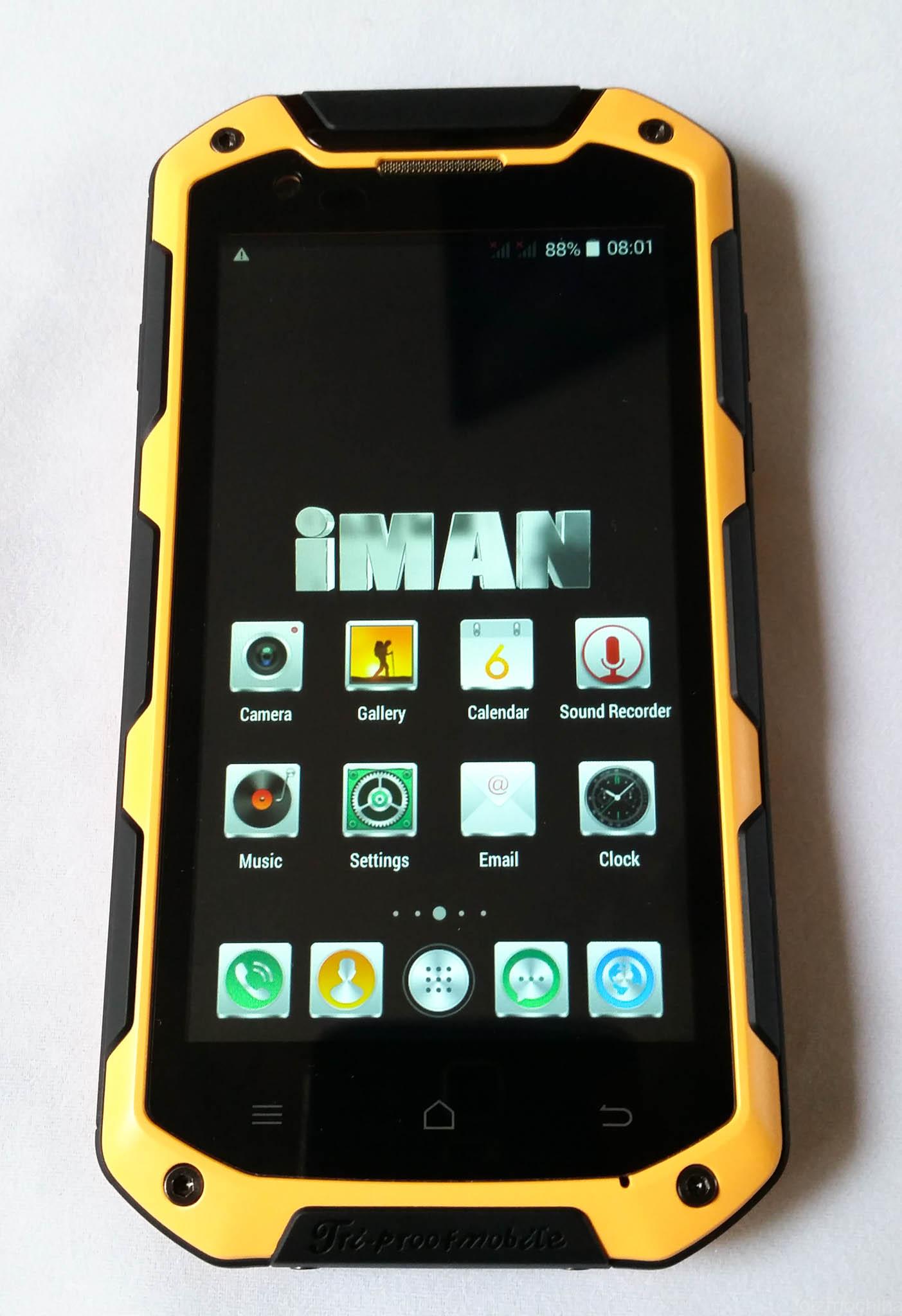 This is the first of two rugged smartphone reviews, the iMan i5800c is an IP67 certified phone meaning that it is totally dust tight and protected against temporary immersion.
Unboxing 
The phone comes in a sturdy box containing the phone,  rear battery cover removal tool, usb cable (this has a standard micro usb connector but is longer to clear the rugged casing), a 3000mAH Li-ion battery, headset with volume and microphone and a 2pin Euro style charger block.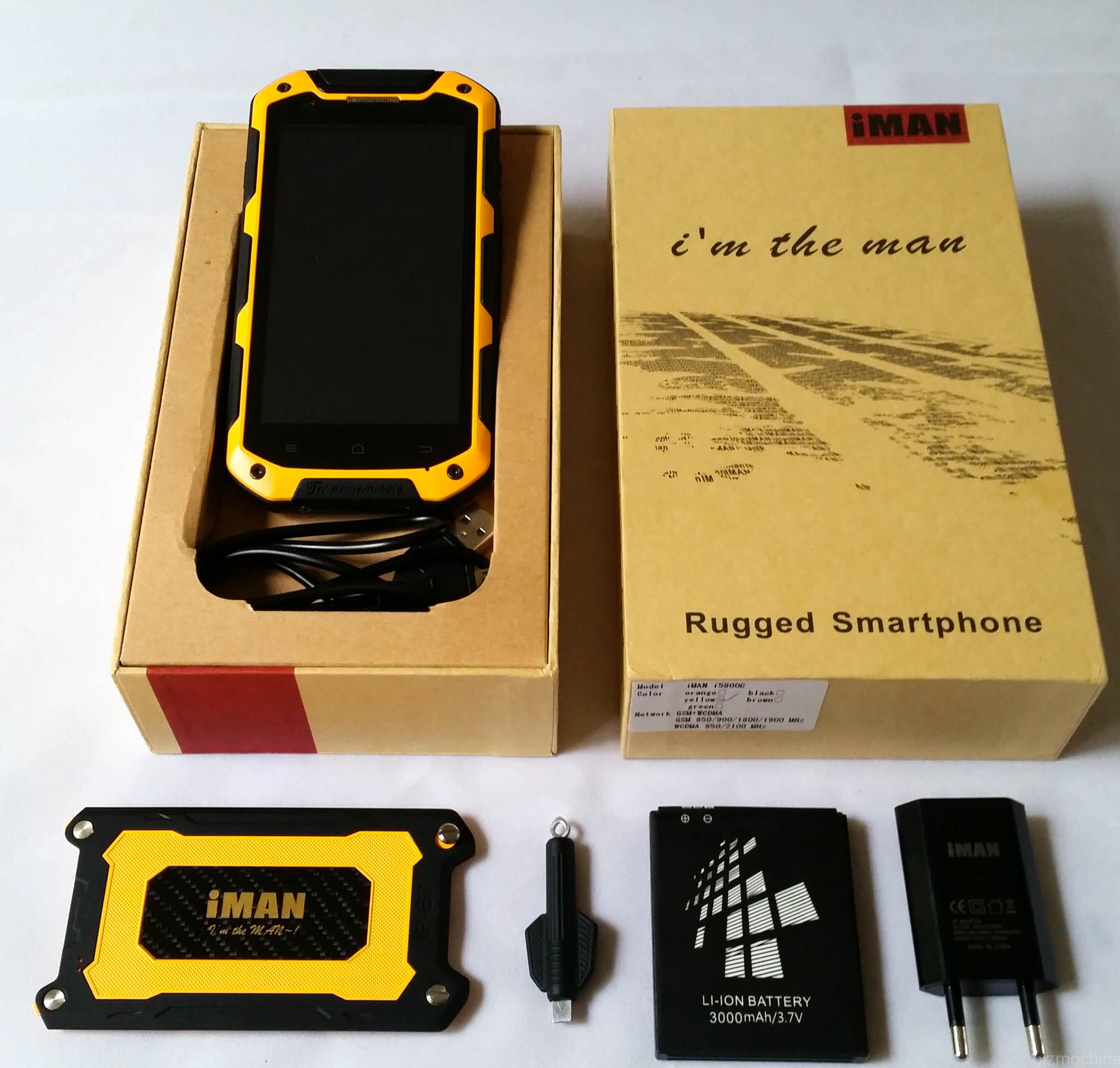 In order to put the battery in to the phone you have to use the supplied tool (this is keyring mountable) or a small screwdriver, the back when removed also gives access to the dual sim slots and micro SD slot.
The rear cover has a rubber gasket that compresses to form a water tight seal when the screwed back on the phone.
Having put the battery in and fired up the phone I was greeted by the iMan logo and then Android 4.4.2 with a nice set of custom icons, as with the other rugged phone that I am also reviewing, the screen is actually set back inside the protective casing to help protect it from damage from drops etc, whilst it is a little less responsive than an OGS style screen (it is still very usable but is a different feel from what we have become used to in recent years), it does mean that should the phone be dropped or subject to an impact it should survive, where the OGS might otherwise be left unusable.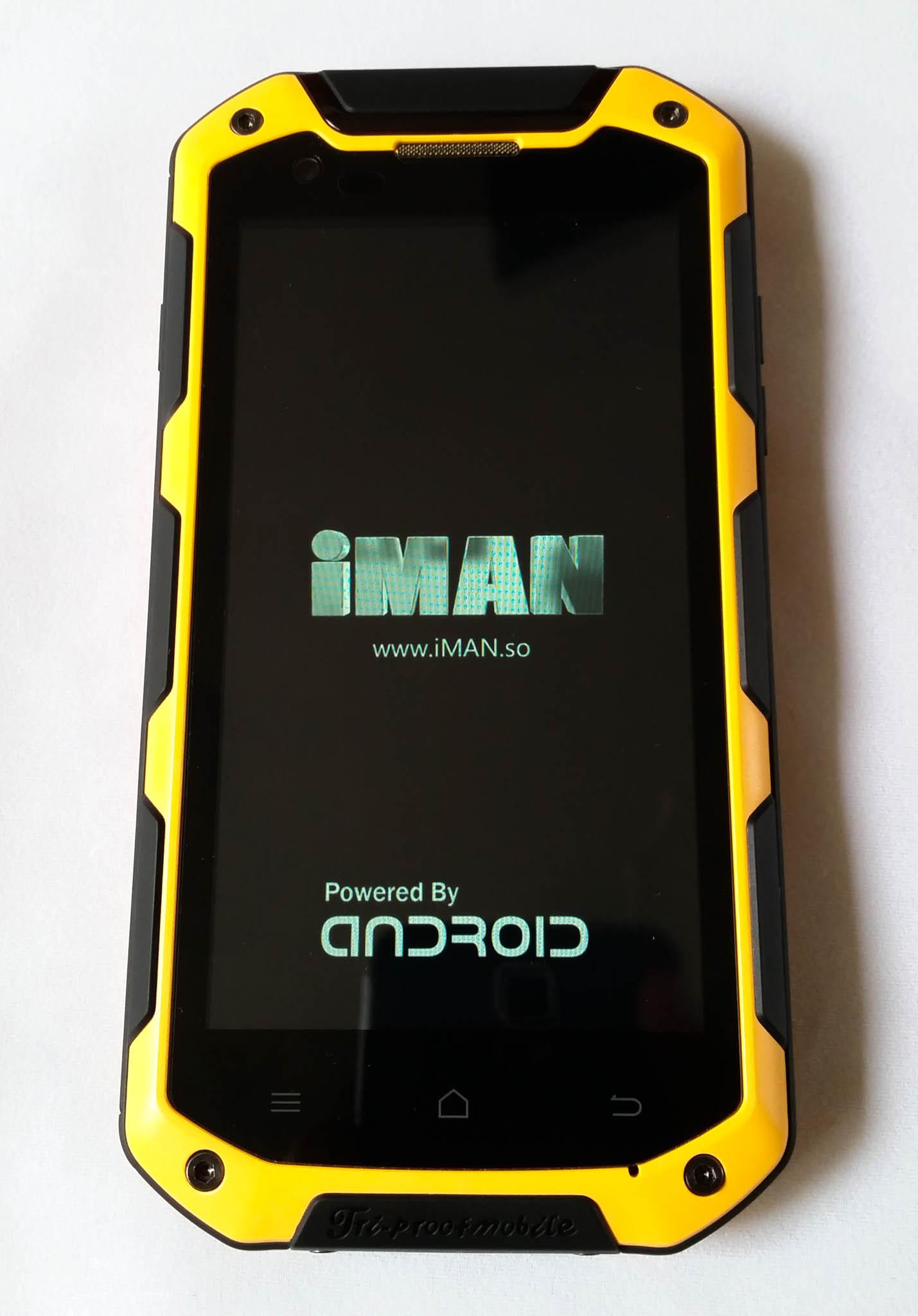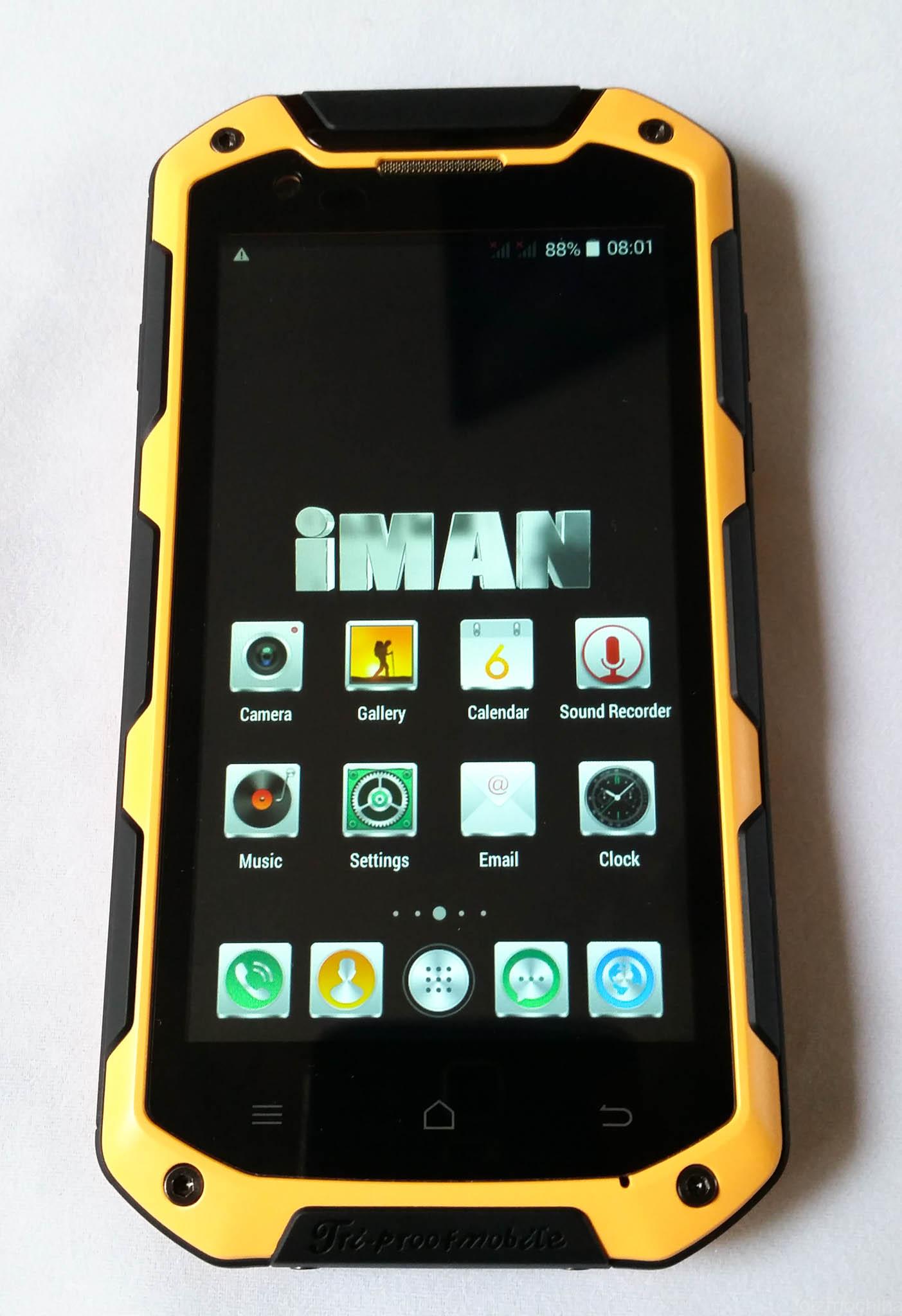 The screen is a 4.5″ 960 x 540  IPS unit capable of 5 point touch, with great viewing angles and is bright enough to be used even in direct sunlight.
The lower screen resolution found on such rugged phones go a long way towards improving battery life, these are a phones that are designed to be used in places that other phones just should not be taken, places where the additional battery life and resilience could make all the difference.
GPS on the phone works well and achieved an initial lock within 30 seconds, with subsequent locks being even quicker.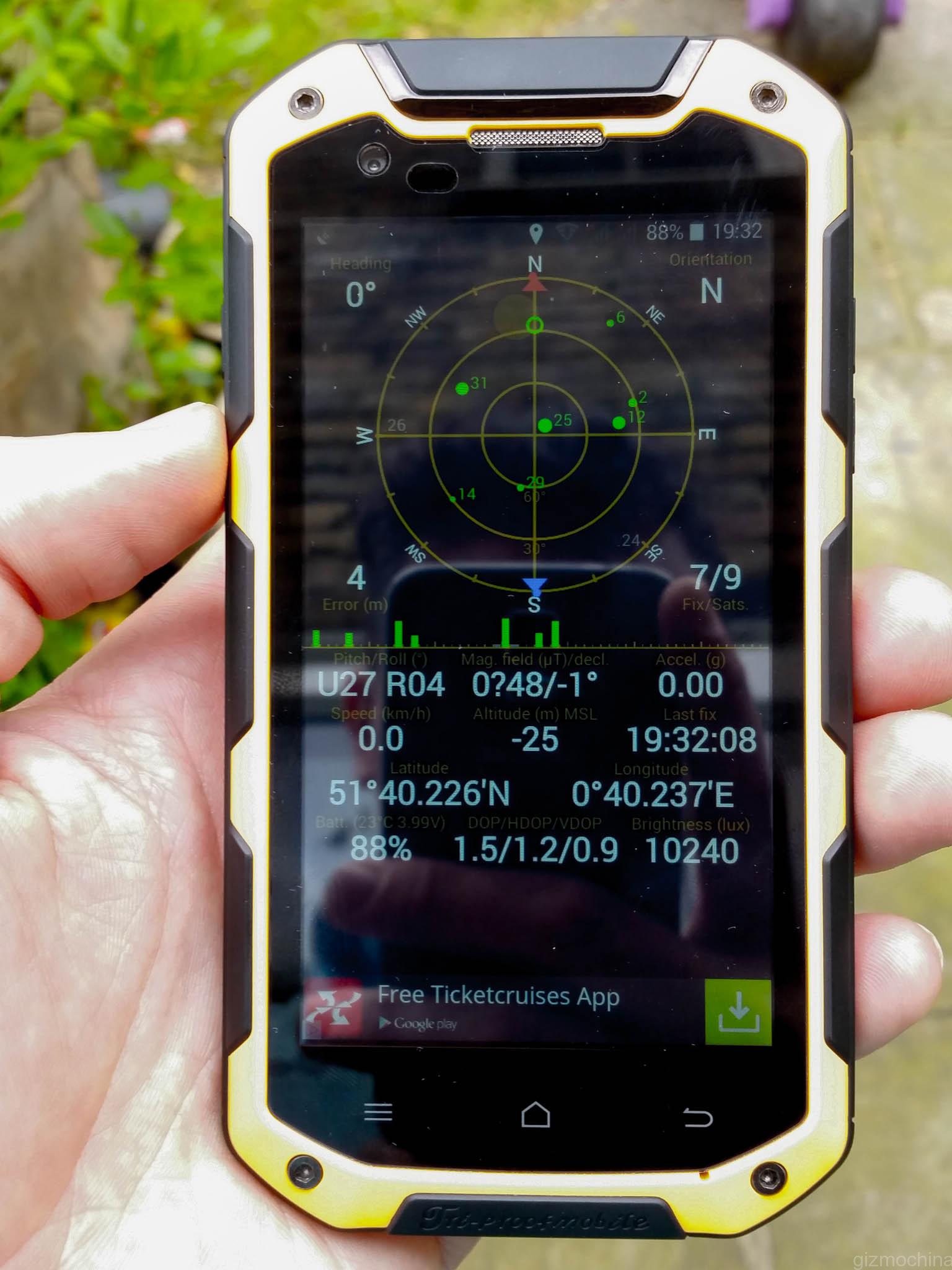 Its worth remembering that this is a rugged phone that needs to not only survive impacts, dust and water but have a long enough battery life to keep you going and possibly even save your life one day, lower resolution screens use substantially less power than HD, FHD and 2K screens.
As mentioned above the phone runs a pretty much stock Android Ver 4.4.2 giving a very clean interface without the un-necessary over heads of a custom UI such as touchwiz to slow things down.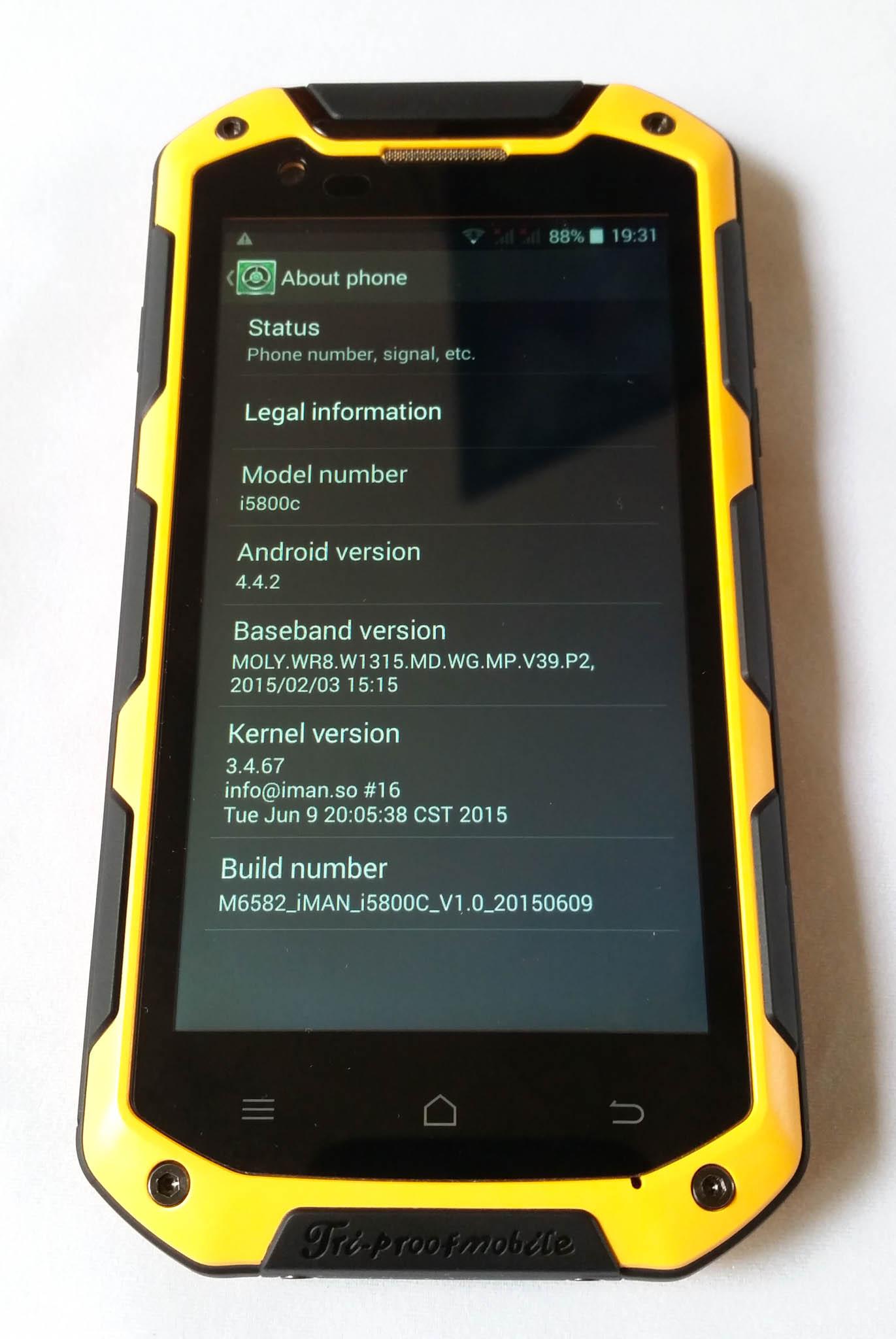 The 1.3ghz quad core Mediatek MTK6582 with Mali 400 MP2 processor and 1GB of ram works well in the phone, for day to day usage, menus are fluid, apps launch fairly quickly.
For those of you that are interested the phone achieved an Antutu score of 19532, whilst this is not up there with current flagship phones, this is not really what the phone is designed for.
The phone features a 2mp camera upfront that is more than capable as a selfie shooter,
The rear camera is a 5mp unit and whilst it won't win any awards for its quality when compared to newer 13mp+ units it is more than capable of capturing images where other phones dare not go.
          Speaking of going places where you would not normally take a phone or camera, the phones IP rating of 67 (the 6 means that it is totally dust tight and the 7 means that it is protected against temporary immersion),  I personally took the phone in to the shower with me to test the water resistance and happily it passed with flying colours.
The i5800c is a phone that would be as at home on a building site as it would out in the wilderness, where other phones are delicate and fragile, this phone will soak up the knocks. 
I have been using the phone for a week now and the battery life has been very good, lasting a whole day and sometimes more between charging.
In summary this is not a phone for everyone, most will want an all singing and dancing flagship, but for those that need a phone that will take a beating and just keep on going… and going… and going the i5800c could be just the phone you need.
I will also be posting a review of the DIGOOR DG1 shortly, this is another rugged phone that also features a PTT walkie talkie feature.