LeTV Max Pro Spotted On AnTuTu Again With Snapdragon 820, Scores Are Amazing!
A couple of weeks back, we spotted a new smartphone from LeTV, the Max Pro (X910) on the benchmarking app, AnTuTu. At that time, we managed to get the full tech specs of the device, which revealed that the Max Pro was going to be a high-end device. However, the leak only revealed the specifications of the device and not the AnTuTu Benchmark scores. Now, we have that information as well.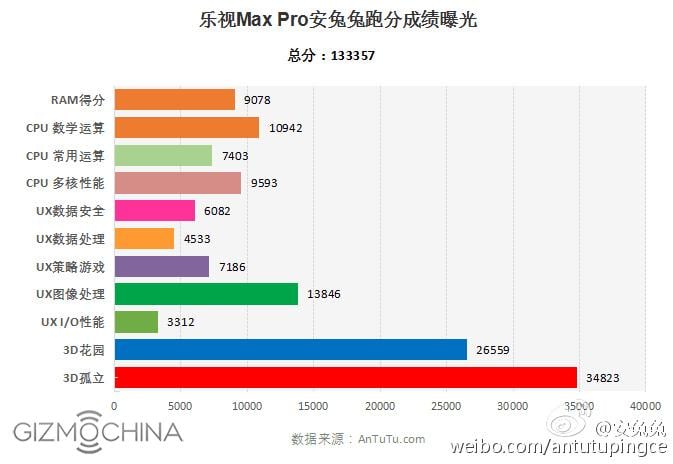 According to the leaked benchmark scores of the LeTV Max Pro, the phone managed to score a whopping 133,357 points on the AnTuTu benchmarking website. This is one of the highest scores we have seen till date, even beating the score posted by the Snapdragon 820 powered Qualcomm Developer device.
This clearly shows the true power of the Snapdragon 820 chip that powers the Max Pro model. However, we also have to remember that the scores of most SoCs have increased after the AnTuTu update to v6.0. A few changes in the way the scores are calculated have led to this increase. But still, it shows that despite having just four cores, instead of the traditional eight-core design, Snapdragon 820 easily beats most chipsets.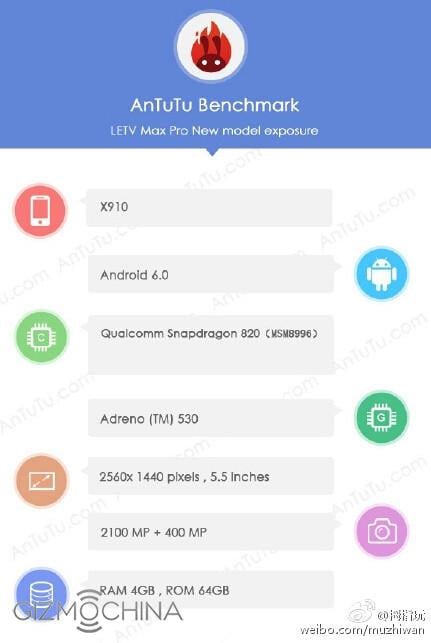 As for the other specs of the LeTV Max Pro, they are the same as we saw early December. This means a 5.5-inch 2K display, 4GB of RAM, 64GB of storage, 21MP rear camera, 4MP Ultrapixel front camera and Android 6.0 Marshmallow update.
An analyst recently said that LeTV could be the first smartphone manufacturer to showcase a Snapdragon 820 powered phone as early as CES 2016. However, when we consider the actual release of the first Snapdragon 820 powered smartphone, Xiaomi could be the first, thanks to its Xiaomi Mi 5 which is expected to be announced in January and released in February.