Meizu M3 vs Redmi 3: Budget Phones Never Looked So Good!
Gone are the days where you would have to spend upwards of $300 to get a decent powerful smartphone. Thanks to the efforts of the Chinese smartphone companies, powerful smartphones have become cheaper and cheaper, and now we get more bang for the buck than ever before. It is at these times buying a smartphone becomes difficult. You get multiple options, which look equally good that you eventually end up getting confused.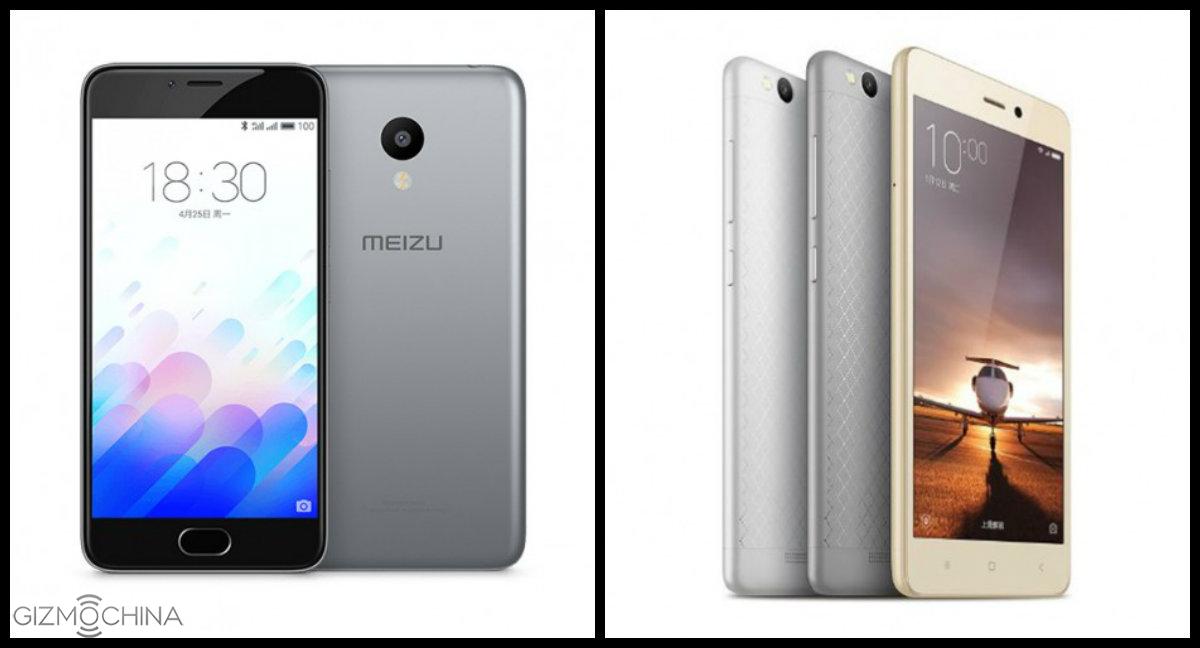 Both Xiaomi and Meizu are two value for money handset makers, and both Meizu M3 and Xiaomi Redmi 3 phones are the best budget devices that you can currently get in the market. Given that Meizu announced the new M3 earlier today, it becomes necessary to see whether it has an edge over the existing champion, the Redmi 3. Today's comparison will be solely on the basis of their specs, mainly because we haven't got the M3 for review yet. So, let's take a look at the Meizu M3 vs Redmi 3 comparison.
By the way, in case you are wondering why I didn't compare it with the Redmi 3 Pro version, it's because it would be unfair. The Pro version comes with a fingerprint sensor and is priced higher than the top-end version of the M3. So, the regular version seems to be the apt competitor for the device.
DESIGN:
Different people have different preferences when it comes to the design, so we can't really make conclusions in this department. Both are good looking handsets, with the Meizu M3 coming with a custom polycarbonate body while the Redmi 3 sporting a gorgeous metal body, much like the Redmi Note 3. Plus, if you are a big fan of the plaid design, you've got that at the back of the Redmi device.
So, let's take a look at the dimensions. Both are 5-inch smartphones, so technically, they should have very similar sizes.
Meizu M3: 141.5 x 69.5 x 8.3mm
Redmi 3: 139.3 x 69.6 x 8.5mm
Personally, I feel Redmi wins here, because its a bit more compact. And another reason is that with just 0.2mm increase in thickness, you get a humungous battery on the Redmi 3. Can't beat that.
Meizu M3 Weight: 132 grams
Redmi 3 Weight: 144 grams
You already know why Redmi is heavier among the two. Apart from the battery, the metal body should also be responsible for the heavier weight of the phone.
Meizu M3 vs Redmi 3 SCREEN:
Both have a 5-inch  720p IPS LCD display on board. Even the screen to body ratio is similar, with the Redmi 3 having an edge with a slightly better 71.1% coverage. Nothing else to talk about in this department.
Meizu M3 vs Redmi 3 SPECS:
Meizu has continued its tradition of sticking with Mediatek chipsets. This time it's the all new MT6750 octa-core SoC clocked at 1.5GHz. You get Mali T860 MP2 GPU inside. Now, the Redmi 3 also comes with a similarly specced Snapdragon 616 with octa-core Cortex A53 based architecture and Adreno 405. In our official review of the Redmi 3, we got over 33,000 points on AnTuTu benchmark. On the other hand, Meizu revealed in its official event today that the MT6750 inside the M3 scores over 39,000 in the same test. Does this mean that the M3 is significantly better than the Redmi 3? Most likely not! Manufacturers are known to reveal the best scores of the device officially, and real life tests scores turn out to be much lower. So, on paper, Meizu could have an edge, but only by a little margin. And this is based on just one AnTuTu test. Real life performance could differ, especially considering we have not yet tested out the Flyme 5.1 UI powered by YunOS on the M3.
Other specs like 2GB RAM, 16GB storage come as standard on both the devices. The M3 has a 3GB RAM + 32GB ROM version as well ($123). On the other hand, there's the Redmi 3 Pro version which comes with 3GB RAM, 32GB storage but it's slightly costlier ($138). But for that additional price, you get a fingerprint sensor. One thing to note here is that the Meizu's storage will be much faster since it is of eMMC 5.1 standard! Also, both have expandable storages but they are hybrid slots (uses SIM2).
At the back, the Meizu M3 features a 13MP f/ 2.2 camera with PDAF and dual tone flash. Up front, you get a 5MP f/ 2.0 shooter. As for the Redmi 3, you have a 13MP f/2.0 camera at the back with PDAF and single LED flash and 5MP f/2.2 shooter up front. Can't comment on the camera quality of the M3 yet, so we will have to wait for a review, which should be real soon.
If you are confused which one to pick till now, you might finally be able to make a decision in the next few seconds. The Meizu M3 comes with a decent battery, bigger than its predecessor, with a capacity of 2870mAh. Now this is pretty good for a 5-incher and will last a day. But after seeing what Redmi 3 is offering, a massive gigantic 4100mAh battery, the M3 looks like its missing something big. And it is! In our review, we saw that even after super heavy usage, the Redmi 3 couldn't be drained completely within a day. We got a good 7 hours screen on time on the device, which is just plain amazing. The Meizu M3 doesn't even come close in this department.
I personally feel Meizu should have done a better job. This is kind of a deal breaker when you have the mighty Redmi 3 as an option. The Meizu M3 Note was a much better competitor in its segment.
As for the software, both run on Android 5.1 Lollipop. Meizu M3 comes with Flyme 5.1 powered by YunOS while the Redmi 3 comes with the familiar MIUI 7.
Meizu M3 vs Redmi 3 PRICING:
Well, Meizu has done a good job in this area, with the Meizu M3 starting at just $92 for the 2GB RAM variant. The 3GB + 32GB variant retails for 799 Yuan which comes to $124. Still pretty cheap. On the other hand, Xiaomi Redmi 3's official pricing starts at 699 Yuan ($106) for the 2GB RAM version. If you want a 3GB RAM model, you can get the Redmi 3 Pro for $138.
So, the M3 is the cheapest, and for that price you get a lower capacity battery. On the other hand, for $15 more, you get a super large battery on the Redmi 3.
What are your thoughts? Which one would you pick?