OnePlus 3 Scores Well on Latest Geekbench Benchmark Test
by Habeeb Onawole Jun 5, 2016 2:26 am1
While the official release for the OnePlus 3 is still about a week away, we already have a good idea of what to expect, although there's a possibility that we shall be getting multiple variants of the OnePlus 3. This geekbench results is for a 6GB RAM version, running Android Marshmallow, and with a Snapdragon 820 processor.
The OnePlus 3 (OP3) has been put through multiple benchmarking tests in the past and the results are pretty consistent. For the latest tests dated 4th of June, the OP3 has a single-core score of 2394 and a multi-core score of 5635. Two previous tests ran a day before the latest one shows the OP3 achieving single-core scores of 2277 and 2400, and multi-core scores of 5157 and 5516. Another test ran in April showed the OP3 with the same RAM and SoC configuration achieving a single-core score of 2094 and multi-core score of 4944. From this we can see that the phone has indeed undergone some optimizations.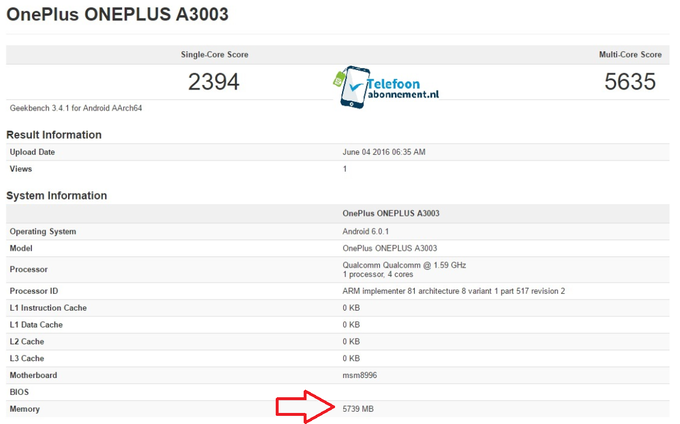 The OP3 is said to feature a 5.5" FHD display, a 16MP rear camera, 8MP for selfies, 3000mAh battery, and either 32GB or 64GB of ROM. The launch date is on the 14th and is going to happen on the company's Loop VR Platform.
Big Question
Is 6GB RAM really necessary? Or should manufacturers rather focus on proper RAM optimization?
(via)